NFL Coach Considering Jags' Vaccination Status During Roster Cuts Prompts Investigation
The National Football League Player's Association (NFLPA) is investigating comments from Jacksonville Jaguars head coach Urban Meyers that he and general manager Trent Baalke factored in players' vaccination status during the latest roster cuts.
On Tuesday, Meyers told reporters that due to the more stringent COVID-19 protocols that the league has imposed on unvaccinated players, the coaching staff decided to take into account which players had the vaccine and which did not when they trimmed the roster down from 80 players to 53.
"Everyone was considered," Meyer said. "That was part of the production, let's start talking about this, and also is he vaccinated or not? Can I say that that was a decision-maker? It was certainly in consideration."
But his comments were not well-received by the players' union, which is opening an investigation, according to NFLPA spokesperson George Atallah.
On Wednesday, the Jaguars released a statement clarifying that while the vaccination status of players may have been a factor in roster decisions, "no player was released because of their vaccination status."
"Availability is one of the many factors taken into account when making roster decisions. We have vaccinated and unvaccinated players on our roster, and no player was released because of their vaccination status," the statement read.
"Ultimately, decisions are based on a player's ability to help the Jaguars win," the team's statement continued. "We educate our players and respect personal decisions as it pertains to the vaccine. We want to keep our players, staff and families safe as we comply with protocols related to both health and safety and competition on game days."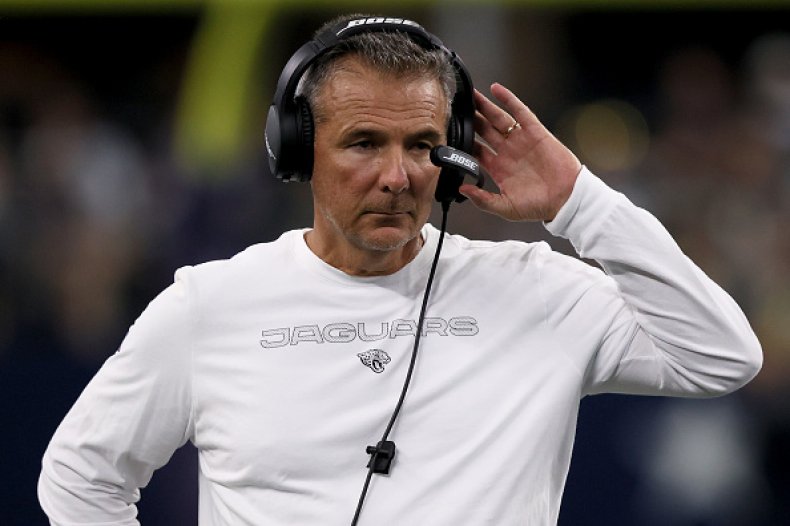 During his comments on Tuesday, Meyer said the current protocols for unvaccinated players who test positive for COVID or who are high-risk close contact could significantly impact the team's chances of winning.
While vaccinated players who test positive are required to be out for 10 days—or fewer if they test negative on two PCR tests—unvaccinated players have to follow a three-day return-to-play protocol on top of missing the 10 days.
Unvaccinated players are also required to miss days if they are designated a high-risk close contact, regardless of whether they test positive or negative. A negative test would require them to sit out five days and a positive test would require a ten-day quarantine with the three-day return-to-play protocol.
On the other hand, vaccinated players can't be identified as high-risk close contacts. If they do come in contact with an infected person, they will have to wear a mask inside the facility and test daily, rather than weekly, for five consecutive days after potential exposure.
This means potential exposure could result in missing an unvaccinated key player for nearly two weeks, compared to not having to lose a vaccinated player at all, as long as they are wearing their masks and testing.
Meyer used defensive Josh Allen as an example of how the protocols have played out.
Allen, who has declined to reveal his vaccination status, was placed on the reserve-COVID-19 list on August 23 until August 30, which caused him to miss the team's final two preseason games.
"Well, Josh Allen's never had [COVID-19]," Meyer said. "He's not played in two weeks. So, he's never had COVID. I don't know if I'm allowed to say that, but he's never had COVID. So that's pretty punitive."