NFL Coaching Candidate Eugene Chung Says Interviewers Told Him He's 'Not the Right Minority'
Former NFL offensive lineman and assistant coach Eugene Chung has built quite a resume since entering the league in 1992. The former first-round pick was on the All-Rookie team, paved the way for great players and recently won a Super Bowl ring as an assistant coach.
Despite having good credentials and interviewing for a head coaching job as a minority candidate, Chung was told he didn't quite fit the "minority" mold that a specific team was looking for. Though he's a minority, one team told him he's "not the right minority."
Chung, who's of Korean descent, was only the third player of Asian descent to ever play American professional football at the time. He was also the first Korean American to get drafted in the first round when the New England Patriots selected him 13th overall in the 1992 NFL Draft.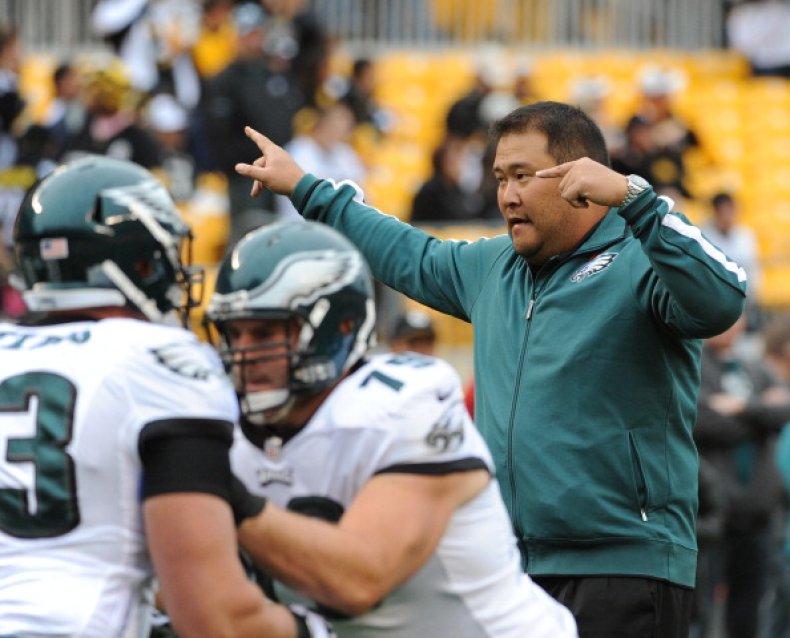 Chung, 51, appeared on a webinar Thursday with Olympic figure skater Alex Shibutani and ESPN's Michele Steele to talk about life as an Asian American athlete. Chung said this offseason he interviewed for a head coaching job, and was aghast at one interviewer's response.
"It was said to me, 'Well, you're really not a minority,' " Chung said on the webinar, which was hosted by The Boston Globe. "I was like, 'Wait a minute. The last time I checked, when I looked in the mirror and brushed my teeth, I was a minority.' So I was like, 'What do you mean I'm not a minority?' "
Chung then said the interviewer told him, "You are not the right minority we're looking for."
"That's when I realized what the narrative was," Chung said. "I was blown away, emotionally paralyzed for a split second. I asked myself, 'Did I hear that correctly?' "
Chung didn't say which NFL team this interview was with, but that the person interviewing him began backtracking.
"I asked about it, and as soon as the backtracking started, I was like, 'Oh no, no, no, no, no, you said it. Now that it's out there, let's talk about it. It was absolutely mind-blowing to me that in 2021, something like that is actually a narrative."
Chung was a standout lineman at Virginia Tech for legendary coach Frank Beamer, and then he became a rookie lineman for coach Bill Parcells of the Patriots. During his rookie campaign, Chung started 14 games and was named to the NFL All-Rookie Team. He started 16 games in 1993, and played a total of three seasons in New England before getting selected by the Jacksonville Jaguars during the NFL Expansion Draft in 1995. After one season with the Jaguars, and another with the Indianapolis Colts, he retired as a player. He played in 55 NFL games, including 30 as a starter.
His professional coaching stints have been at Philadelphia twice and Kansas City once over the last 10 years. He was an offensive line coach with the Eagles from 2010-12 while Andy Reid was the head coach. When Reid left Philadelphia and was hired by the Kansas City Chiefs, Chung went with him and took over offensive line coaching duties there from 2013-15. Chung went back to Philadelphia to coach the offensive line, tight ends and the run game for head coach Doug Pederson from 2016-19. The Eagles defeated the Patriots, 41-33, in Super Bowl LII.
As a way to have more minority candidates for heading coaching and coordinator jobs, the NFL has tried updating the Rooney Rule, which requires teams to interview at least two minority candidates for top coaching positions.
"It's continually keeping a focus on this, adapting, looking to see what areas we can improve on, and that constant evolution of improvement, to try to make sure we're doing everything appropriate to give minorities an opportunity to advance in the head coaching ranks or the coaching ranks in general," NFL commissioner Roger Goodell.
Chung left the Eagles after the 2018 season and hasn't been on a staff either of the last two seasons.