NFL Commissioner Roger Goodell 'Supports' and 'Encourages' a Team to Sign Colin Kaepernick
NFL commissioner Roger Goodell on Monday said he believes that former quarterback Colin Kaepernick should have a chance to play on an NFL team, that is, if a team is willing to take a chance on him.
Goodell told Mike Greenberg on ESPN's "The Return of Sports" special, that it would be up to an individual team to sign Kaepernick, not the league to force it upon a team. Goodell said Kaepernick's ideas on helping reform social justice issues in America would be welcome in the league.
"Well, listen, if he wants to resume his career in the NFL, then obviously it's gonna take a team to make that decision," Goodell said. "But I welcome that, support a club making that decision, and encourage them to do that.
"If his efforts are not on the field but continuing to work in this space, we welcome him to that table and to help us, guide us, help us make better decisions about the kinds of things that need to be done in the communities. We have invited him in before, and we want to make sure that everybody's welcome at that table, and trying to help us deal with some very complex, difficult issues, that have been around for a long time.
"But I hope we're at a point now where everybody's committed to making long-term, sustainable change."
Kaepernick, 32, has not played since the 2016 season when he went 1-10 as a starter. It was that same season that Kaepernick began his kneeling protest of police brutality.
During the third preseason game, Kaepernick did not stand for the national anthem, but rather sat on the bench. He gave his reasons during the post-game press conference.
"I am not going to stand up to show pride in a flag for a country that oppresses black people and people of color," Kaepernick said. "To me, this is bigger than football and it would be selfish on my part to look the other way. There are bodies in the street and people getting paid leave and getting away with murder."
Prior to the fourth preseason game, Kaepernick had a conversation with Army veteran Nate Boyer, who had been a long snapper for the University of Texas. Boyer advised Kaepernick that kneeling would be less disrespectful to veterans than sitting, so Kaepernick's kneeling protest began.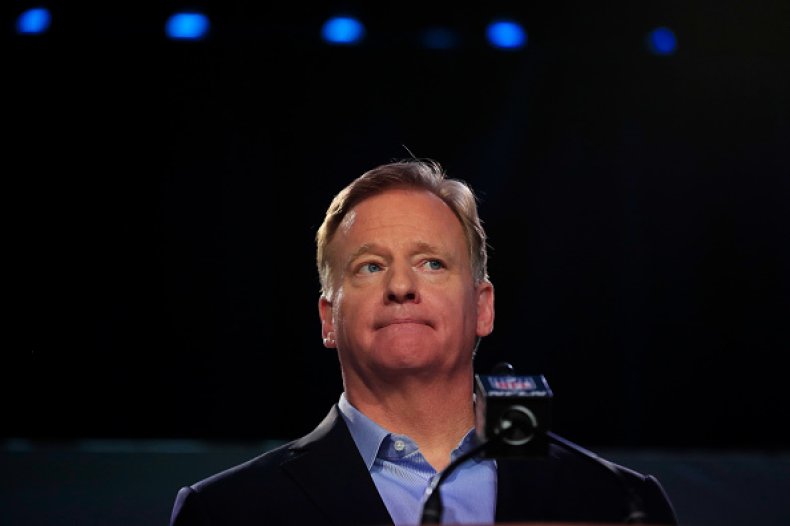 Other players began protesting along with Kaepernick, and soon the movement went outside of football.
Kneeling protests began hurting some teams at the ticket booth, and the NFL in 2018 began prohibiting players kneeling during the national anthem. It most likely hurt Kaepernick's chances at getting signed by any other team.
Fast forward to 2020, and it's been three weeks since the death of George Floyd, who died after a Minneapolis police was seen kneeling on Floyd's neck. Floyd's last words heard were, "I can't breathe." The death sparked nationwide protests against Floyd's death, police brutality and racial injustice.
Monday's statement by Goodell comes a a couple of weeks after the commissioner said the NFL should have done a better job at listening to its players over the last three years. Even during that apology, Goodell never mentioned Kaepernick by name.