NFL Conference Championship Games Set: Packers, Chiefs Have Home Games
The AFC and NFC Championship games for the NFL's 2020 season are set, and three NFL MVP quarterbacks are among the four quarterbacks remaining. The Buffalo Bills will play the Kansas City Chiefs in the AFC Championship and the surprising Tampa Bay Buccaneers will play the Green Bay Packers in the NFC title game.
Here are the games and times set for the NFL's championship rounds next weekend (All times ET):
Sunday, January 24
NFC Championship
Tampa Bay at Green Bay
3:05 p.m., Fox
AFC Championship
Buffalo at Kansas City
6:40 p.m., CBS
Green Bay is led by quarterback Aaron Rodgers, a two-time NFL MVP who won the Super Bowl following the 2010 season. The Packers defeated the Rams on Saturday in a snowstorm, and Green Bay will finally host a conference championship game. They'll play Tom Brady and the Tampa Bay Buccaneers.
With Tampa Bay's 30-20 win over the New Orleans Saints on Sunday in the league's final divisional round game. The loss by the Saints ended the career of Saints quarterback Drew Brees. Before the game, it was announced that Brees would retire at the end of this season to become a TV analyst for NBC.
Tampa Bay's Tom Brady will now play in his 14th conference championship game. He played 13 with the New England Patriots in a 20-year career, winning nine of those. Brady won six Super Bowl titles in that span. Brady left the Patriots last offseason to sign with the Buccaneers. With one more road win against the Packers, Brady could play the Super Bowl in his new home field at Raymond James Stadium in Tampa.
No team has ever played a Super Bowl in their home stadium, and the Buccaneers are just one win away.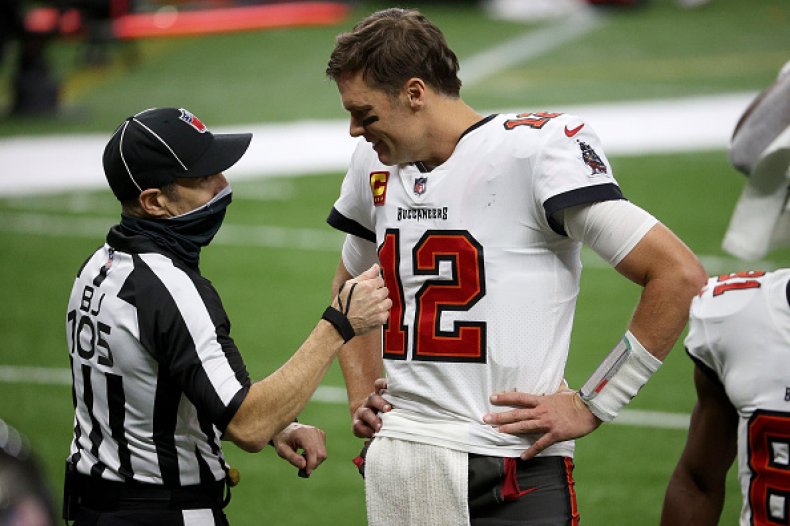 The Kansas City Chiefs will host the AFC title game, but it's not clear if Patrick Mahomes will play after he left Sunday's game with a concussion against the Cleveland Browns. The Chiefs will play the Buffalo Bills, led by quarterback Josh Allen and a team rolling with fire and emotion right now.
The Packers and Chiefs met in the very first Super Bowl, and they almost got their first rematch last season—53 years later. The Packers lost the NFC Championship game last year to the San Francisco 49ers, who lost the Super Bowl to the Chiefs.
Super Bowl LV
Tampa, Florida
February 7
Time TBD, CBS
Here are how the teams got here:
Super Wild Card Weekend:
AFC
No. 2 Buffalo 27, No. 7 Indianapolis 24
No. 6 Cleveland at No. 3 Pittsburgh
No. 5 Baltimore 20, No. 4 Tennessee 13
NFC
No. 2 New Orleans 21, No. 7 Chicago 9
No. 6 L.A. Rams 30, No. 3 Seattle 20
No. 5 Tampa Bay 31, No. 4 Washington 23
Division Round
AFC
Buffalo 17, Baltimore 3
Kansas City 22, Cleveland 17
NFC
Green Bay 32, L.A. Rams 18
Green Bay 30, New Orleans 20