Dr. Anthony Fauci, the director of the National Institute of Allergy and Infectious Diseases (NIAID) has warned football is the perfect environment for the novel coronavirus to spread.
While the NBA and the NHL were forced to halt the season because of the COVID-19 pandemic and the MLB had to postpone Opening Day indefinitely, football has emerged relatively unscathed so far, aside from the NFL having to scrap plans to hold the draft in Las Vegas last month and conducting it remotely instead.
The NFL has previously stated it intends to kick-off the 2020 season as scheduled on September 10, a concept it further underlined on Thursday when it released its 256-game regular season slate.
Before the NFL and college football can return, however, teams have to ensure a number of key requirements are met as the sport in its present state is fertile ground for spreading coronavirus.
"Sweat as such won't transmit it. But if people are in such close contact as football players are on every single play, then that's the perfect set up for spreading," Fauci, a key member of President Donald Trump's coronavirus task force, was quoted as saying by NBC's Peter King in his Football Morning in America column.
"I would think that if there is an infected football player on the field—a middle linebacker, a tackle, whoever it is it—as soon as they hit the next guy, the chances are that they will be shedding virus all over that person. If you really want to be in a situation where you want to be absolutely certain, you'd test all the players before the game."
Last month, Dr. Allen Sills, the NFL chief medical officer, indicated the availability of point-of-care COVID-19 tests was crucial to any hopes of starting the season as planned.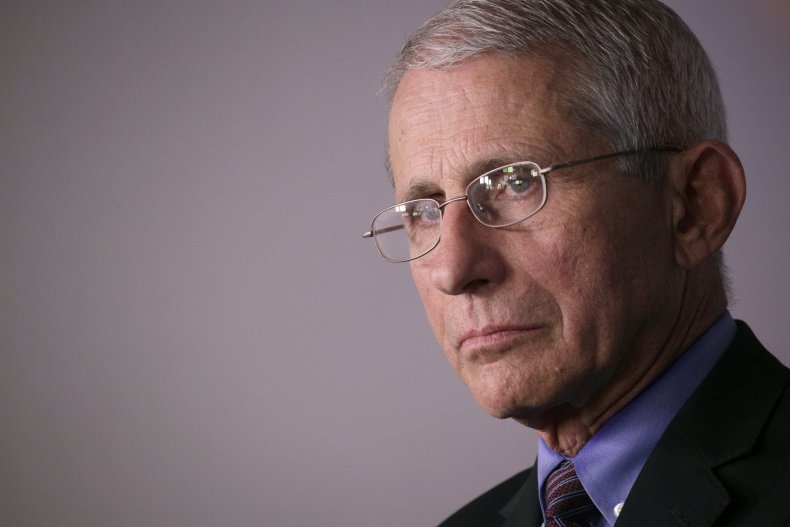 Point-of-contact tests, which can be done off-site from hospitals and deliver quick results, were again highlighted as essential at the end of April as representatives from the major U.S. leagues attended a call with Seema Verma, an administrator for the Centers of Medicare and Medicaid Services and a member of the White House coronavirus task force.
Fauci reiterated testing was non-negotiable if sports were to return sooner rather than later, but admitted it presented an enormous logistical challenge.
"To be 100 percent sure, you've got to test every day," he explained.
"But that's not practical and that's never going to happen. But you can diminish dramatically by testing everybody Saturday night, Sunday morning, and say OK, only negative players play."
Speaking last week, California Governor Gavin Newsom had poured cold water on the suggestion the NFL could play a complete season, explaining the league had to outline plans on how to deal with the eventuality of a player testing positive before resuming.
"It's difficult for me and imagine what the league, broadly leagues, do when one or two of their key personnel or players are tested positive," he told the Los Angeles Times.
"I say this very, very honestly, I hope to be able to answer that question sooner than later. But it's a very tough question for these leagues to answer, because they must have a safety-first, health-first mindset, and there are conditions that persist in this state and this nation that make re-opening very, very challenging."
As the chart below provided by Statista shows, over 1.3 million cases of coronavirus have been reported in the U.S. as of Monday morning, by far the highest tally of any country in the world.
Over 79,500 deaths have been recorded in the U.S. and over 216,000 people have recovered, according to Johns Hopkins University, which has been tracking the outbreak using combined data sources.
More than 283,000 people have died globally since the outbreak of coronavirus was first identified in Wuhan, a city located in China's central Hubei province, late last year. There have been over 4.1 million confirmed cases globally.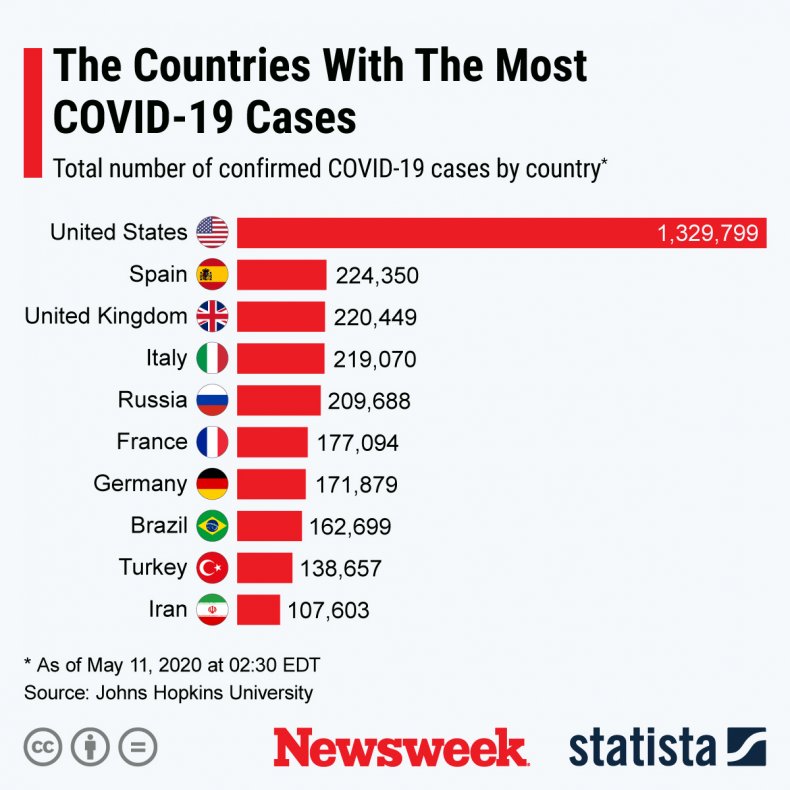 About the writer
Dan Cancian is currently a reporter for Newsweek based in London, England. Prior to joining Newsweek in January 2018, he was a news and business reporter at International Business Times UK. Dan has also written for The Guardian and The Observer.