Former Dallas Cowboys Cheerleader Wants to Make a Comeback 21 Years and Four Kids Later
A mother of four is looking to pick up her pom-poms and make a return to cheerleading after 21 years away from the NFL, setting a new record.
Melanie Way, 42, was a cheerleader for the Dallas Cowboys in the 1990s, but will audition for a place in the Houston Texans' franchise on Saturday (April 14).
She has been dieting while completing daily dance routines and exercises in a bid to be prepared for the try-outs. Way says part of her reason for auditioning is to show her children that age is just a number.
"Just because I'm 42 doesn't mean your life is over," Way told ABC. "I hope they see that and I hope they take that with them as they get older and they chase their dreams just like I am."
Way would become the oldest cheerleader the Texans franchise has ever had, with Houston saying the oldest so far was in her mid-30s. But, for Way, it's a case of when, rather than if.
"I've been telling myself, 'when I make the squad,'" she said. "When I make the team."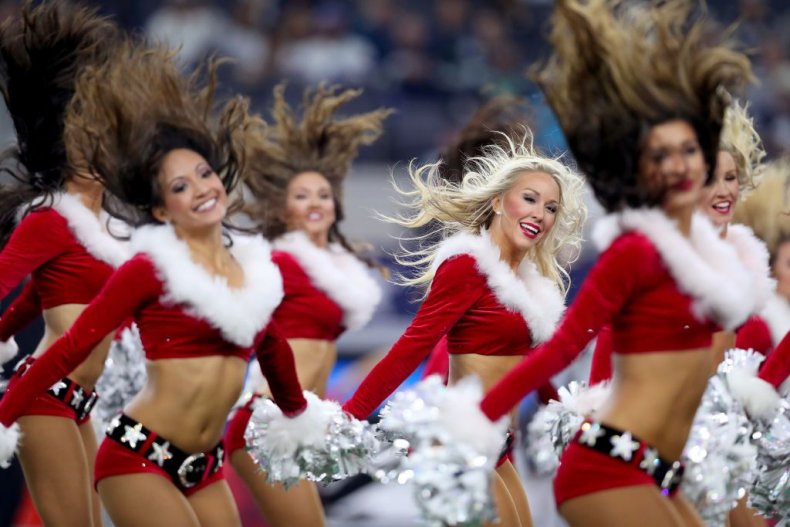 Competition is fierce, though, with more than 1,000 cheerleaders expected to audition on Saturday and only 35 positions available.
Way certainly has experience on her side, having performed as part of the squad for the Dallas Cowboys, before stopping in 1997. She has fond memories of her time on the field and is determined to make a return.
"It was fun dancing on the field," Way said. "It's an amazing experience to be out there and the fans are cheering and you're dancing, you're just having a blast."
Former Dallas Cowboys Cheerleader Wants to Make a Comeback 21 Years and Four Kids Later | Sports