With NFL Draft Pick Order Set for the Top 20, Here Are The Favorite Picks For Each Team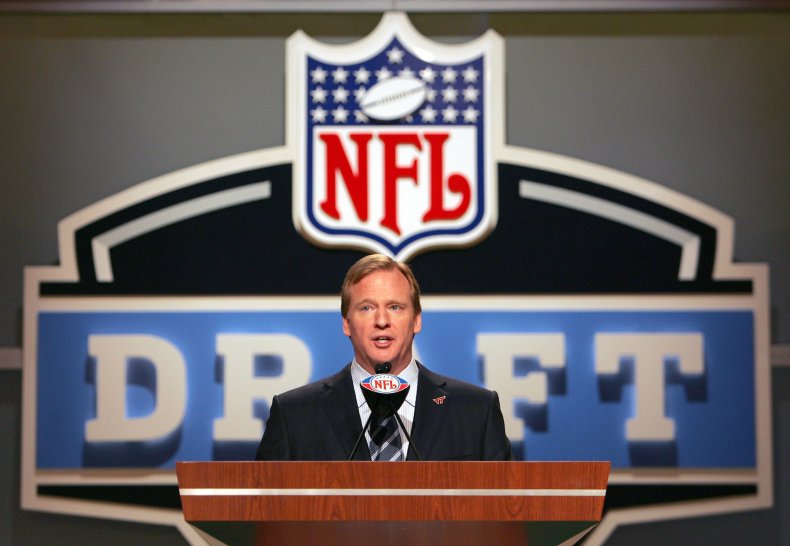 With the NFL regular season coming to a close on Sunday, the teams with the top 20 picks for the 2020 NFL Draft have been set.
The order for the remaining 12 teams will be announced after the postseason, with the order based on playoff performance.
The Cincinnati Bengals locked up the number one overall pick a week prior in their win over the Cleveland Browns, while the other teams were slotted after their most recent games during Week 17.
Newsweek has detailed the order of the draft and the likely favorite picks for each team below.
1. Cincinnati Bengals (2-14)
Ending their season with the overall worst record in the NFL, the Bengals have been given the chance to draft the number one overall pick to potentially help improve in their upcoming season.
With this pick, the Bengals are projected by many to choose LSU quarterback and Heisman Trophy winner Joe Burrow. The Bengals decision to sit former franchise quarterback Andy Dalton during the season made it clear that they were in the market for a new, young quarterback, like Burrow. Burrow, who is 6 foot 3, 215 pounds, has shown his skill throughout college, leading LSU to a 14-0 record and a trip to the College Football Playoff (CFP) championship with the Tigers' most recent win over Oklahoma.
2. Washington Redskins (3-13)
The Redskins have struggled throughout the season, bouncing from veteran quarterback Case Keenum to rookie Dwayne Haskins. Since the Redskins drafted Haskins as their quarterback just last year, it is likely that they look to draft a different position.
According to two different mock drafts by Sporting News and Bleacher Report, the Redskins will most likely draft Ohio State defensive end, Chase Young. Young is regarded as one of the best players in the upcoming draft after helping to lead Ohio State to a 13-1 record with 16.5 sacks in only 12 games.
3. Detroit Lions (3-12-1)
With the Lions decision to keep defensive-minded head coach Matt Patricia, it is likely that they draft a high-ranked defensive player.
For a defensive pick, some of the options for the Lions include Ohio State cornerback Jeffrey Okudah or Auburn defensive tackle Derrick Brown. A mock draft published by Sporting News has the Lions choosing Brown over Okudah, given the fact that he is one of the best defensive players available with Chase Young off the board.
4. New York Giants (4-12)
The Giants recently used their 2019 draft pick to take quarterback Daniel Jones, so instead of taking another quarterback, the Giants could use their draft pick to improve on either side of the ball. Some mock drafts have the Giants leaning toward a defensive player like Okudah or Clemson linebacker Isiah Simmons. They could also go towards more of an offensive route and try to add more threats for Jones to work with and draft a player like wide receiver Jerry Jeudy of Alabama.
5. Miami Dolphins (5-11)
Like the Bengals, the Dolphins have struggled at quarterback, moving from recently acquired Josh Rosen to veteran Ryan Fitzpatrick. Two different mock drafts by Sporting News and Bleacher Report have the Dolphins taking Alabama quarterback Tua Tagovailoa with their draft pick. It is currently unclear if Tagovailoa will enter the draft, after suffering a severe hip injury, but if he does, the Dolphins could continue to play Fitzpatrick at the position while Tagovailoa recovers during his rookie year.
6. Los Angeles Chargers (5-11)
With the fate of longtime quarterback Philip Rivers currently unknown, a number of different mock drafts have the Chargers taking Oregon quarterback Justin Herbert with their pick. It is currently unclear if the Chargers will decide to re-sign Rivers, who is in the final year of his contract, but multiple mock drafts have the Chargers taking Herbert, who threw for 33 touchdowns and 3,333 total passing yards during his most recent season.
7. Carolina Panthers (5-11)
With the 7th pick in the draft and a number of different needs for the Panthers, it is likely they will look to take the best player available. Depending on the picks by the teams above them, the Panthers could look to take either Derrick Brown, Isaiah Simmons, or Okudah as defensive picks. With the future of quarterback Cam Newton unknown, it is possible that the Panthers could consider drafting a quarterback like Herbert or Tagovailoa if they are available.
8. Arizona Cardinals (5-10-1)
In almost every one of the recently released mock drafts, the Cardinals are projected to take Oklahoma wide receiver CeeDee Lamb with the 8th pick. Cardinals quarterback Kyler Murray played with Lamb at Oklahoma just last year, so it is likely the team would like to pair the two once again to help improve on their past season.
9. Jacksonville Jaguars (6-10)
The Jaguars are likely to lean towards drafting a defensive player since they have two quarterbacks in Nick Foles and Gardner Minshew, as well as star running back Leonard Fournette. Sporting News' mock draft has the Jaguars taking Iowa EDGE A.J. Epenesa while some others project the team to pick Simmons, if he is still available.
10. Cleveland Browns (6-10)
With the firing of head coach Freddie Kitchens, the Browns could go a number of different ways in the draft, but many people believe they will lean towards an offensive lineman to help protect quarterback Baker Mayfield. Two of the top picks at this position are likely to be Georgia offensive tackle Andrew Thomas or USC offensive tackle Austin Jackson.
11. New York Jets (7-9)
The Jets could benefit the most by adding wide receivers for young quarterback Sam Darnold, but with Lamb and Jeudy likely off the board, they could look to improve their offensive line instead. If the Browns do not take Thomas, he could be a likely pick for the Jets, as well as another offensive tackle Jedrick Wills Jr. from Alabama.
12. Las Vegas Raiders (7-9)
A number of different mock drafts have the Raiders looking for a new wide receiver to pair up with quarterback Derek Carr and fellow wide receiver Hunter Renfrow. Since it unlikely that players like Jeudy and Lamb will fall to the 12th spot, the Raiders could look for other wide receivers like Tee Higgins from Clemson or Henry Ruggs III from Alabama.
13. Indianapolis Colts (7-9)
The Colts currently need help on both offense and defense, so it is unclear which route they will go. They could aim to take the best player available, and take a player like Ruggs or Higgins, or they could look to improve their defensive line and take a player like defensive tackle Javon Kinlaw from South Carolina.
14. Tampa Bay Buccaneers (7-9)
Like the Colts, the Buccaneers need help on both sides of the ball, but will look to improve on one in the draft. Sporting News' mock draft predicts the team taking Wisconsin running back Jonathan Taylor while Bleacher Report has them taking LSU safety Grant Delpit.
15. Denver Broncos (7-9)
Many mock drafts give the Broncos a number of different options to choose from at the 15th overall pick. Sporting News' mock draft has them taking Higgins, if available, to pair up with their young receiving core of Cortland Sutton and Noah Fant. On the other hand, Bleacher Report predicts they will take an offensive tackle with options that include Alex Leatherwood from Alabama or Tristan Wirfs from Iowa.
16. Atlanta Falcons (7-9)
The Falcons have the skilled players on the offensive side of the ball, so it is likely that they will look to add to their defense with the 16th overall pick. One of the big names they could look for is Penn State EDGE Yetur Gross-Matos or Iowa's Epenesa if he is still available.
17. Dallas Cowboys (8-8)
Like the Falcons, the Cowboys have a lot of talent on the offensive side of the ball with quarterback Dak Prescott, running back Ezekiel Elliot and wide receiver Amari Cooper, so it is likely they will look to draft a defensive player, and more specifically a safety. LSU's Delpit would be the easy choice, but since he is likely to be off the board by the 17th pick, some other viable options include South Carolina's Kinlaw or LSU cornerback Kristian Fulton.
18. Miami Dolphins (from 8-8 Pittsburgh Steelers)
With the Dolphins likely taking a quarterback with the earlier pick at number 5, the team is projected to take a defensive player with their 18th pick. Some options, if still available, include Iowa's Kinlaw, Penn State's Gross-Matos or LSU EDGE K'Lavon Chaisson.
19. Las Vegas Raiders (from 8-8 Chicago Bears)
As the Raiders are likely to take a wide receiver with their earlier pick at 12th, a popular name for their 19th pick is Alabama linebacker Dylan Moses. Moses has been injured for the entire 2019 season but is projected to be ready to play Week 1 of the NFL season. Moses could help improve the linebacker position for the Raiders, which has been an issue in the past.
20. Jacksonville Jaguars (from 9-7 Los Angeles Rams)
With the Jaguars recent trade of cornerback Jalen Ramsey, it is likely that they use their late draft pick to find a replacement. A few different names at the position include Paulson Adebo from Stanford, Trevon Diggs from Alabama and C.J. Henderson from Florida. None of these cornerbacks will be able to play at the same pro-bowl level as Ramsey, but they could suffice as a solid young replacement.