NFL Explodes Against Trump in Day of Protests: Updated Live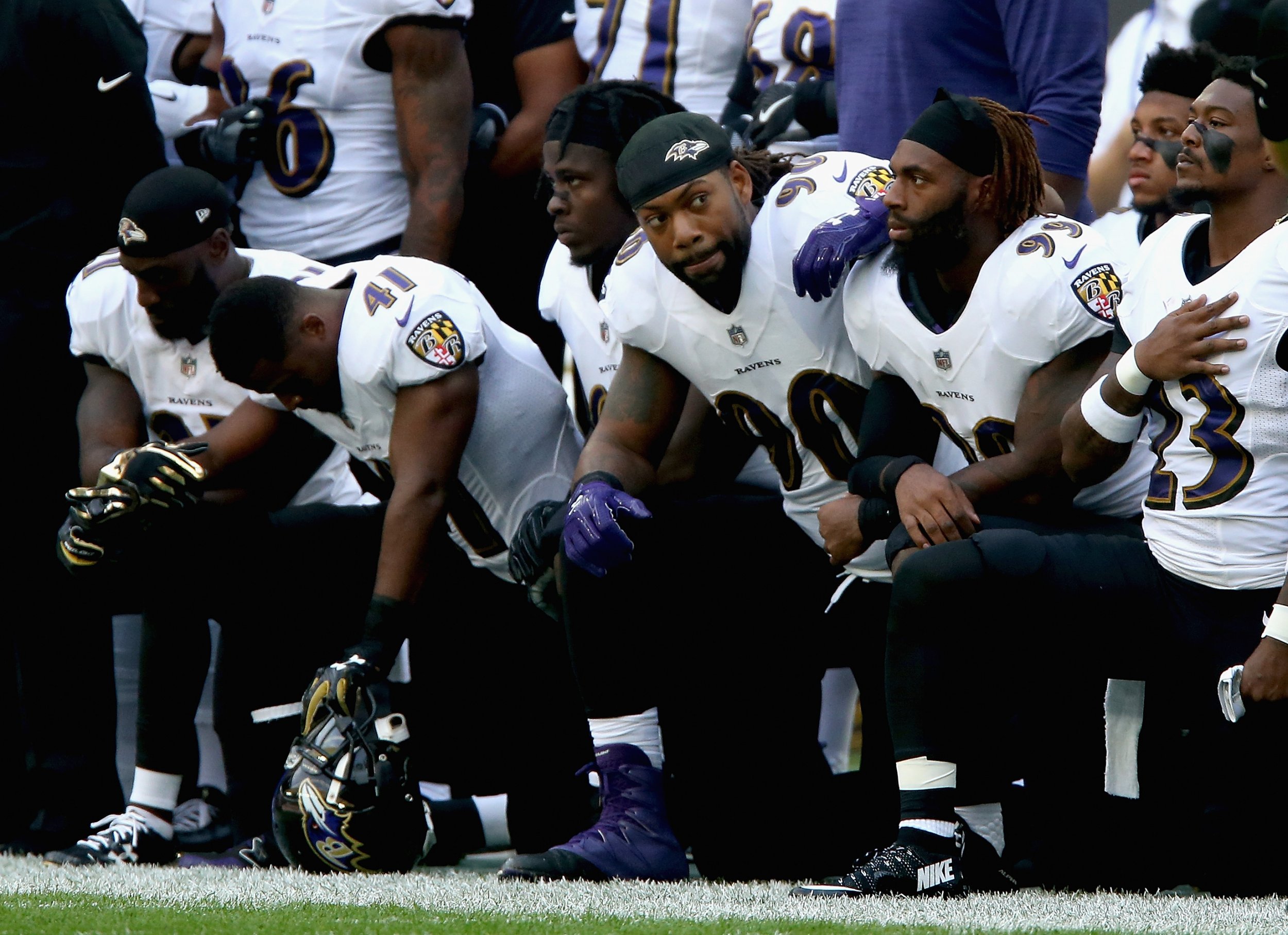 UPDATE | NFL players, owners, coaches and even a singer of the National Anthem decisively struck back at President Donald Trump on Suday after the president objected to the players' right to protest, saying that players who took a knee during the anthem should be fired.
Players on virtually every team locked arms in unity, raised fists, or took a knee in a sign of unity against the commander-in-chief, who slammed the players' protests against racism. Even the New England Patriots, the team most closely associated with Trump, had many players take a knee, while others, including quarterback Tom Brady, locked arms.
Rico Lavelle, who sang the anthem in Detroit, even took a knee as raised his fist as he finished the song.
Trump, who had started the latest round of controversy by speaking out against knee-takers in a rally on Friday in Alabama, eventually responded to the protests Sunday afternoon by claiming the locked arms were, in fact, not a show of support for the players who have chosen to kneel. He also brought up television ratings as he downplayed the unified show of support from much of the league.
"Great solidarity for our National Anthem and for our Country. Standing with locked arms is good, kneeling is not acceptable. Bad ratings!" he tweeted. Trump also posted that NHL champions, the Pittsburgh Penguins, apparently plan to visit the White House, in contrast with the NBA champion Golden State Warriors, whom he claims he has "disinvited" to the White House because star Stephen Curry has opposed Trump.
Soon after the NHL tweets, Trump followed up on the issue yet again by retweeting images calling for an NFL boycott and a picture of an injured service member accompanied by the text "I wonder what this BRAVE American would give to stand on his OWN two legs just ONCE MORE for our #Anthem?"
But NFL players were seemingly not deterred by Trump's continued calls for the protests to end. As the Sunday afternoon games kicked off entire teams—the Seattle Seahawks and Tennesse Titans—stayed in the locker room for the anthem. Many Green Bay Packers sat, while the Cincinnatti Bengals locked arms.
The Seahawks put out an especially bold and unwavering statement. "As a team, we have decided we will not participate in the national anthem," the statement read. "We will not stand for the injustice that has plagued people of color in this country. Out of love for our country and in honor of the sacrifices made on our behalf, we unite to oppose those that would deny our most basic freedoms. We remain committed in continuing to work towards equality and justice for all."
The Titans were perhaps a bit less forceful about why they were taking a stand, but noted in a statement: "As a team, we wanted to be unified in our actions today. The players jointly decided this was the best course of action. Our commitment to the military and our community is resolute and the absence of our team for the national anthem shouldn't be misconstrued as unpatriotic."
Powerful images of the protests surfaced online after many franchises spent the last few days assuring its players they stood behind them as they spoke out.
The protests began last year in relative silence by quarterback Colin Kaepernick, who still has not been signed to a team. It came to a head Sunday. Earlier this week Trump used his platform—both in person and at a rally—to slam Kaepernick and others for demonstrating. "Wouldn't you love to see one of these NFL owners, when somebody disrespects our flag, to say, 'Get that son of a bitch off the field right now, out, he's fired. He's fired,'" Trump said at an Alabama rally.
The president then continued to pick fights with some of the most high-profile athletes in the country, including NBA stars Stephen Curry (who said he did not want to visit the White House) and LeBron James (who supported his rival Curry and called the president a bum). Trump redoubled his efforts Sunday morning tweeting, "If NFL fans refuse to go to games until players stop disrespecting our Flag & Country, you will see change take place fast. Fire or suspend! ...NFL attendance and ratings are WAY DOWN. Boring games yes, but many stay away because they love our country. League should back U.S."
But Trump's comments obviously backfired, instead inspiring more folks to speak out. Most of the Baltimore Ravens and Jacksonville Jaguars—starting the NFL's slate of games Sunday morning playing in London—either locked arms on the sidelines during the anthem or took a knee. Ravens Coach John Harbaugh linked arms and even Ravens Hall of Famer Ray Lewis—who has criticized Kaepernick in the past—took a knee with his former team. Jaguars owner Shahid Khan, who donated to Trump's inauguration, locked arms with the players.
"Our team and the National Football League reflects our nation, with diversity coming in many forms—race, faith, our views and our goals," Khan said in a statement, via ESPN. "We have a lot of work to do, and we can do it, but the comments by the President make it harder. That's why it was important for us, and personally for me, to show the world that even if we may differ at times, we can and should be united in the effort to become better as people and a nation."
There wasn't a completely unified front however—reports suggested pockets of fans at games booed some of the players who kneeled. And Shaun King, a writer at The Intercept, claimed on Twitter that some New York Jets were discouraged from taking a knee since the team's owner, Woody Johnson, was appointed to be the ambassador to the United Kingdom by Trump.
A number of players, including Green Bay Packers' Martellus Bennett, the Philadelphia Eagles' Malcolm Jenkins and the Oakland Raiders Marshawn Lynch have all demonstrated in the past, but there has never been such a unified statement from nearly the entire league. James, the NBA superstar and perhaps the most famous athlete in the country, posted a Snapchat expressing his support for the NFL folks taking a stand, according to Bleacher Report.
Rex Ryan, former coach of the Buffalo Bills and now an ESPN commentator, spoke out against Trump, despite having been a fervent supporter of the Republican, even going as far as to introduce the billionaire at a rally.
"Lemme tell you: I'm pissed off," he said on a pre-game show. "I'll be honest with you. Because I supported Donald Trump. When he asked me to introduce him at a rally in Buffalo, I did that. But I'm reading these comments and it's appalling to me and I'm sure it's appalling to almost any citizen in our country. It should be. You know, calling our players SOBs and all that kind of stuff, that's not the men that I know. The men that I know in the locker room I'm proud of."
The Pittsburgh Steelers skipped the anthem entirely, seemingly to avoid the issue, although one player, an Army vet, did stand in the tunnel leading to the field.
"We're not going to be divided by anything said by anyone," Pittsburgh Coach Mike Tomlin said. "Whatever we do, we're going to do 100 percent, we're going to do together. We're not going to let divisive times or divisive individuals affect our agenda. This collection of men we're chasing something here in 2017. And we're not going to play politics. We're football players, we're football coaches. We're not participating in the anthem today, not to be disresepctful to the anthem but to remove ourselves from this circumstance. People shouldn't have to choose."
This story will be updated throughout the day.