It's cruchtime for fantasy football drafts. If you have not drafted yet, it's quite likely you're soon to do so.
Of course, you want to come armed with all the best information on draft night. With that in mind, we've collected info on some of the high-profile injuries in the NFL so you'll be ready to draft the best possible squad.
Carson Wentz, quarterback, Philadelphia Eagles
Before tearing his ACL late last season, Wentz was an MVP frontrunner and a fantasy showout. He was still not cleared for contact this week despite having already returned to 11 vs. 11 drills. It seems unlikely he'll be ready to go Week 1. If he does go, it's nearly impossible he'll have all his usual tools at his disposal.
"It's the medical reality of the injury that he has," Dr. David Chao, former head team physician for the San Diego Chargers, told NJ Advance Media. "I've always tried to stay on the positive side. Look, it's not impossible that Carson Wentz can be the starting quarterback on Week 1 for the Eagles. But there's no way he will be 100 percent. No medical, possible way."
Josh Gordon, wide receiver, Cleveland Browns
Cleveland's coach Hue Jackson has said Gordon won't start Week 1 after tweaking is hamstring in practice, according to Cleveland.com reporter Mary Kay Cabot. Gordon will likely play Week 1.
Saquon Barkley, running back, New York Giants
Barkley seems to be doing well after suffering a hamstring injury earlier in the preseason. "You can reveal to the world that he's out here practice full," head coach Pat Shurmur told reporters on Monday, according to SNY. "Let's reveal it. I know there's—sometimes when you're up here and you hear the questions, I see it differently because I'm on the behind-the-scenes day-to-day, but he's doing very well."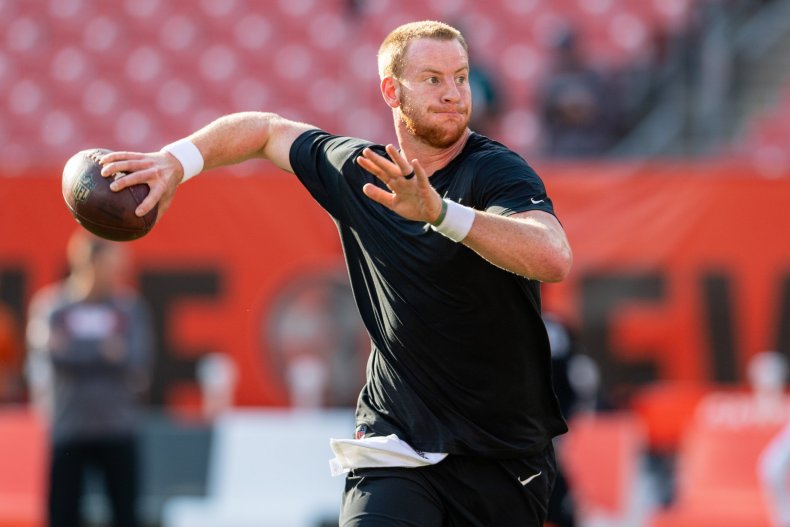 Andrew Luck, quarterback, Indianapolis Colts
It's tough to figure out what to make of Luck. He was, of course, a super-talented signal-caller before injuring his shoulder last year. Luck has been slow to fully recover and recently suffered a minor foot injury. He should be ready to go Week 1. The question is: How will he play?
Jerick McKinnon, running back, San Francisco 49ers
The 49ers back was running routes on his injured calf and looked good in practice. All signs thus far are good. "This looks like a guy who will be 100% in Week 1," posted 49ers reporter Joe Fann, along with a video of the running back.
Marqise Lee, wide receiver, Jacksonville Jaguars
After suffering a gruesome leg injury in a preseason game, the star Jaguars wideout is done for the year.
Alshon Jeffery, wide receiver, Philadelphia Eagles
The status Jeffery shoulder injury is a little unclear. He's still not participating in practices and remained on the physically unable to perform list some 11 days out from the opener this week. There'd be some downside in taking him too early in a draft.
DeVante Parker, wide receiver, Miami Dolphins
According to ESPN reporter Cameron Wolfe, Parker's coach said he "still can't catch a ball" because of a finger injury and catching is, quite obviously, a key part of playing receiver.
Uncommon Knowledge
Newsweek is committed to challenging conventional wisdom and finding connections in the search for common ground.
Newsweek is committed to challenging conventional wisdom and finding connections in the search for common ground.
About the writer
Reporter, covering a bit of everything.