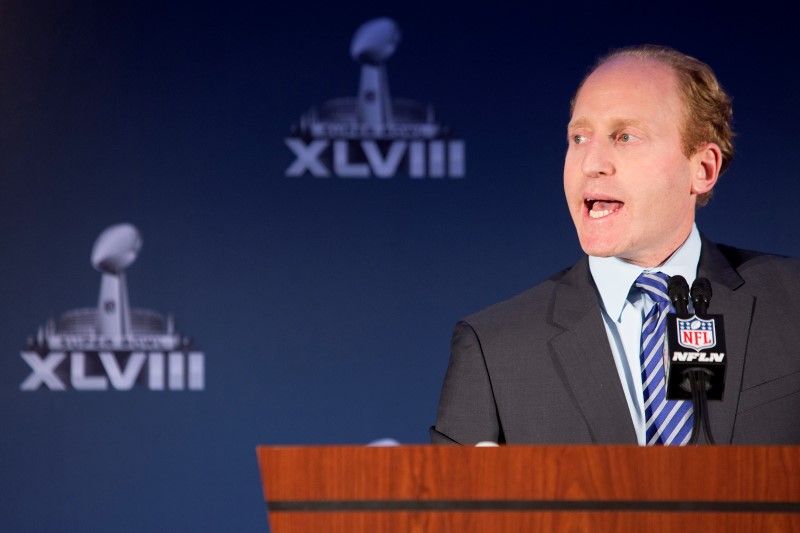 The NFL has acknowledged for the first time that a link exists between football-related head injuries and chronic traumatic encephalopathy (CTE), the degenerative brain disease that has been diagnosed in dozens of former athletes.
The admission came from Jeff Miller, executive vice president of health and safety for the National Football League, during a meeting of the House Energy and Commerce Committee on Monday that focused on concussions occuring in military circumstances, sports and other activities.
When asked by Illinois Representative Jan Schakowsky if there is a link between American football and brain diseases like CTE, Miller said, "The answer to that question is definitely yes."
"I think the broader point, and the one that your question gets to, is what that necessarily means, and where do we go from here with that information," Miller said during the discussion.
Miller said he based his answer on the work of Dr. Ann McKee, a Boston University neuropathologist who has researched CTE in former football players. McKee has posthumously diagnosed CTE in 176 people, including 90 former NFL players. Symptoms of CTE include memory loss, dementia and depression.
While NFL officials have previously acknowledged that injuries sustained while playing football, including head trauma and concussion, can lead to long-term health risks, it's believed that Miller's comments represent the first time the NFL has publicly confirmed a direct link between football and brain disorders such as CTE.
Miller's statments arrive a month after news that Ken Stabler, the former Oakland Raiders quarterback and NFL Hall of Famer who died of colon cancer in 2015, suffered from CTE for a number of years. Miller's admission also contradicts claims made earlier this year by Mitch Berger, a neurosurgeon in charge of the NFL's subcommittee on long-term brain injury, who said there was no link between football and CTE.
Other prominent pro football players who have been posthumously diagnosed with CTE include San Diego Chargers linebacker Junior Seau, who committed suicide in 2012; former New York Giants safety Tyler Sash; and Pittsburgh Steelers center Mike Webster.
The NFL did not return Newsweek's request for comment.
Uncommon Knowledge
Newsweek is committed to challenging conventional wisdom and finding connections in the search for common ground.
Newsweek is committed to challenging conventional wisdom and finding connections in the search for common ground.
About the writer
Before joining Newsweek, Lucy Westcott was an editorial fellow at The Wire. Previously a United Nations correspondent for the Inter Press Service, she has also written for the Guardian, Bustle, American Journalism Review, and the Capital News Service, and interned at the BBC's Washington bureau. Lucy received her Masters of Journalism degree from the Philip Merrill College of Journalism at the University of Maryland, College Park, and got her start in journalism writing copy for a police station. She was born and raised in Swindon, U.K.