NFL Has an All-female Team Calling 'Thursday Night Football,' but How Does It Compare to Other Sports?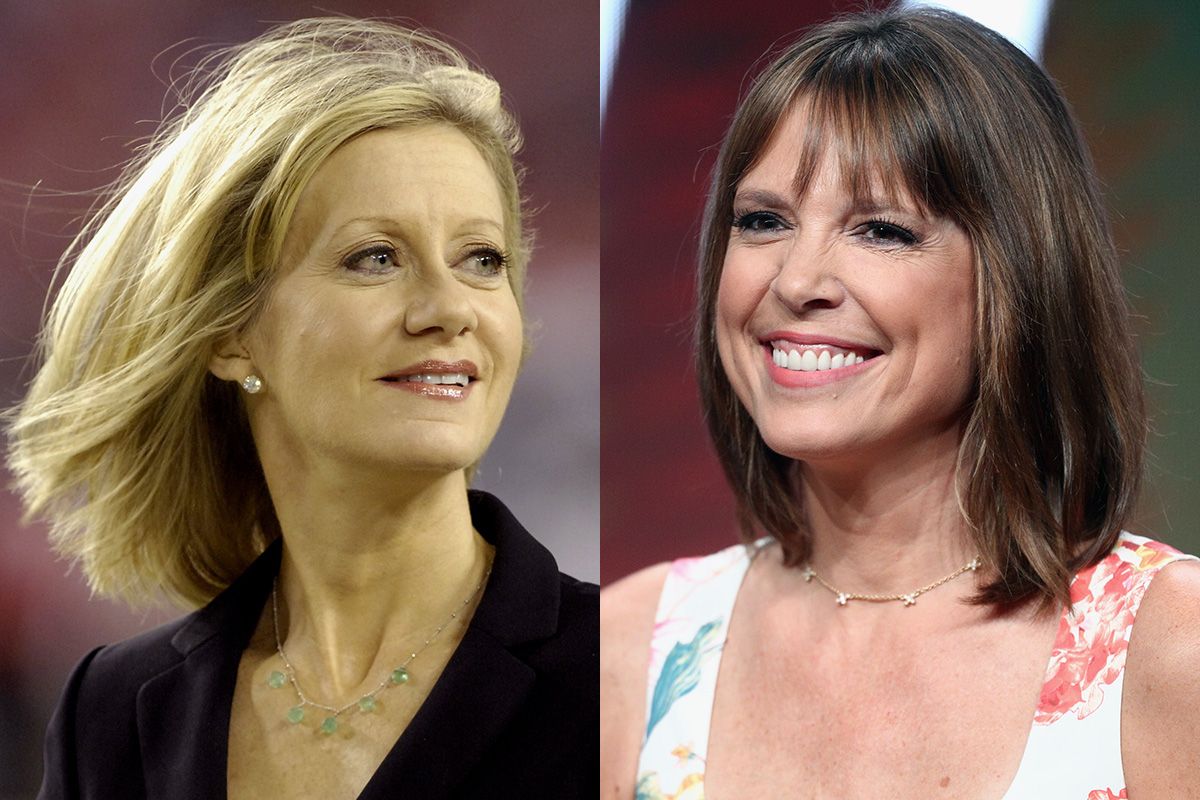 Andrea Kremer and Hannah Storm will make history on Thursday night when they will become the first female pair to call an NFL game.
Amazon Prime Video, which begins streaming Thursday Night Football this week, made the announcement on Tuesday, indicating the duo will share the booth on Thursday and for the next 10 games to follow.
"NFL fans will hear history made this season—bringing two female announcers together to call an entire NFL game has never been done before," Greg Hart, Vice President of Amazon Prime Video said in a statement.
The current chief correspondent for the NFL Network, Kremer has worked on over 25 Super Bowls and she was recently awarded the prestigious Pete Rozelle Radio-Television Award, which recognizes "long-time exceptional contributions to radio and television in professional football," by the Pro Football Hall of Fame.
"Teaming up with Hannah and Amazon for this is truly special," she said in a statement. "Hannah is a brilliant journalist and she has been a friend for many years. With decades of experience as storytellers, we will be bringing a different voice and viewpoint to covering the game of football."
Storm, who was the first female host of CNN Sports Tonight and is now an ESPN SportsCenter anchor, described Kremer as the best possible partner.
"I can't imagine embarking upon this new role with anyone better than Andrea," Storm said in a statement. "A lifelong friend with Pro Football Hall of Fame credentials, she is the perfect partner."
Thursday's broadcast will be a momentous occasion for the NFL and for U.S. sports broadcasting as a whole, given never before have two women called an NFL game.
Women's presence has steadily increased across NFL broadcasters over the last few years—including Kremer, the NFL Network alone employs 15 women as hosts, reporters or anchors—but remains largely a male-dominated environment.
While similar circumstances affect other major U.S. sports, a number of networks have taken steps to promote women through the ranks.
In 2016, Jessica Mendoza became baseball's first female analyst when ESPN put her in the Sunday Night Baseball booth, while Suzyn Waldman has been the New York Yankees' radio color commentator for over a decade.
Meanwhile, in September last year the ESPN made Doris Burke the first ever female full-time television game analyst for the NBA at the national level.
Burke has covered the NBA and the NCAA since 1991 and is one of the most recognizable sideline reporters for ESPN and for ABC, for whom she covers the NBA Finals.
In the same month, Kara Lawson took over as analyst for Washington Wizards games on NBC Sports Washington, and Sarah Kustok did the same for the Brooklyn Nets on the YES Network.
A year earlier, Meyers Drysdale worked as an analyst on Fox Sports Arizona when the Phoenix Suns played the Charlotte Hornets, while Stephanie Ready covered the game as an analyst for Fox Sports Southeast.
Whether Storm and Kremer will serve as trailblazers in the NFL remains to be seen, but Amazon Prime has definitely taken a first, important step.
The network also added that aside from the Storm-Kremer pairing, the game will have a number of feeds to choose from. Viewers will have the option to tune in on Joe Buck and Troy Aikman, who will be calling the game for Fox and the NFL Network and there will also be an English-language feed with broadcasters from the U.K. and one in Spanish.