NFL Has a Bizarre Week, and This Week's Games Are Only Just Beginning
NFL news during the last four days felt more like the offseason than midseason. It's only fitting that the week also started with Halloween.
What happened? An unvaccinated megastar quarterback got COVID, the league's top running back is out indefinitely with an injury, one star receiver was involved in a fiery car crash that killed a person and another receiver is sitting out because of mental health issues.
Then, throw in the fact another megastar receiver is disgruntled, and his father posted abut it in a video.
Thursday's kickoff between the lowly New York Jets (2-5) and the subpar Indianapolis Colts (3-5) probably can't get here fast enough for NFL fans and the league's front office.
Folks probably haven't been this eager for a Jets-Colts game since Super Bowl III in 1969.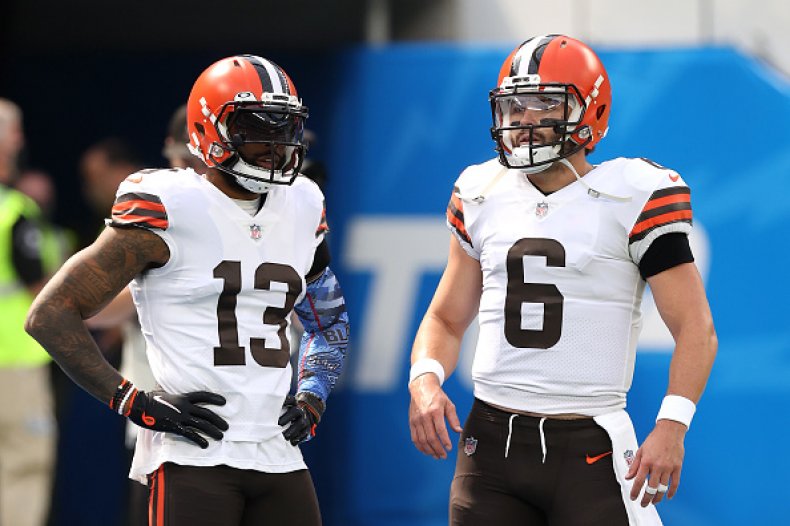 This week started Sunday when Atlanta Falcons standout wide receiver Calvin Ridley announced he would be taking time off, away from the game, for personal reasons. He later said it's to resolve some mental health issues.
Later in the day, Tennessee Titans running back Derrick Henry, who's the two-time defending rushing champ and leads the league by a lot this season, suffered a foot injury that will have him out indefinitely.
Then Dallas Cowboys backup quarterback Cooper Rush got his first career start, throwing for 325 yards and two touchdowns in a road win Sunday night in Minnesota.
On Tuesday morning, Las Vegas Raiders receiver Henry Ruggs III was involved in a fiery car crash that left one person dead. According to a prosecutor, Ruggs' blood-alcohol level was twice the legal limit, and that Ruggs had reached 156 mph in his Corvette that slammed into another vehicle, causing it to set fire and kill a 23-year-old woman. Ruggs faces two criminal charges.
Later on Tuesday, the Miami Dolphins said they would not trade for Houston Texans quarterback Deshaun Watson, who has 22 female accusers of either sexual assault or improper sexual advances. Tony Buzbee, the attorney who represents the accusers, said the Dolphins wanted all 22 settlements reached before a deal was to be made. It didn't happen.
On Wednesday, Green Bay quarterback Aaron Rodgers tested positive for the coronavirus. Since he has not been vaccinated, Rodgers has to quarantine for 10 days, per the NFL's protocol. That means Rodgers will miss the highly-anticipated showdown this week against the Kansas City Chiefs and Patrick Mahomes. The 10-day quarantine is up Nov. 13, one day before the Seattle Seahawks go to Green Bay.
Also on Wednesday, Cleveland Browns receiver Odell Beckham Jr. was told to not practice after his father posted a video that highlighted many instances Browns quarterback Baker Mayfield didn't throw the ball to Beckham. The receiver's agent has been in talks with the Browns about Beckham's future with the team, and it appears Beckham has become disgruntled. Some say he has played his last game with the team. On Thursday, Beckham again did not practice.
Another strange happening last week? The Jets won their second game of the season by once again beating a top AFC team. The Jets beat the surprising Cincinnati Bengals after knocking off the Tennessee Titans a few weeks earlier. The Jets started Mike White at quarterback, who was making his first career start. White set a record for completions (37) by a first-time starter, and he's only the second quarterback since 1950 to throw for more than 400 yards in their first career start. White threw for 405 yards, which trails only Cam Newton's 422 yards.
Kickoff between the Colts and Jets on Thursday night will be shortly after 8 p.m. ET.