NFL Kneel Protest Ban Unconstitutional, Says Expert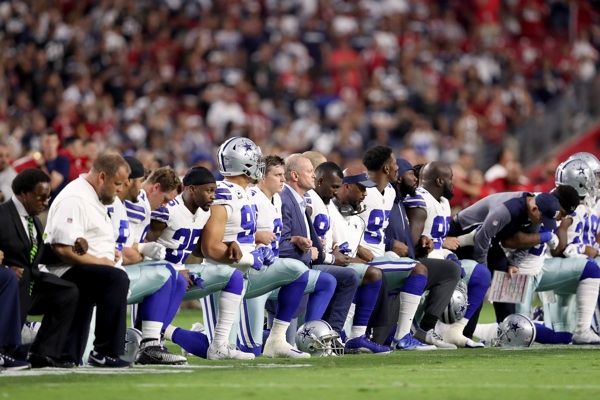 The NFL's ban on players protesting against racism and police violence by kneeling during the national anthem may be illegal, according to a Harvard labor and industry professor.
In an op-ed for Vox published Friday, Harvard labor and industry professor Benjamin Sachs argued that the NFL rules forcing players who wish to protest to remain in the locker room violate both the First Amendment and labor laws.
"The clearest illegality derives from the fact that the league adopted its new policy without bargaining with the players union," Sachs writes.
Sachs argues that kneeling during the national anthem constitutes a clear form of workplace protest, and potential bans by league authorities must be discussed with the NFL players union before being enforced.
"If, as the NFL Players Association says, the employer implemented this change on its own, the policy is flatly illegal for that reason and should be rescinded by the league," he added.
Sachs also argued that president President Donald Trump and Vice President Mike Pence's calls for players participating in the protests to be fired violates players' rights to speech free of government censorship.
He writes: "The owners have made clear that their adoption of the new rule was made in response to presidential intervention: They believe that if they do not ban the protests, the president will continue to make the protests a national issue and thereby negatively affect the league's income stream.
"When the president and vice president of the United States are this intimately involved in encouraging a private employer to adopt a workplace rule, the Constitution should have something to say."
Other experts, however, argue that the NFL is within its rights to prohibit the protests.
"The fact is, these athletes do not have the "right" to protest at football games unless their employers consent to the conduct," wrote CNN legal analyst Paul Callan in September.
"My bet is that in most places they would be fired or suspended -- as would protesting bank tellers, store clerks, security guards, restaurant workers or anyone else with a job to do. As an attorney, I would likely be held in contempt of court if I interrupted my presentation to a judge to protest racial injustice in America by kneeling."
"Their private employers have a legal right under the U.S. Constitution to fire or suspend players who engage in acts of protest on the field during the playing of the National Anthem and the display of Old Glory.
He continued: "Yes, America is a 'free country,' whose citizens enjoy greater liberty and 'freedom of speech' than any place on Earth, but even here there are limitations to these rights."
In 2016, former San Francisco 49ers player Colin Kaepernick launched a wave of protests in the NFL and ignited national controversy by refusing to stand to the national anthem ahead of games, to protest against racist policing.
There was a renewed wave of protests in 2017, with President Trump criticising players who took part.
This week, NFL owners unanimously voted to impose disciplinary action on those participating in the protests.
"We believe today's decision will keep our focus on the game and the extraordinary athletes who play it — and on our fans who enjoy it," NFL Commissioner Roger Goodell said Wednesday.