NFL MVP Betting Odds: Lamar Jackson and Russell Wilson Soar to Top Following Week 11 Performances
As the NFL season heats up, quarterbacks remain the top contenders for the league's MVP trophy.
According to the latest odds, Seattle Seahawks quarterback Russell Wilson and Baltimore Ravens quarterback Lamar Jackson are now the odds-on favorites to win the award, both of them surpassing Green Bay Packers QB Aaron Rodgers. Rodgers led betting lines during week 8 of the season, but has since dropped in the rankings.
Carolina Panthers running back Christian McCaffrey also saw a huge decline in betting odds since week 8, in which he was in the top 3 for the favorite to win.
Lamar Jackson, quarterback, Baltimore Ravens
Get your unlimited Newsweek trial >
Prior to week 9, Jackson was listed at +600 on Draftkings sportsbook, +500 on Fanduel sports book, and +900 on BetOnline. In the two weeks since, Jackson has gone on to beat two Super Bowl winning quarterbacks in Wilson and the New England Patriots' Tom Brady, while leading his team to a 8-2 record. Jackson's teammate and fellow Heisman trophy winner Marc Ingram had something to say to reporters.
"[He's] the MVP frontrunner, if anybody else got something to say different about that, then come see me," Ingram said.
While throwing for 2,258 yards and 19 touchdowns, Jackson is also on pace to break the single-season rushing yard record for a quarterback set by Michael Vick in 2006, when he had 1,039 yards. Jackson has 788 rushing yards through 10 games, putting him on pace to rush for around 1,200 yards on the season.
Get your unlimited Newsweek trial >
According to Fanduel, Jackson is currently tied with Wilson for the MVP favorite at +150 odds. He sits atop the Draftkings sportsbook with +170 odds. Bovada currently has Jackson listed as the second favorite behind Wilson with +225 odds.
Russell Wilson, quarterback, Seattle Seahawks
After dealing the San Francisco 49ers their first loss of the season on November 11, Wilson's MVP resume has only gotten stronger. Prior to week 9, he was the second favorite to win the award with odds ranging from +275-+350.
While leading his team to a strong 8-2 record, Wilson has thrown for 23 touchdowns, 2,737 total yards and two interceptions. Wilson also has a 78.1 quarterback rating, second in the league behind the Kansas City Chiefs' Patrick Mahomes.
On Fanduel, Wilson is tied for the MVP favorite with +150 odds. Draftkings has the quarterback listed at +200 odds, and Bovada continues to keep Wilson as the favorite with +145 odds. Wilson will continue to make his case for the MVP when he takes on the Philadelphia Eagles on November 24.
Christian McCaffrey, running back, Carolina Panthers
McCaffrey was one of the players who saw a decline in his odds since week 9. Prior to that week, he was listed at odds ranging from +800 to +1600. During his last few games, McCaffrey has continued to impress from a statistical perspective, but two straight losses and extreme performances from Wilson and Jackson have overshadowed the running back.
On Fanduel, McCaffrey is currently listed at +3000 odds, Draftkings has him at +2000 and +1600 on Bovada. McCaffrey will look to improve on his season when he and the Panthers take on the New Orleans Saints during week 12.
Aaron Rodgers, quarterback, Green Bay Packers
Rodgers has seen the biggest drop in odds for the MVP award. Prior to week 9, Rodgers was the favorite in a number of different sportsbooks with odds ranging from +225 to +300. Since week 9 he has only thrown one touchdown and 394 total yards. Rodgers has had a consistent completion percentage around 65 percent, but like McCaffrey, his performances have been overshadowed by Jackson and Wilson.
Rodgers is listed at +1600 odds on Fanduel sports book, +900 on Draftkings and +700 on Bovada. Rodgers will look to lead the Packers to their ninth win on November 24 when they face the 1 loss 49ers in San Francisco.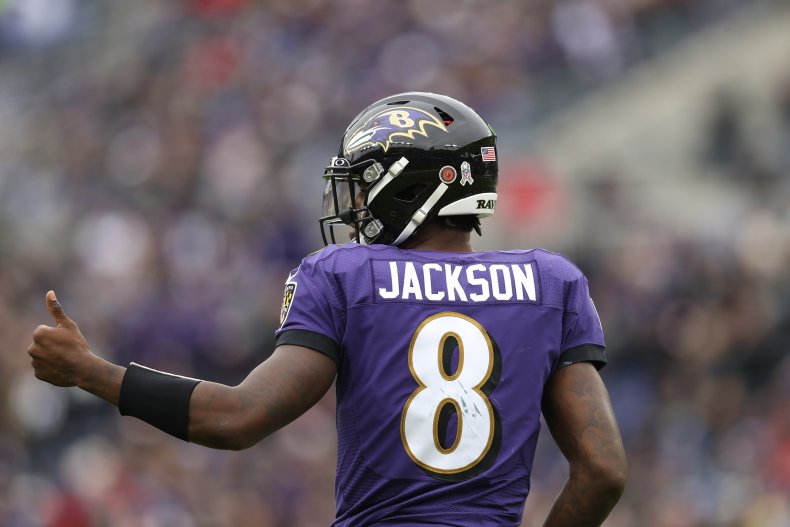 NFL MVP Betting Odds: Lamar Jackson and Russell Wilson Soar to Top Following Week 11 Performances | Sports