NFL MVP Voter Calls Aaron Rodgers 'Biggest Jerk in the League,' Refuses to Give Him Vote
Despite his numbers this season and his name being constantly brought up in the NFL MVP discussion, Aaron Rodgers, if he gets the award, will not a unanimous winner.
That's because one man, Hub Arkush, who is one of the 50 voters of the Associated Press' yearly NFL awards and an editor of Pro Football Weekly has decided he will not give his nod for MVP to the Green Bay Packers' quarterback.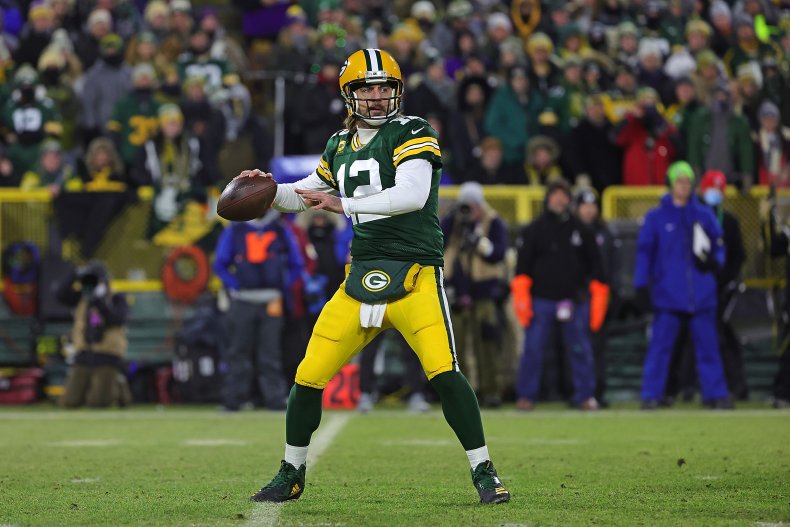 Arkush's reasoning for his decision? He said to honor the "biggest jerk in the league" would be a bad and wrong move. In speaking to a Chicago radio station, Arkush said Rodgers has "punished" the NFL, the Green Bay Packers organization and the team's fan base this season with his off-the-field actions.
He went even further in his rationale for his decision and criticism of Rodgers, even suggesting other players may be just as valuable as the Packers QB. "Has he been the most valuable on the field? Yeah, you could make that argument, but I don't think he is clearly that much more valuable than Johnathan Taylor or Cooper Kupp or maybe even Tom Brady. So from where I sit, the rest of it is why he's not gonna be my choice. Do I think he's gonna win it? Probably. A lot of voters don't approach it the way I do, but others do, who I've spoken to."
Given the fact that Arkush is a Chicago-area writer and the longtime rivalry between the Packers and the Bears, he said he understands that some people will say his criticism of the quarterback is nothing more than that of a "Packer hater."
In November, Rodgers revealed that his preseason comments about being "immunized" were about a receiving an unsanctioned treatment regimen and not being vaccinated against COVID-19.
Also, before the season, Rodgers did not participate in the Packers offseason program, choosing instead to holdout. Prior to eventually showing up for training camp Rodgers had floated the idea of retirement.
Following Arkush's comments, social media sounded off with takes of their own. Twitter user @BrandonLesco6 said, "None of which has anything to do with his play. He's MVP, period."
"Kudos, but, he's not worthy of the MVP for other reasons. Johnathan Taylor comes to mind," @Vaart said. "Cooper Kupp does too. Oh yeah, the GOAT, the real GOAT, is putting up Madden type numbers at the age of 1,000 years. That's far more impressive than Rodgers."
Twitter user @HitchikersPie took exception to Rodgers, believing him to be a jerk saying, "Rodgers is actively spreading disinformation during a public pandemic, that sounds like bad guy to me."
In 16 games this season, Rodgers has thrown for nearly 3,980 yards and 35 touchdowns with only four interceptions.
The NFL's regular season wraps up this weekend as Rodgers and the 13-3 Packers take on the Detroit Lions. Prior to this weekend's game the Packers clinched the NFC North division, the top spot in the NFC playoffs and a first-round bye.