Despite Attention on Colin Kaepernick, NFL Will Not Enforce New National Anthem Protest Policy: Report
The NFL will not implement any new policy this season on players standing or kneeling during the national anthem.
According to an ESPN report Sunday, league officials are continuing discussion on the highly controversial issue, but no policy will be put in place either denying or allowing player protests. "The new policy is going to be no policy," Adam Schefter reported, citing anonymous NFL sources.
NFL player protests over police brutality and racial inequality have come back under intense scrutiny in the wake of Nike's new ad campaign featuring Colin Kaepernick as well as the start of the 2018-2019 season this weekend.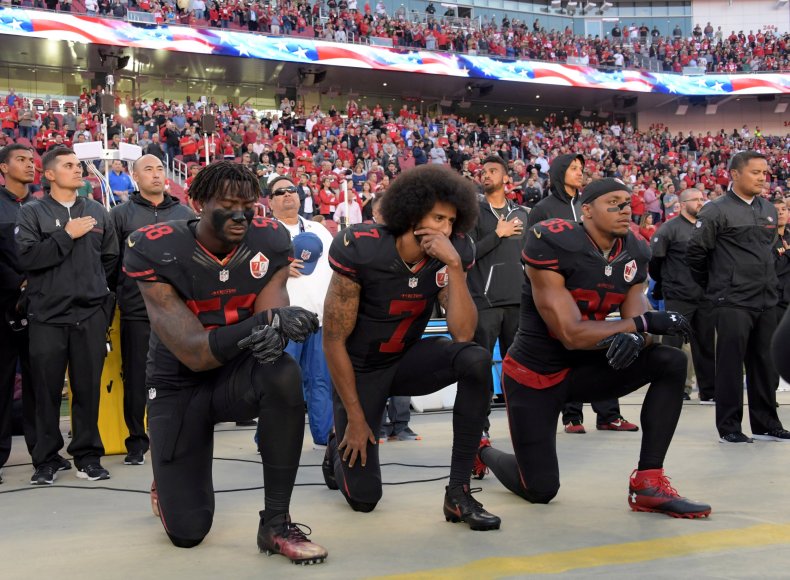 In May, NFL owners voted in favor of a policy requiring players to "stand and show respect" during the pre-game playing of the national anthem. The owners threatened to fine specific teams whose players either stayed in the locker room or took a knee during the anthem. But the league put a freeze on that policy after a grievance was filed in July by the NFL Players Association (NFLPA).
"In order to allow this constructive dialogue to continue, we have come to a standstill agreement on the NFLPA's grievance and on the NFL's anthem policy," reads the NFL's July statement. "No new rules relating to the anthem will be issued or enforced for the next several weeks while these confidential discussions are ongoing."
The silent protests have continued to draw controversy since Kaepernick first popularized kneeling during the national anthem during his 2016 season with the San Francisco 49ers. Kaepernick has since claimed league owners blacklisted him for participating in the protests.