NFL Network Suspensions: Full List of Ex-Players Facing Sexual Harassment Allegations
Updated | The NFL Network has suspended three of its analysts, all noted former players, over allegations of sexual harassment.
The lawsuit filed by former NFL Network employee Jami Cantor was first reported by Bloomberg in the early hours of Tuesday morning. It also includes Eric Weinberger, the current president of Bill Simmons Media Group. The Ringer, Simmons's website, released a statement Tuesday morning saying it was placing Weinberger on leave "indefinitely".
Here are the ex players listed in Cantor's lawsuit, and the allegations against them.
Marshall Faulk
Former NFL M.V.P. and seven-time Pro Bowl running back with the Indianapolis Colts and St. Louis Rams is alleged to have asked Cantor, a former wardrobe stylist for the NFL Network where Faulk works, "deeply personal and invasive questions." Bloomberg also lists the allegation that Faulk "fondled [Cantor's] breasts and groped her from behind."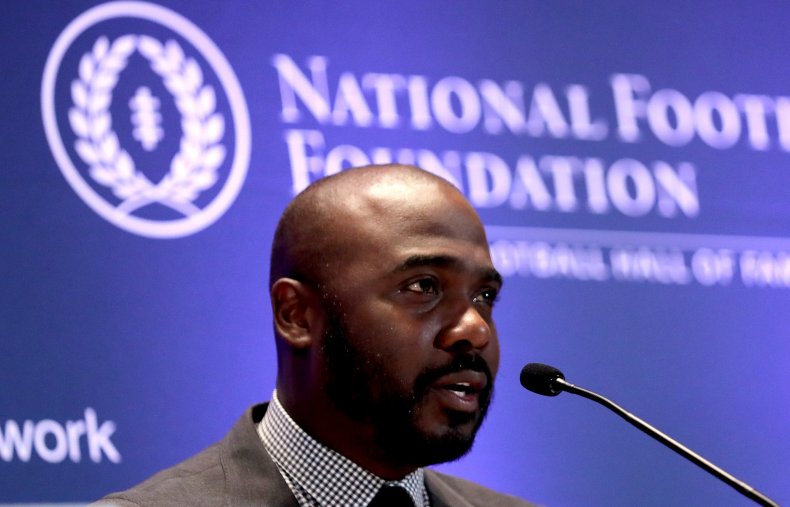 Heath Evans
The former fullback for the Seahawks, Dolphins, Patriots and Saints and NFL Network analyst made "sexually explicit comments" to Cantor, according to Bloomberg.
Ike Taylor
The 37-year-old ex-Steelers cornerback, twice a Super Bowl champion, sent Cantor "sexually inappropriate" pictures of himself, according to Cantor's complaint. Cantor also alleges Taylor sent her a video of him masturbating in the shower.
Warren Sapp
A Super Bowl-winning defensive end and former Defensive Player of the Year with the Tampa Bay Buccaneers, Sapp's contract with the NFL Network was terminated in February 2015 after he was arrested on suspicion of soliciting a prostitute. The charges were later dropped. Cantor accuses Sapp of urinating in front of her, in a section of the lawsuit seen by Deadspin. Cantor also alleges Sapp gave her "sex toys as Christmas gifts three years in a row."
Donovan McNabb
The former Philadelphia Eagles, Redskins and Vikings quarterback, who led the franchise to Super Bowl XXXIX and was named to the Pro Bowl six times, joined the NFL Network in September 2012. He now works for ESPN. Cantor alleges McNabb asked her if she was a "squirter" and told her she "looked like the kind of girl that squirted when getting f*****".
Correction: An earlier version of this article stated that Marshall Faulk played for the Baltimore Ravens. Faulk played for the Indianapolis Colts and St. Louis Rams. The article has been updated to correct this error.