NFL's Nick Bosa Sounds 'Exactly Like' Jeffrey Dahmer in Clip, Fans Say
Nick Bosa has shown he has a sense of humor when playing defensive end for the San Francisco 49ers, but fans were pointing out something else after he was mic'd up for the NFL.
The 25-year-old was shown hunting down the Los Angeles Chargers in the 49ers' 22-16 win on November 13, with the football player giving a little commentary on what he was looking to achieve.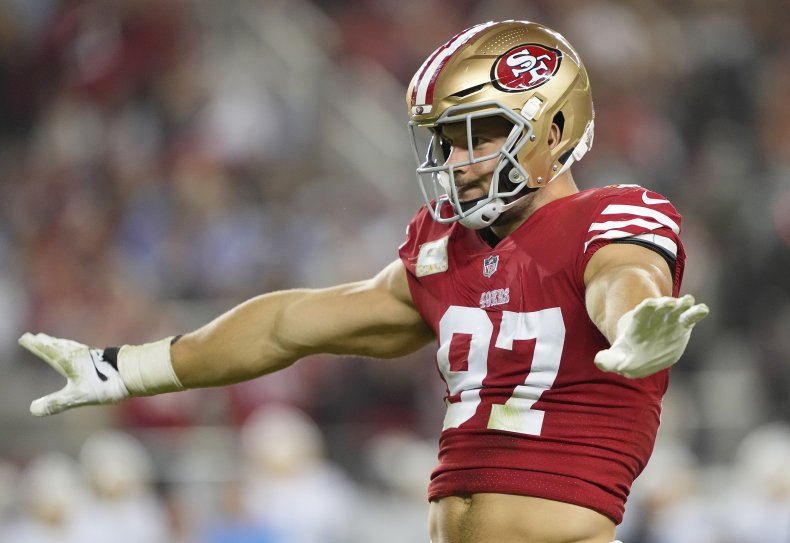 While Bosa made an awesome play in the clip, what caught most people's eyes, or their ears in this case, was that the 49ers star sounded like serial killer Jeffrey Dahmer in Netflix's recent drama.
In the footage posted on NFL Films TikTok page, 49ers linebacker Fred Warner is seen giving a talk to the defense, ahead of a play.
Warner shouts at his teammates: "Everybody do your assignment, and then once the ball is out, swarm."
The camera then pans to Bosa, who then adds in a deadpan voice: "Cannot agree more."
After Bosa is taken down to the ground by a block after pursuing the Chargers passer, the clip moves to the defensive end sitting on the sidelines and telling his fellow defensive linemen: "I just want to sack the quarterback, dude... it's not as easy as it looks."
The footage then moves onto Bosa rushing the Chargers quarterback, Justin Herbert, and bringing him down from behind for the sack that he was craving.
Comments on the video immediately targeted Bosa's voice, with many claiming that he sounded like Dahmer, the serial killer who has been the subject of the Netflix series Monster: The Jeffrey Dahmer Story.
The first comment on the clip has racked up more than 16,500 likes: "Why does he sound exactly like dahmer."
Another commented: "Why does he sound like Jeff dahmer," while a third continued the theme, asking (or shouting): "YO, WHY NICK BOSA SOUND LIKE THE ACTOR FOR JEFFREY DAHMER?!!?"
The actor in question is Evan Peters, 35, who is mostly known for his multiple roles in the TV series American Horror Story.
In real life, Jeffrey Dahmer was known as the Milwaukee Cannibal or the Milwaukee Monster and, between 1978 and 1991, he murdered and dismembered 17 men and boys.
Dahmer was diagnosed with borderline personality disorder, schizotypal personality disorder, and psychosis, but when he stood trial, he was found to be legally sane.
The serial killer was convicted of 15 of the 16 murders that he had committed in Wisconsin and was sentenced to 15 terms of life imprisonment on February 17, 1992.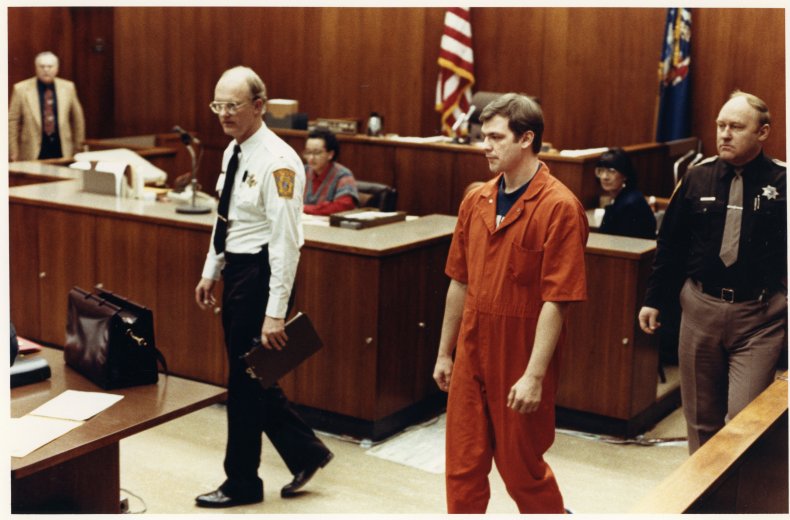 Dahmer was later found guilty of an additional homicide committed in Ohio in 1978 and was sentenced to a 16th term of life imprisonment.
The killer was beaten to death by fellow inmate Christopher Scarver at Columbia Correctional Institution in Portage, Wisconsin on November 28, 1994.
Do you have a tip on a sports story that Newsweek should be covering? Do you have a question about the NFL? Let us know via entertainment@newsweek.com.