NFL Weekly Showdown: Jack Del Rio Goes for Two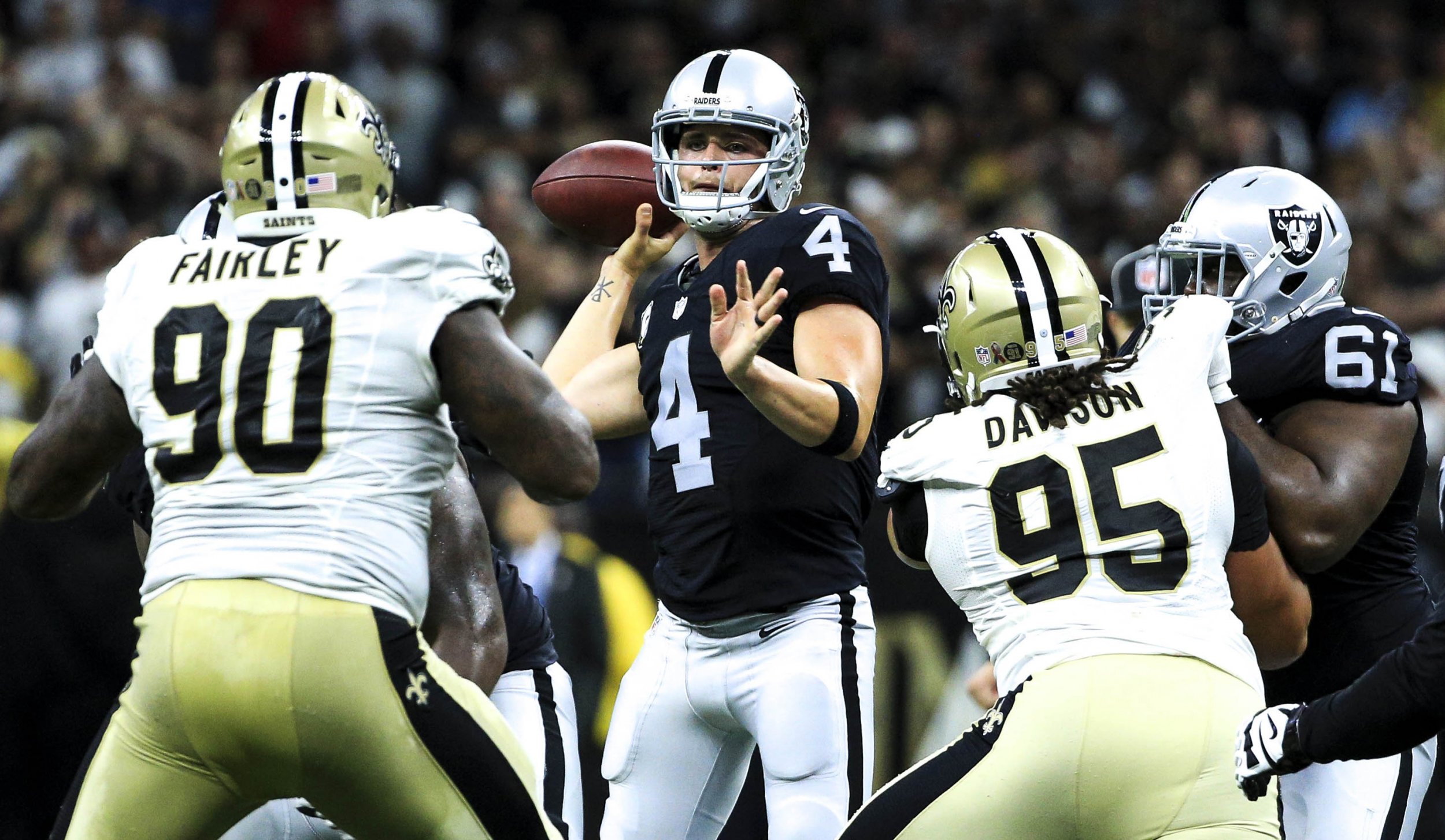 Five quick hits from the weekend's NFL action:
1. One-Eyed Jack*
*As long as the Oakland Raiders' logo remains a pirate with an eye patch and as long as their coach is a swashbuckling gambler named Jack Del Rio, we're sticking with this nom de guerre for Del Rio.
Second-year Oakland Raiders head coach Jack Del Rio violated the "No Fun League" theme yesterday in New Orleans. Del Rio, a former NFL linebacker, went for two points and the lead on the road, after the Raiders had scored a touchdown late to move within one point of the Saints. "I didn't really ask for any feedback there," Del Rio explained. "I said, '`When we score here, we are going to go for two and win it right here.'"
Newsweek subscription offers >
Oakland's QB Derek Carr connected on a corner throw to Michael Crabtree for the two-point conversion and the Raiders held on to win 35-34. If the Raiders move to Las Vegas, Del Rio will be a very popular coach in their new home, and the city already sort of has a hotel named after him.
Newsweek subscription offers >
2. National Pass Time
It is only Week 1, and two games remain to be played on Monday night, but thus far the NFL has produced as many 400-yard passers (one, Drew Brees, 423 yards in a Saints loss) this season as 100-yard rushers (Lamar Miller, Texans, 106 yards). The NFL has eight 300 plus-yards passers on opening weekend whereas the eighth-best rushing yardage total was 75 yards, by Rashad Jennings of the New York Giants.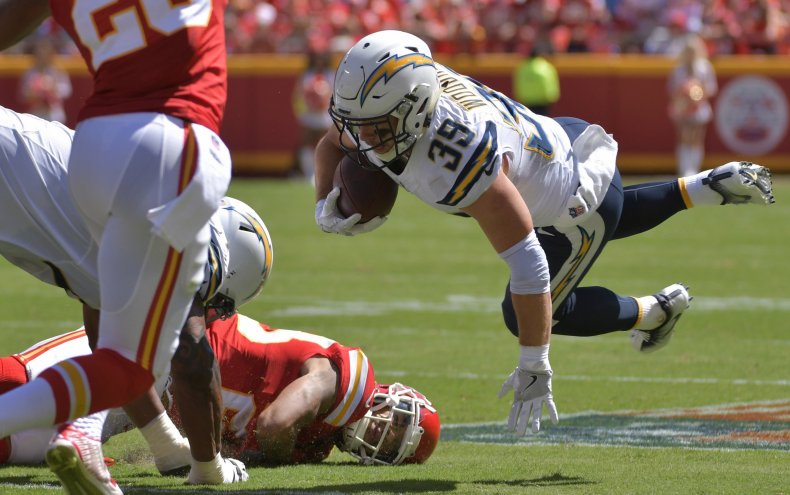 Is 75 the new 100 in rushing yards per game? Also worth noting: Three of the top eight passers this weekend, including Andrew Luck of the Colts, are former No. 1 overall picks. Three of the top eight rushers this weekend, including Danny Woodhead of the San Deigo Chargers, were not drafted.
3. It's Football, Not Footloose
In the first quarter of Sunday night's Patriots-Cardinals contest, Arizona defensive lineman Chandler Jones recovered a fumble by Patriots QB Jimmy Garoppolo. After the play, Jones and teammate D.J. Swearinger rejoiced by performing a brief soft-shoe recital. A flag was quickly thrown and the Cardinals were penalized 15 yards for a "choreographed demonstration." As Will Leitch of Sports on Earth wondered in a tweet, "Isn't all of football a choreographed demonstration?"
4. We'll Never Figure Out Kickers (and Neither Will You)
Four games have already been decided by last-second field goal attempts. The Panthers, Saints and Cardinals all lost when their kickers missed field goals as time expired. The Bengals beat the Jets, 23-22, when kicker Mike Nugent, a former Jet, converted a 47-yarder in the final minute. The Bengals and Jets each scored two touchdowns and three field goals. One could argue that the difference in the game was a missed first-half PAT by Jets specialist Nick Folk, his first errant PAT in 313 career tries.
5. When Taking a Knee Is Not About Stopping the Clock
Call it a bizarre coincidence: The first NFL Sunday in a post-Colin Kaepernick protest world just happened to fall on the 15th anniversary of 9/11. Some players knelt, some players raised a right fist (echoes of John Carlos and Tommie Smith in Mexico City, '68) and the entire Seattle Seahawks squad, coaches included, locked arms. Meanwhile in at least two stadiums, Cowboys Stadium and University of Phoenix Stadium (Arizona Cardinals), flags that stretched the entirety of the field were unfurled. In Glendale, Arizona, wide receiver Julian Edelman helped hold the flag during the singing of the national anthem, but then he is a Patriot.
Intriguing side-note: In Arizona the anthem was sung by Kristin Chenoweth, who for years was the significant other of Aaron Sorkin, who wrote The American President, a film that includes the line (spoken by the president), "You want to claim this land as the land of the free? Then the symbol of your country can't just be a flag; the symbol also has to be one of its citizens exercising his right to burn that flag in protest. Show me that, defend that, celebrate that in your classrooms. Then, you can stand up and sing about the 'land of the free.'"
NFL Weekly Showdown: Jack Del Rio Goes for Two | Sports