NFL Player Cole Beasley Says He'll Get Vaccinated if Pfizer Gives Him Earnings Share
Buffalo Bills wide receiver Cole Beasley said Tuesday he would get the COVID-19 vaccine if Pfizer gave him an earnings share.
The NFL player responded to a tweet from ProFootballTalk saying what it would take for him to get the shot. ProFootballTalk's original tweet linked an article from their website proposing the NFL and its player association halt marijuana testing for players who agree to get vaccinated.
"I'll get vaccinated and be an advocate for it if Pfizer puts a percentage of its earnings from the vaccine in my wife's name," Beasley tweeted.
He defended his stance in the comments, saying he did not want to give the company "free marketing" if he were to push the vaccine.
His tweet was met with criticism from the NFL community.
Former NFL quarterback Sage Rosenfels tweeted an Abraham Lincoln quote in response.
"'Better to remain silent and be thought a fool than to speak and to remove all doubt,'" Rosenfels wrote.
Mark Cuban, the owner of the Dallas Mavericks NBA team, offered to buy Beasley a share of Pfizer if he got vaccinated.
"I'll tell you what Cole. You get vaccinated and promote vaccination on all your social, I'll buy your wife a share of Pfizer stock. It pays a 3.78% dividend. That way she is getting a percentage of Pfizer's earnings. Deal?" Cuban wrote.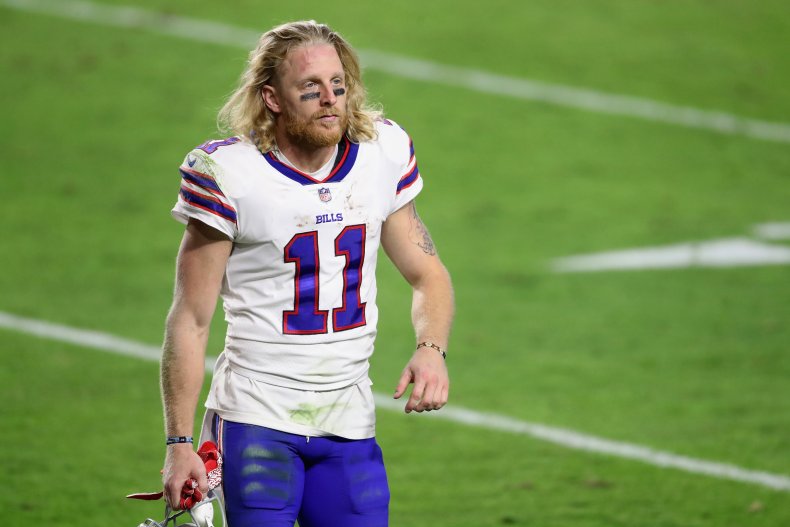 After over 1,000 comments came in, Beasley replied to a few defending his choice. He said "it's not about money" and told users to "get off Twitter" if they did not want to hear about his vaccine stance anymore.
"Y'all are just sensitive as hell and nobody can say anything these days," Beasley wrote. "Everything is life and death with any issue to people."
"I get it. I'm dumb you guys are smart. I have an awesome family. They're taken care of forever and I'm only 32 years old. I have a great life. I'd say I've done pretty well for a dumb guy with CTE," Beasley tweeted.
He also brought up how he believes the COVID-19 rules issued by the NFL are not keeping the players any safer.
Beasley previously spoke out against an NFL rule that gave vaccinated players unrestricted access to training facilities. He called the player's association "a joke," and penned a letter to fans on Twitter.
"Everyone - Hi, I'm Cole Beasley and I'm not vaccinated! I will be outside doing what I do. I'll be out in public. If you're scared of me then steer clear, or get vaccinated," Beasley wrote in June. "Point. Blank. Period."