Ex-NFL Player Catches Peeping Tom Outside 15-year-old Daughter's Window, Has 'Good Conversation'
A former defensive back in the NFL said he had a "good conversation" with the peeping tom he allegedly caught masturbating outside his teenage daughter's bedroom window as she got dressed.
Tony Beckham, 40, who played for the Detroit Lions and Tennessee Titans, told WPBF that he thought he was "getting Punk'd," a reference to the MTV show that plays pranks on celebrities.
But after quickly realizing what was happening outside his home in Wellington, Florida, the ex-athlete chased the suspect through the parking lot and caught him.
Read more: Severely burned man escaping fire at his home hit by pickup truck
"I caught him at the apartment over there and we just had a good conversation," Beckham, who played in the NFL for five seasons between 2002 and 2007, told the station.
Beckham fought the suspect, 48-year-old Geoffrey Cassidy. The footballer's wife called police who detained Cassidy and took him to Wellington Regional Medical Center to be treated for facial fractures, Local 10 reported, citing an affidavit by Palm Beach County Sheriff's Office.
Cassidy reportedly denied peeping through the 15-year-old girl's bedroom window and claimed his car had broken down nearby. A mugshot of Cassidy shows his injuries.
According to Palm Beach County Sheriff's Office, Cassidy was booked in on Monday and held at West Detention Center on a $1,500 bond.
He faces a charge of lewd and lascivious exhibition with a victim younger than 16 years old, a second degree felony which is punishable by up to 15 years in jail and a fine of $10,000. No home address was given and Cassidy is described as living "at large."
"I'm sorry that it happened to me. I'm sorry that it happened to him," Beckham told WPBF. "Because he's never going to do that again on this side of town."
The Palm Beach County Sheriff's Office did not respond immediately to Newsweek 's request for comment.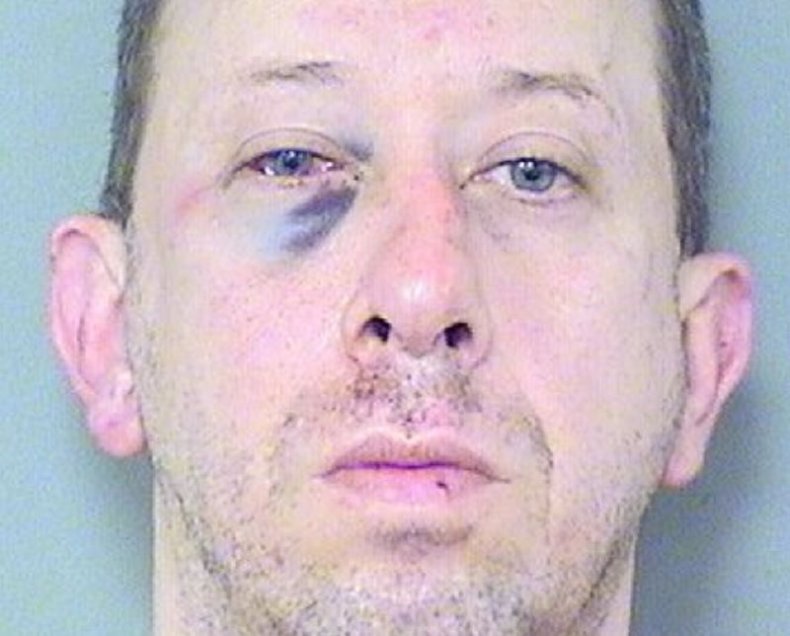 In California, police are hunting for a man caught on a surveillance camera prowling around the front lawn of a family home and licking their doorbell for three hours as a family slept inside.
The 33-year-old suspect, Roberto Daniel Arroyo, who is known to police, also appeared to relieve himself in the front yard of the property in the Rossi Rico neighborhood of Salinas, KION reported.
"The charges he faces are prowling, theft and violation of probation," Salinas Police Department spokesperson Miguel Cabrera told Newsweek. "We have no theory as to why he did this."
Ex-NFL Player Catches Peeping Tom Outside 15-year-old Daughter's Window, Has 'Good Conversation' | U.S.