NFL Player Reveals He Has PTSD After Being Robbed at Gunpoint With Family
Baltimore Ravens cornerback Jimmy Smith said on Thursday he has been suffering from post-traumatic stress disorder ever since he and his family were robbed at gunpoint in February.
"Going into the store and being around anyone with a mask or hood on, it really makes my heart thump to this day," Smith said during a press conference after the team's practice on Thursday. "It was terrifying situation."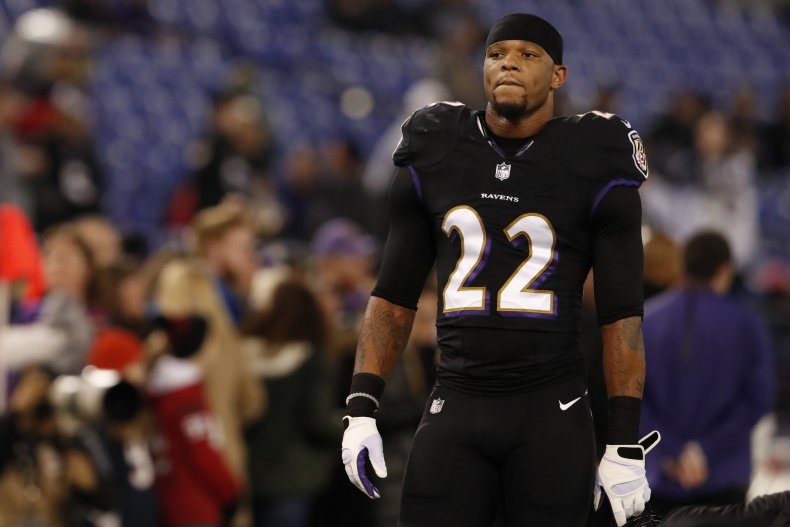 Smith was exiting his car at a store to get juice not long after checking into a hotel near the Los Angeles International Airpot on the night of February 9 when he was surrounded by three masked men with guns. Smith said the woman in the car with him, his girlfriend, was pregnant and had a gun pointed at her stomach. His three young children were also in the car during the robbery.
"Cowards running up on you with three guns," the NFL player said during the press conference. "You don't know if you're going to lose your life in that moment."
Smith added he had noticed he had been followed to two fast-food restaurants and then back to the hotel before he was robbed.
"The crazy thing is I seen it kind of coming," Smith said. "You know, when something bad happens, you get this eerie feeling. I kind of had an eerie feeling. I didn't listen to it. I hopped out of the car and just seen dudes coming at me with guns. They surrounded me. All you could think of is 'I want to live, I want to get out of here.' At that moment, jewelry didn't matter. None of that matters."
Smith first revealed the incident occurred days afterward on his personal Facebook page, and the Ravens released a team statement that said they were aware of what happened and they had been in contact with him. Smith had not publicly discussed the robbery before with reporters until Thursday, and no police report from the night has ever been released.
Smith also added while speaking of the robbery on Thursday that he doesn't expect the robbers to ever get arrested, though he indicated they will face some form of punishment during their lifetimes.
"You're not going to catch those guys. This is happening left and right in California," Smith said. "I'm not going to say I wish death upon them, but they'll get what's coming to them."
Smith was drafted by the Ravens in the first round in 2011, and he has been with the team ever since. He recently signed a one-year, $2.5 million extension that will keep him in Baltimore through the 2021 season.