NFL Players Cancel Israel Visit After Minister Announces Intention to Use Them as 'Influencers'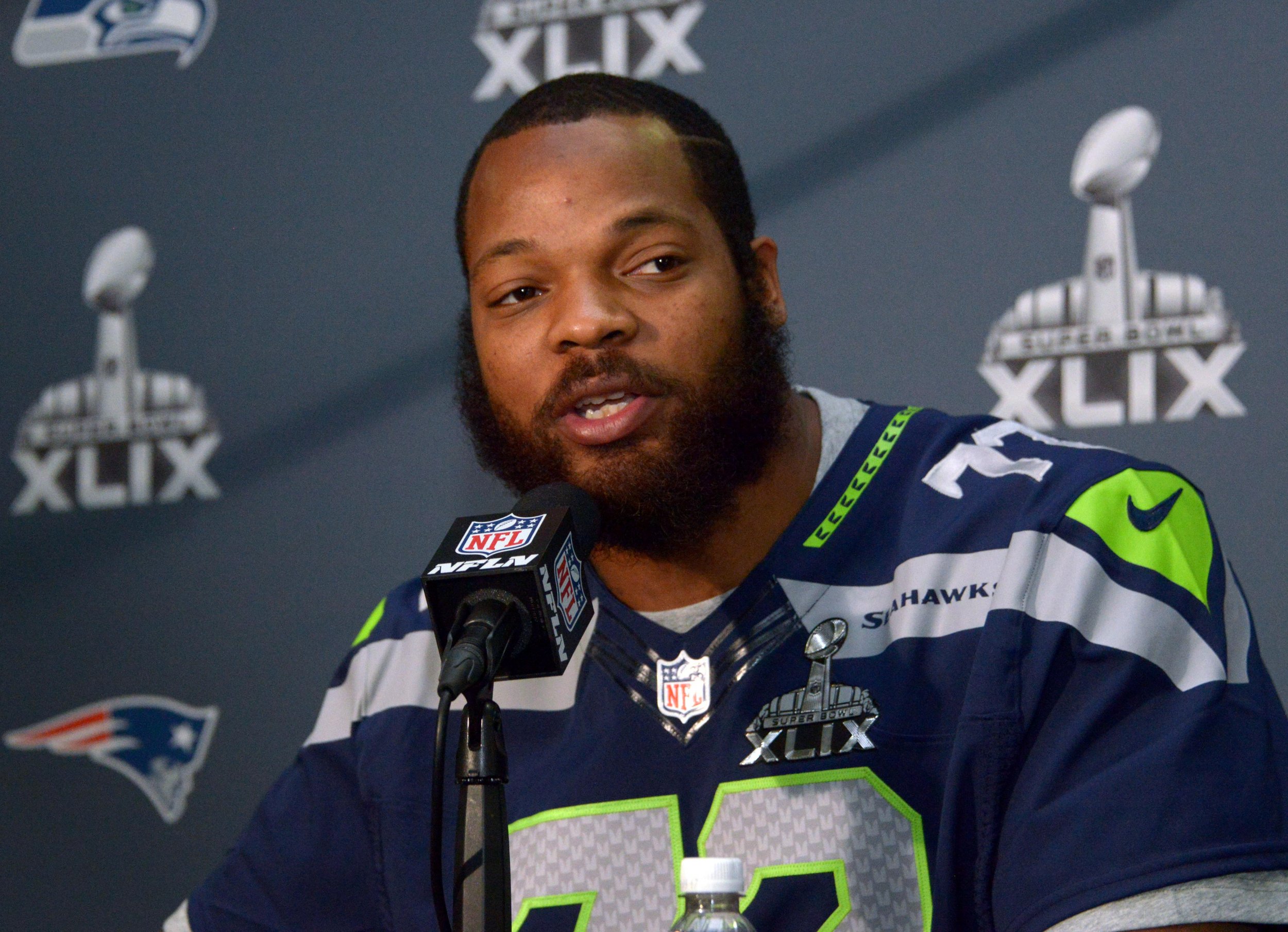 Superbowl winner and Seattle Seahawks defensive end Michael Bennett has cancelled a planned trip to Israel after a government minister announced its intention to use him and other players as "influencers" to improve the country's image in the international arena.
Bennett and other NFL players were due to arrive in Israel on Monday and play an exhibition match in Jerusalem with players from the Israeli Football Association. But Israeli Security Minister Gilad Erdan made what the country's media called a diplomatic "fumble."
In a statement released to the Times of Israel ahead of the visit, Erdan said: "The ministry I lead is spearheading an intensive fight against the delegitimization and BDS campaigns against Israel, and part of this struggle includes hosting influencers and opinion-formers of international standing in different fields, including sport."
BDS, or the Boycott, Divestment and Sanctions campaign, is a global movement aimed at applying economic pressure on Israel in return for what it says is equal rights for Palestinians. Israel says the movement is anti-Semitic in nature.
.
Many Palestinians live under Israeli military occupation, specifically in the West Bank, and under an Israeli blockade in the Gaza Strip. Palestinians living in Israel proper are also subject to greater discrimination and worse socioeconomic conditions in comparison to Jewish Israelis.
Erdan's statement appeared to change Bennett's decision, who tweeted a picture of Martin Luther King Jr. alongside the caption "I'm not going to Israel." He proceeded to post a longer explanation. His reversal came amid his concerns that attending the trip would further legitimize Israeli policies towards the Palestinians.
He wrote on Twitter : "I was not aware that my itinerary was being constructed by the Israeli government for the purposes of making me, in the words of a government official, an 'influencer and opinion-former' who would then be 'an ambassador of goodwill."
"I will not be used in such a manner. When I do go to Israel – and I do plan to go – it will be to see not only Israel but also the West Bank and Gaza so I can see how the Palestinians, who have called this land home for thousands of years, live their lives.
"I want to be a voice for the voiceless, and I cannot do that by going on this kind of trip to Israel."
Read more: BDS Pressure Sees Spanish City Lose Tel Aviv Flights
Bennett's brother, Martellus, is also reportedly removing himself from the trip, although he is yet to publicly comment on social media.
Activists have urged NFL players attending the trip, sponsored by Israel's Ministry for Strategic Affairs and Public Diplomacy, in cooperation with the Tourism Ministry, to change their minds.
In a letter published in The Nation, they called on players to "consider the political ramifications of a propaganda trip organized by the Israeli government," calling the visit a venture that "aims to prevent players from seeing the experience of Palestinians living under military occupation."
Denver Broncos running back Justin Forsett will also not attend the trip because it coincides with the expected birth of his child.
The other players slated to participate in the visit are Seattle Seahawks defensive end Cliff Avril, Arizona Cardinals defensive end Calais Campbell, San Francisco 49ers running back Carlos Hyde, Philadelphia Eagles linebacker Mychal Kendricks, New Orleans Saints defensive end Cameron Jordan, Former linebacker Kirk Morrison, Tennessee Titans wide receiver Delanie Walker and Oakland Raiders defensive tackle Dan Williams