NFL Players, Fans Fire Back at Drew Brees After He Says Players Should Stand During National Anthem
New Orleans Saints quarterback Drew Brees has long been a player who did not agree with fellow sports stars kneeling during the national anthem to protest police brutality. Now, one week after the death of George Floyd, in which a police officer appears to kneel on Floyd's neck—leading to Floyd's death, Brees doubled down on his stance.
Brees said in the past he supports athletes using their platforms to speak out against police brutality, but he never supported them kneeling during the national anthem, saying it disrespected the American flag and service members.
During an interview Wednesday with Yahoo Finance, Brees was asked about players potentially kneeling during the national anthem for the upcoming season.
"I will never agree with anybody disrespecting the flag of the United States of America or our country," Brees responded.
Brees said his emotions swell up inside when the anthem is played, and that he thinks of his grandfathers who fought in World War II.
"I envision my two grandfathers who fought for this country during World War II," Brees said. "In many cases, it brings me to tears thinking about all that's been sacrificed. Not just those in the military, but for that matter, those throughout the Civil Rights movements of the 60s and all that has been endured by so many people up until this point."
Former NFL Colin Kaepernick in 2016 became the league's face of protesting police brutality when he began kneeling for the national anthem during San Francisco 49ers preseason games that season. Other players quickly followed his lead, and the actions soon became a contentious point between fans and players.
Kaepernick, who said kneeling was a protest to police brutality and not any disrespect to the flag or American veterans, was released prior to the start of the 2016 regular season and has not played in the NFL since then.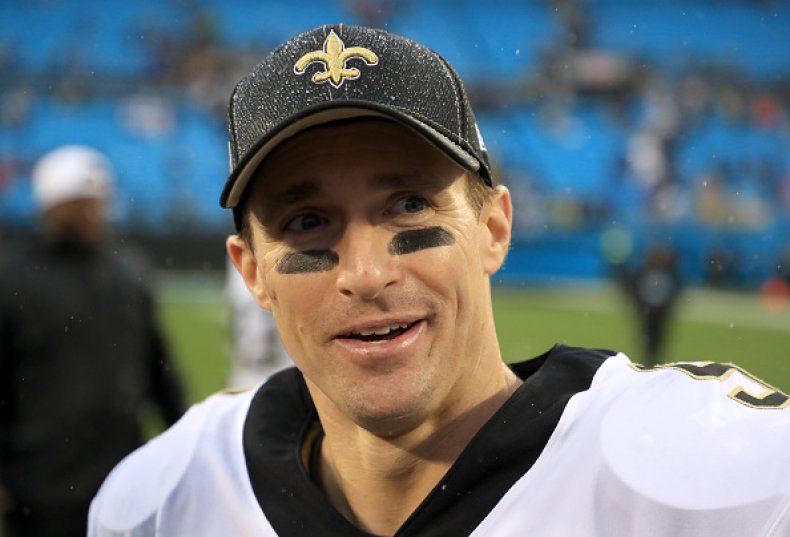 Brees' comments on Wednesday come as the nation largely stands in unison to protest Floyd's death last week. There have been protests all over the country, with many of them turning into violent demonstrations in the nation's larger cities.
Brees, who led the Saints to a Super Bowl victory following the 2009 season, is one of the league's all-time passing leaders. He is No. 1 all-time in career passing yards, passing touchdowns, completed passes, passing yards per game and pass completion percentage.
Once Brees' comments were made public, players from around the league, and even his own team, began setting social media on fire. Here is what Saints star receiver Michael Thomas said, and what others have replied.