Kevin Greene was one of the most-feared pass rushing defensive linemen in NFL history. He died Monday from unknown causes. He was 58.
Both his family and the Pro Football Hall of Fame confirmed his death.
Greene, known for his blonde locks flowing from underneath the back of his helmet, is third all-time in the NFL with 160 career sacks, which trails only Reggie White and Bruce Smith. Greene, who was inducted into the Hall of Fame in 2016, also had five interceptions and 23 forced fumbles to his credit.
"The entire Pro Football Hall of Fame family mourns the passing of Kevin Greene," Hall of Fame president and CEO David Baker said Monday. "I regarded him as a personal friend and a true Hall of Famer in every sense. He possessed the most incredible can-do attitude of anyone I ever met. He was a great player, but more than that, he was a great man."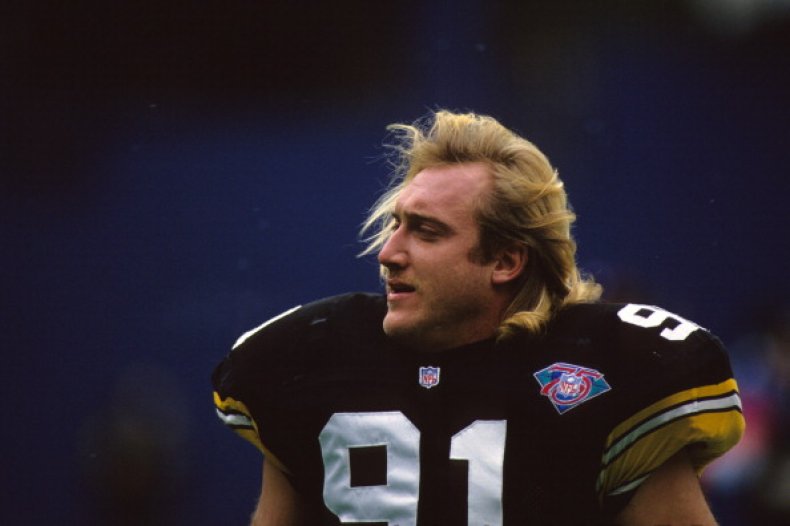 Greene was a two-time, all-pro (1994, 1996) who played with four franchises over his 15-year career. After winning SEC defensive player of the year with Auburn in 1984, Greene was selected in the fifth round (113th overall) of the 1985 NFL Draft by the Los Angeles Rams, with whom he played eight seasons.
He played with these teams:
1985-1992 Los Angeles Rams
1995-1995 Pittsburgh Steelers
1996 Carolina Panthers
1997 San Francisco 49ers
1998-1999 Carolina Panthers
Greene was a member of the 1990s All-Decade Team, and he won a ring from Super Bowl XLV as a linebackers coach with the Green Bay Packers.
"Our thoughts and prayers are with Kevin's wife, Tara, and their entire family," Baker said. "We will forever keep his legacy alive to serve as inspiration for future generations. The Hall of Fame flag will be flown at half-staff in Kevin's memory."
Troy Aikman, a Hall of Fame quarterback who played with the Dallas Cowboys, recalled Greene's tenacity on the field, yet his sincerity off the gridiron.
"Just got the news of NFL great Kevin Greene's passing. He was a fierce competitor during our playing days and one of the most sincere guys off the field. I always enjoyed our visits before the games he was coaching - gone far too soon. #restinpeace," Aikman tweeted Monday.
Former Green Bay quarterback Brett Favre said he disliked playing against Greene, and called the defensive end "a true warrior."
"Kevin Greene was a true warrior and a dear friend!!! As much as I disliked playing against him I loved everything about him at the same time and I loved him like a brother. Gods army just got much stronger ... RIP brother," Favre tweeted.
About the writer
Scott McDonald is a Newsweek deputy night editor based in Cape Coral, Florida. His focus is assigning and writing stories across all topics, from news to politics, business, weather, sports and international news. Scott joined Newsweek in 2018 after a lengthy career of print journalism in Texas, including The Dallas Morning News, where he was a sportswriter, and he's a voter for the Heisman Trophy. He has been a newspaper editor-in-chief and also a newspaper publisher. He is a graduate of The University of Texas at Austin. You can get in touch with Scott by emailing s.mcdonald@newsweek.com. Languages: English