NFL Players Know Why They're Kneeling, Despite What Trump Tweets
Another NFL season has started. And, as sure as the sun rises in the East, Friday brought another line of attacks from President Donald Trump against the NFL players who've protested by kneeling during the national anthem.
In a series of tweets the former reality TV star posted:
"The NFL players are at it again - taking a knee when they should be standing proudly for the National Anthem. Numerous players, from different teams, wanted to show their "outrage" at something that most of them are unable to define. They make a fortune doing what they love. Be happy, be cool! A football game, that fans are paying soooo much money to watch and enjoy, is no place to protest. Most of that money goes to the players anyway. Find another way to protest. Stand proudly for your National Anthem or be Suspended Without Pay!"
Trump can say what he wants on Twitter. (Indeed, the company's CEO Jack Dorsey has resisted calls to crack down on famous figures who have seemed to, let's say, stretch the limits of the platform's rules.) But the NFL players know exactly why they're kneeling: They've said time and again that the protests were aimed at raising awareness of the oppression of black people in America. (And to be clear, it was never about the the anthem or the military and, in fact, it was an Army veteran who advised Colin Kaepernick—the man who sparked the demonstrations—that kneeling was the most respectful way to protest.)
Trump's criticism of NFL players as overpaid, ungrateful and unpatriotic has been red meat for his base. He also has a well-documented, longstanding grudge against the NFL, which refused to let him into its small cabal of owners. And the president has repeatedly attacked the intelligence of black athletes he perceives as enemies—he just did so with basketball star LeBron James.
As the NFL season opened, the players again made clear how carefully they are approaching the protest issue. Thursday night, the Miami Dolphins' Kenny Stills and Albert Wilson were the only players who kneeled—while others like Philadelphia Eagle Malcolm Jenkins and Dolphin Robert Quinn raised fists.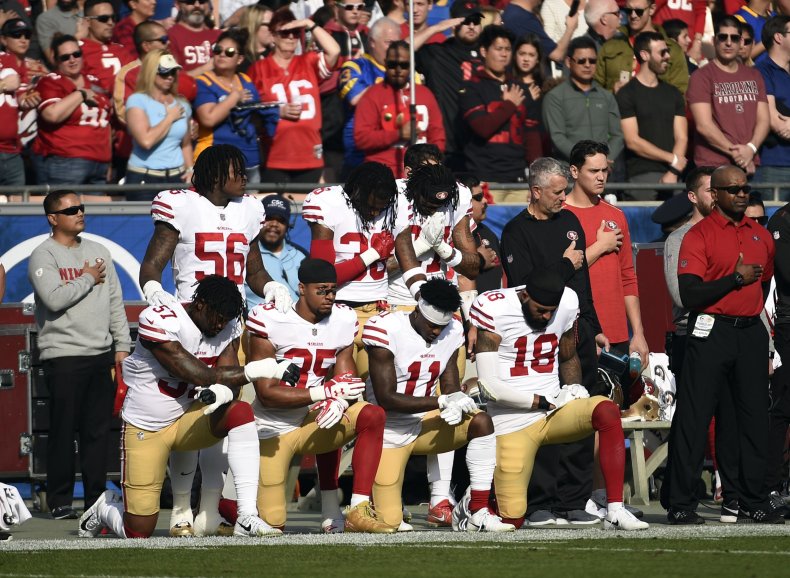 After the game, Stills anticipated that some people would say they didn't understand his actions. "If you continue to misinterpret what we're doing, reach out to me," he said, according to WTVJ in Miami. "Look at my website. Look at my Twitter. Look at all my social media platforms. And I think you'll get a better idea of why we are doing what we are doing."
The tweet pinned at the top of Stills' page is the beginning of a thread detailing his road-trip across America during which he volunteered his time with various groups "to see the work being done in the fight for equality and social justice."
"We were not protesting the national anthem. We were actively working to create a conversation regarding police brutality and the race issues that plague this country," reads Stills' website. It laters adds, "My goal truly is to build bridges. I want to foster a positive relationship between police officers and the communities they protect. I want to encourage open conversation, which allows people to discuss issues and learn from each other. I want to help establish opportunities for at-risk kids to have the same opportunities in and outside of the classroom as everyone else."
Stills' teammate Quinn was asked after the game what would need to happen for him to stop his protests.
"Bring heaven here on earth," he responded, according to the Miami Herald. "That means you love your neighbor like you love your mother, your father. If you see look at someone struggling, you help that person because you're doing right in life. If you see someone struggling, you don't treat someone as if they're lesser than you. ... Until people can act like that, we're just going to be living on the other side of heaven."
Or consider the shirt worn by Philly's Jenkins before the game that featured text explaining that more than 60 percent of prisoners are people of color. Or Shelton Gibson's shirt noting that nearly 5,000 kids are currently held in adult prisons. Or read Eric Reid's opinion piece explaining why he and Kaepernick started kneeling.
The players may be able to make their thinking clear to the public, but they're unlikely to persuade the president.