NFL Players Won't Give Up Peaceful Protests After Trump Comments, But This Week Was Different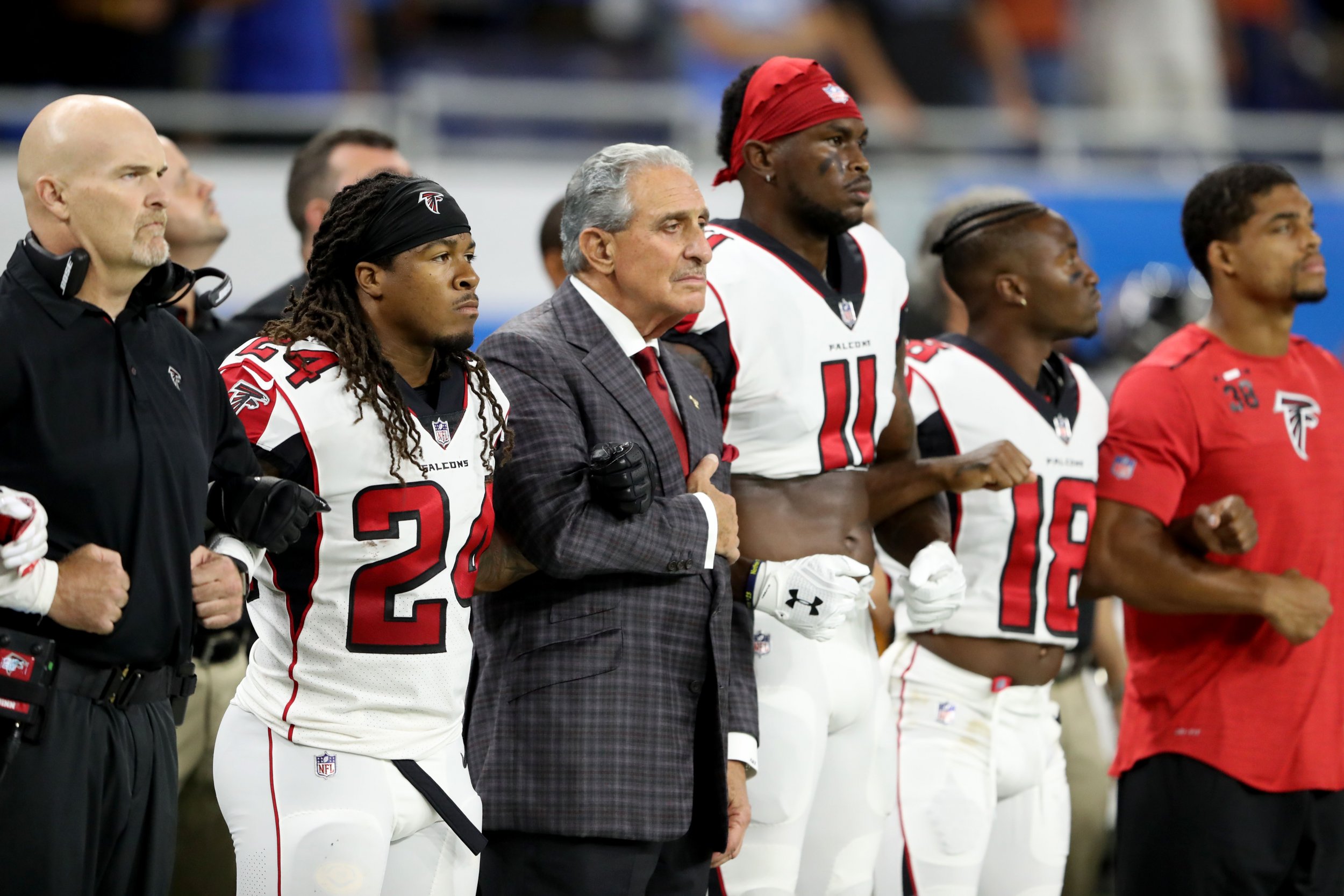 NFL players this weekend continued to take part in peaceful protests of police brutality against African Americans but largely shied away from kneeling during the anthem, following disparaging remarks by President Donald Trump made against those who knelt during the national anthem.
Last week marked one of the largest protests across the NFL, with more than 200 people opting to take a knee during the anthem, in a move that has previously been criticized by the president as something that should result in players being "fired."
In a speech in Alabama on September 23, Trump said: "Wouldn't you love to see one of these NFL owners, when somebody disrespects our flag, to say, 'Get that son of a b**** off the field right now. Out. He's fired. He's fired!" following up his comments with a series of tweets last weekend.
And before the games this weekend, Trump once again took to Twitter to encourage people not to take a knee during the anthem.
He wrote: "Very important that NFL players STAND tomorrow, and always, for the playing of our National Anthem. Respect our Flag and our Country!"
There has been much discussion over the past week about players choosing to kneel during the anthem, with those in support of the peaceful protests arguing they are being misunderstood as protests against the anthem, flag, or military; which they are not.
Indeed, NFL player Colin Kaepernick originally chose to sit down for the anthem, but after speaking to former Green Beret Nate Boyer, it emerged Boyer felt it would be more respectful for Kaepernick to kneel if he wished to protest.
"We were talking to [Boyer] about how can we get the message back on track and not take away from the military, not take away from fighting for our country, but keep the focus on what the issues really are," SBNation reported Kaepernick as saying.
"And as we talked about it, we came up with taking a knee. Because there are issues that still need to be addressed and it was also a way to show more respect to the men and women who fight for this country," he added.
Following the furor over the number of NFL players who took a knee during the anthem last weekend to protest police brutality against African Americans, some teams opted this week to take a knee prior to the anthem being played, and others appeared to have heeded the president's words and linked arms in solidarity.
The Denver Broncos, who last week all took a knee, announced they would instead be standing in solidarity this week.
The entire teams of the Baltimore Ravens and Jacksonville Jaguars knelt ahead of the anthem this week, while the New England Patriots stood with one hand on their heart and one on the chest of the player next to them, The Hill reported.
However, several players knelt during the anthem, including Miami Dolphins players Julius Thomas, Michael Thomas, and Kenny Stills, as well as six Buffalo Bills players.