Donald Trump's Pardons Will Not End 'Systematic Injustice,' Say NFL Player Protesters
Current and former NFL players have a message for President Donald Trump: "A handful of pardons will not address the sort of systemic injustice that N.F.L. players have been protesting."
That's what Seattle Seahawks wide receiver Doug Baldwin, Philadelphia Eagles safety Malcolm Jenkins and former NFL players Benjamin Watson and Anquan Boldin wrote in a New York Times op-ed Thursday.
Trump told NFL players in early June that he wanted to meet with those who protested social injustice by kneeling during the national anthem. He also made an offer for NFL players to recommend people who they believed were "unfairly treated by the justice system" and should be pardoned.
"I'm going to ask all of those people to recommend to me—because that's what they're protesting—people that they think were unfairly treated by the justice system," Trump told reporters June 8. "And I understand that. I'm going to ask them to recommend to me people that were unfairly treated and I'm gonna take a look at those applications and if I find and my committee finds that they've been unfairly treated then we'll pardon them. Or at least let them out."
Related: Donald Trump is 'Obsessed' With Pardons, His New 'Favorite Thing,' White House Official Says
Instead of offering the president names, the current and former NFL players offered up three specific policy solutions that "if President Trump were to make them, would positively affect the lives of thousands of people and have a lasting beneficial effect on many more people in the future."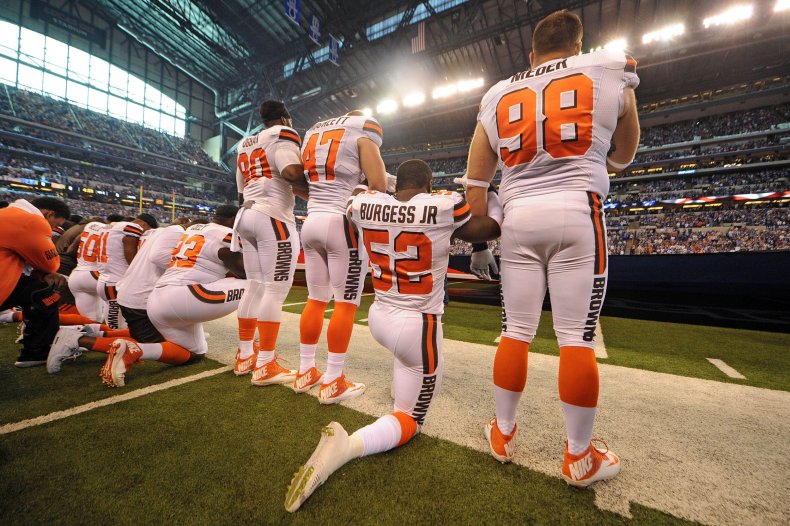 Those solutions are to issue a blanket pardon for people serving life in prison for nonviolent drug crimes, order the release of any drug offender over the age of 60 whose conviction was not recent and eliminate life without parole for nonviolent offenses.
"These are problems that our government has created, many of which occur at the local level," the four wrote. "If President Trump thinks he can end these injustices if we deliver him a few names, he hasn't been listening to us."
The players referenced Alice Johnson, a 63-year-old serving life in prison for a first-time drug offense from 21 years prior and who Trump pardoned after meeting with Kim Kardashian West, as the type of case that should be pardoned.
"But here's the problem with that," said Boldin in a Twitter video Thursday morning. "There's a lot of people out there like Ms. Johnson that should be pardoned that don't know a celebrity or NFL player."
The president's request for the names of people he should pardon came just four days after he canceled the Philadelphia Eagles' White House visit because most of the team's players and coaches were planning to boycott the visit. Less than 10 players were expected to attend the White House event that was intended to honor the 2018 Super Bowl championship team.
The four ended their letter to the president by noting that being professional athletes "has nothing to do with our commitment to fighting injustice."
"We are here to treat one another with the kindness and respect every human being deserves," they wrote. "And we hope our elected officials will use their power to do the same."