NFL Playoff Picture, Matchups 2021: Rams, Bears and Colts Clinch Spots
The NFL has whittled itself down to 14 playoff teams for January 2021 following the zany 2020 regular season. It came down to the final Sunday of regular season with 18 teams still in contention for a chance to play in Super Bowl LV next month in Tampa, Florida.
Speaking of Tampa Bay, the Buccaneers held off the Atlanta Falcons, 44-27, to hold firm at the No. 5 spot in the NFC. As the top wild card team, the Buccaneers will travel to play at the No. 4 seed Washington Football Team. Washington knocked off Philadelphia on Sunday night, 20-14.
The AFC was crazy on Sunday, with five teams—all with 10-5 records—playing for four playoff spots. The Miami Dolphins entered Sunday as the top wild card team, just needing a win or a loss by one of the other four teams, who were Tennessee, Baltimore, Cleveland and Indianapolis. Here's how things unfolded:
Buffalo 56, Miami 26
Baltimore 38, Cincinnati 3
Cleveland 24, Pittsburgh 22
Tennessee 41, Houston 38
Indianapolis 28, Jacksonville 14
The Colts are in while the Dolphins are out.
Meanwhile in the NFC, the winner of the East division gets into the playoffs with a losing record.
The NFL added one playoff team per conference this season, which means that only the overall No. 1 seeds will get a bye week during the wild card round. And with the extra games, the NFL has dubbed the first playoff weekend "Super Wild Card" weekend. That means there will be three games on both Saturday and Sunday instead of two games each day.
Here are the matchups, times and TV channels (all times ET) filled in as they are announced:
Saturday, January 9, 2021
1:05 p.m. — No. 7 Indianapolis at No. 2 Buffalo (AFC), CBS
4:40 p.m. — No. 6 L.A. Rams at No. 3 Seattle (NFC), FOX
8:15 p.m. — No. 5 Tampa Bay at No. 4 Washington (NFC), NBC
Sunday, January 10, 2021
1:05 p.m. — No. 5 Baltimore at No. 4 Tennessee (AFC), ABC/ESPN
4:40 p.m. — No. 7 Chicago at No. 2 New Orleans (NFC), CBS
8:15 p.m. — No. 6 Cleveland at No. 3 Pittsburgh (AFC), NBC
The Kansas City Chiefs have the No. 1 seed in the AFC, and the Green Bay Packers have the top seed in the NFC. They automatically advance to the divisional rounds against the lowest-remaining seed after the Super Wild Card weekend.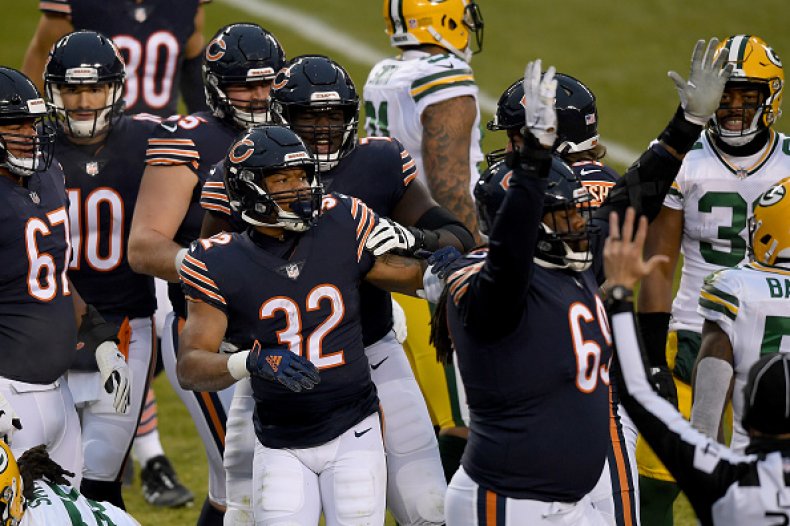 Here are the final scores from Sunday:
Tampa Bay 44, Atlanta 27
New York Giants 23, Dallas 19
New England 28, New York Jets 14
Minnesota 37, Detroit 35
Cleveland 24, Pittsburgh 22
Baltimore 38, Cincinnati 3
Buffalo 56, Miami 26
New Orleans 33, Carolina 7
Los Angeles Rams 18, Arizona 7
Green Bay 35, Chicago 16
Indianapolis 28, Jacksonville 14
Seattle 26, San Francisco 23
Tennessee 41, Houston 38
Las Vegas 32, Denver 31
Washington 20, Philadelphia 14
Here are the playoff dates:
Wild Card
January 9-10
Divisional Round
January 16-17
Conference Championships
January 24
Super Bowl LV
Tampa, Florida
February 7