NFL Playoff Standings, Likely Match Ups After Sunday in Week 12
The craziness of 2020 has no doubt seeped into the NFL standings after three quarters of regular-season play. The overall standings, and current potential playoff standings, have changed after the Thanksgiving weekend games.
These conclude with Sunday night's games, which culminated with Green Bay's 41-17 win over the Chicago Bears. There is one game on Monday night (Seattle at Pittsburgh) and a COVID-delayed game on Tuesday night (Baltimore at Pittsburgh) that could factor into the standings. But here are the current NFL standings, and playoff matchups, that would result if things were decided today.
AFC Wild Card Round (top seed gets home game)
No. 1 Pittsburgh (10-0), bye
No. 2 Kansas City (10-1) vs. Indianapolis (7-4)
No. 3 Tennessee (8-3) vs. Miami (7-4)
No. 4 Buffalo (8-3) vs. Cleveland (8-3)
Note: The Pittsburgh Steelers will host the Baltimore Ravens on Tuesday night. The game was originally scheduled for Thanksgiving night but moved because of COVID-19 issues with the Ravens organization.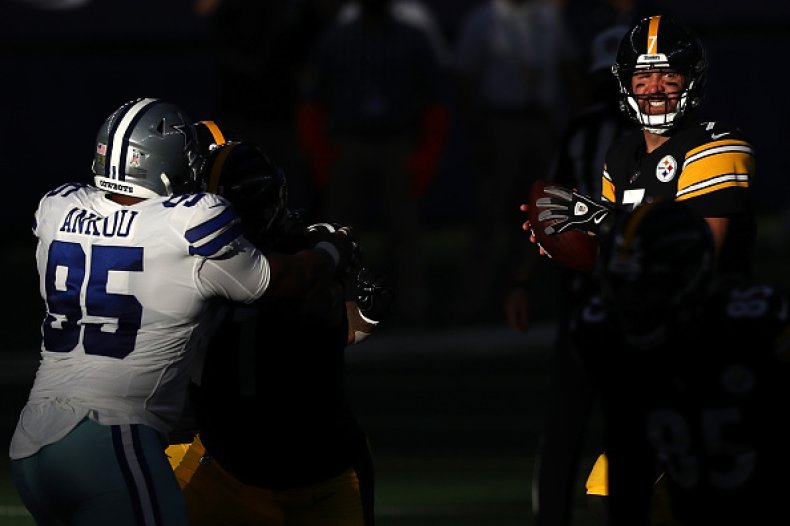 NFC Wild Card Round (top seed gets home game)
No. 1 New Orleans (9-2), bye
No. 2 Green Bay (8-3) vs. Arizona (6-5)
No. 3 Seattle (7-3) vs. Tampa Bay (7-5)
No. 4 New York Giants (4-7) vs. Los Angeles Rams (7-4)
Note: The Seattle Seahawks will play at the Philadelphia Eagles (3-6-1) on Monday night. Seattle would move into the No. 2 spot with a win, but stay at No. 3 with a loss. The Eagles would take the No. 4 spot with a win.
The NFL season still has five more weeks of regular season, and then the subsequent playoffs. The Super Bowl is scheduled to be played in Tampa, Florida, in February.
The NFL seemed like a foregone conclusion earlier this year after COVID-19 postponed sports around the world, and forced things like the NFL Draft to go virtual.
NFL commissioner Roger Goodell this year even said the league would not look the same as it has in years past.
"Every step of the way, our focus has been on the safety of players, coaches, personnel, fans and our communities," Goodell wrote this year. "Our planning has followed the lead of medical experts and public health officials, including the CDC, the White House Task Force, governors and state health officials. As we have developed our 2020 playbook for the return of football, safety continues to be our first priority; that commitment will remain paramount as players return to the field."
The league did not have a preseason or a Hall of Fame ceremony this year. Some stadiums have played with fans and some have not. Regardless, the league has pressed on, and now it seems the NFL will have a full playoffs—all while abiding the NFL's COVID-19 guidelines.