NFL Playoff Standings, Likely Matchups After Sunday in Week 16
The New York Jets wrecked another weekend of professional football with another win, this time beating the Cleveland Browns. The Jets, who are now 2-13, have a two-game winning streak, and pretty much knocked themselves out of the No. 1 draft pick next spring.
The Browns slipped to the No. 7 seed in the AFC, which is the final playoff spot, and still need a win at home against Pittsburgh in the final weekend to clinch a playoff spot.
The Kansas City Chiefs barely got past the hapless Atlanta Falcons at home on Sunday, but the Chiefs more importantly wrapped up the AFC's top seed and first-round bye. The Pittsburgh Steelers survived a scare against the Indianapolis Colts, the Titans flopped in Green Bay and the Miami Dolphins found magic in Las Vegas.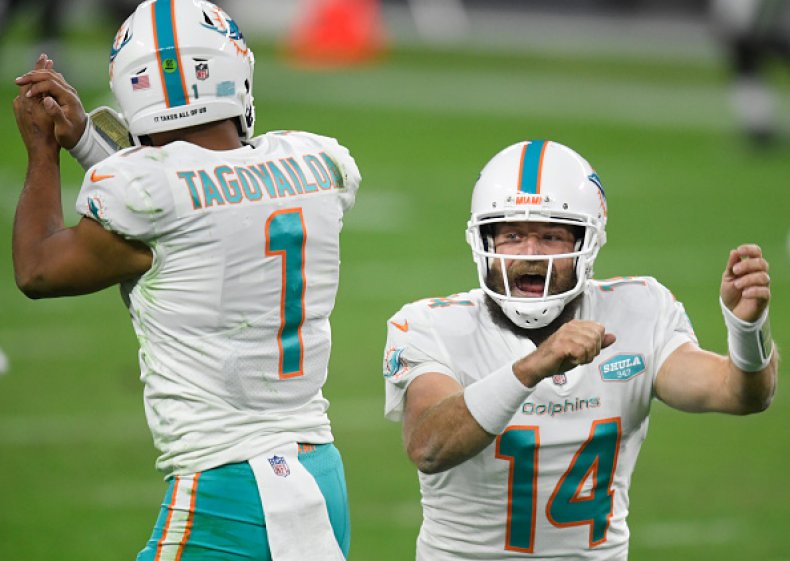 Meanwhile in the NFC, the Packers rolled up a big win in the snow, the Saints took care of the Vikings and the Seahawks won the West Division crown for the first time in four years.
The NFC East—a division with four teams, all with losing records—comes down to the final weekend, and three teams are still in contention.
The Tampa Bay Buccaneers, who have clinched a playoff spot for the first time in 13 years, can fully grasp the No. 5 seed in the NFC with a win this week, or with help from losses by other teams.
The Buffalo Bills play the New England Patriots on Monday night for a game that could help determine seeding in the AFC. Should the Bills win, they would slide back into the No. 2 spot behind Kansas City, and Pittsburgh would drop back to the third seed.
Here are the NFL playoff teams, records and seedings after Sunday night;
AFC Playoff Standings
No. 1 Kansas City (14-1)
No. 2 Pittsburgh (12-3)
No. 3 Buffalo (11-3)
No. 4 Tennessee (10-5)
No. 5 Miami (10-5)
No. 6. Baltimore (10-5)
No. 7 Cleveland (10-5)
Outside looking in
No. 8 Indianapolis (10-5)
Eliminated: Las Vegas (7-8), New England (6-8), Denver (5-10), LA Chargers (6-9), Cincinnati (4-10-1), Houston (4-11), NY Jets (2-13), Jacksonville (1-14)
AFC Wild Card Round if it ended today (top seed gets home game)
No. 1 Kansas City, bye
No. 2 Pittsburgh vs. Cleveland
No. 3 Buffalo vs. Baltimore
No. 4 Tennessee vs. Miami
---
NFC Playoff Standings
No. 1 Green Bay (12-3)
No. 2 New Orleans (11-4)
No. 3 Seattle (11-4)
No. 4 Washington (6-9)
No. 5 Tampa Bay (10-5)
No. 6 Los Angeles Rams (9-6)
No. 7 Chicago (8-7)
Outside looking in
No. 8 Arizona (8-7)
NFC East teams still in contention for division title (no other playoff possible from the East)
Dallas (6-9), New York Giants (5-10)
Eliminated: Minnesota (6-9), San Francisco (6-9), Detroit (5--10), Carolina (5-10), Philadelphia (4-10-1), Atlanta (4-11)
NFC Wild Card Round (top seed gets home game)
No. 1 Green Bay, bye
No. 2 New Orleans vs. Chicago
No. 3 Seattle vs. LA Rams
No. 4 Washington vs. Tampa Bay
The NFL season still has one more week of regular season, and then the subsequent playoffs. The Super Bowl is scheduled to be played in Tampa, Florida, in February.