NFL Playoffs Early Betting Lines 2021: Updated Super Bowl Odds
The NFL's 2020 regular season came to a crazy end on Sunday, just as 2020 would have probably would have wanted. The playoffs are now set with a Super Wild Card weekend that will have three playoff games on Saturday followed by three more on Sunday.
The early betting lines for the wild card games have been released, as have the overall Super Bowl championship odds. Here are the betting lines from Draft Kings released Sunday night for the first round of 2021 NFL playoff games.
Saturday, January 9, 2021
1:05 p.m. — No. 7 Indianapolis at No. 2 Buffalo (AFC), CBS
Buffalo (-6.5) is the favorite
4:40 p.m. — No. 6 L.A. Rams at No. 3 Seattle (NFC), FOX
Seattle (-4.5) is the favorite
8:15 p.m. — No. 5 Tampa Bay at No. 4 Washington (NFC), NBC
Tampa Bay (-7.5) is the favorite
Sunday, January 10, 2021
1:05 p.m. — No. 5 Baltimore at No. 4 Tennessee (AFC), ABC/ESPN
Baltimore (-3.5) is the favorite
4:40 p.m. — No. 7 Chicago at No. 2 New Orleans (NFC), CBS
New Orleans (-9.5) is the favorite
8:15 p.m. — No. 6 Cleveland at No. 3 Pittsburgh (AFC), NBC
Pittsburgh (-4.5) is the favorite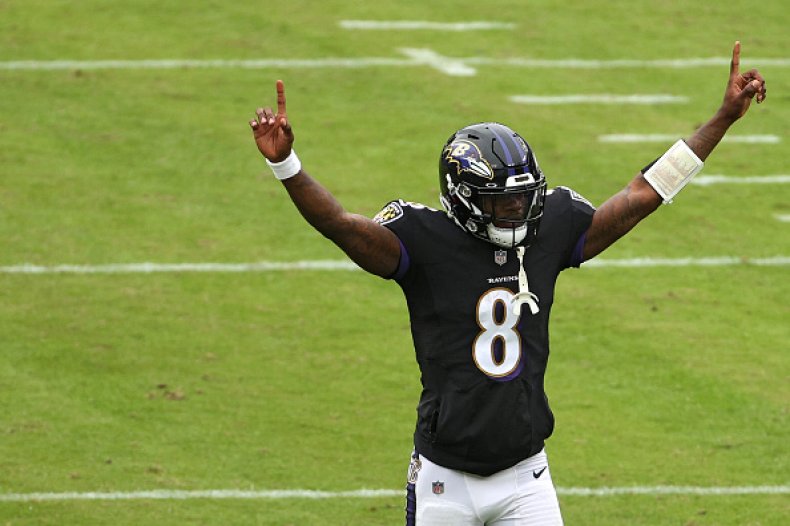 Here are the odds to win Super Bowl LV
Kansas City Chiefs +200
Green Bay Packers +450
New Orleans Saints +800
Buffalo Bills +800
Tampa Bay Buccaneers +1000
Baltimore Ravens +1100
Seattle Seahawks +1200
Pittsburgh Steelers +2200
Los Angeles Rams +2800
Tennessee Titans +2800
Indianapolis Colts +3000
Cleveland Browns +4000
Chicago Bears +6000
Washington Football Team +8000
The Tampa Bay Buccaneers held off the Atlanta Falcons, 44-27, on Sunday to hold firm at the No. 5 spot in the NFC. As the top wild card team, the Buccaneers will travel to play at the No. 4 seed Washington Football Team. Washington knocked off Philadelphia on Sunday night, 20-14.
The AFC was crazy on Sunday, with five teams—all with 10-5 records—playing for four playoff spots. The Miami Dolphins entered Sunday as the top wild card team, just needing a win or a loss by one of the other four teams, who were Tennessee, Baltimore, Cleveland and Indianapolis. Here's how things unfolded:
Buffalo 56, Miami 26
Baltimore 38, Cincinnati 3
Cleveland 24, Pittsburgh 22
Tennessee 41, Houston 38
Indianapolis 28, Jacksonville 14
The Colts are in while the Dolphins are out.
Here are some record performances achieved Sunday:
Minnesota 's Justin Jefferson broke a Super Bowl-era record for receiving yards by a rookie, finishing the season with 1,400 yards. It's also a new Minnesota record that was previously held by Randy Moss.
Tampa Bay receiver Mike Evans on SUnday caught a quick pass to give him 1,006 yards on the season, which made him the first player in NFL history with a 1,000-yard season for seven seasons to begin a career. Ironically, he injured his knee on the next play and missed the remainder of the game.
Baltimore Ravens quarterback Lamar Jackson on Sunday became the first quarterback in NFL history to rush for 1,000 yards or more in multiple seasons. He also hit the mark during the 2018 season.
Tampa Bay quarterback Tom Brady started his 299th game Sunday, passing the mark previously held by Brett Favre.
Brady, 43, also has 43 touchdowns this season (40 passing, three rushing).
Brady is only the second quarterback to throw 40 or more touchdowns in a season for two different franchises (Peyton Manning).
Buffalo Bills quarterback Josh Allen on Sunday became the first player in NFL history to pass for 4,500 yards and 35 touchdowns, and also rush for five touchdowns in a single season.
The Cleveland Browns on Sunday, with their 24-22 win over Pittsburgh, clinched a playoff spot for the first time since 2002—the longest drought in the league until Sunday.