NFL Playoffs: How to Watch, Live-Stream the Los Angeles Chargers vs. New England Patriots Game
With every passing weekend in January, football teams nationwide face either the bitter sting of a lost championship or the sweetness of a Super Bowl dream that's still alive. In a battle of the coasts, the Los Angeles Chargers and the New England Patriots will take to the gridiron, fighting for a victory that puts them one step closer to gaining a Vince Lombardi Trophy.
The Chargers played the previous week during the wildcard games and claimed victory over the Baltimore Ravens, giving them the ability to advance to the next round. As the champions of their division, the AFC East, the Patriots had a bye week for the first round of playoffs, making the Divisional Championship round the first time they'll play.
When, Where and What Time Is the Game?
The Chargers and the Patriots will face off Sunday at 1:05 p.m. EST. As the higher-seeded team, the Patriots were given the home-field advantage, so the game will be played at Gillette Stadium in Foxborough, Massachusetts.
What Channel Is It On?
CBS will be broadcasting the game across the country on its network stations.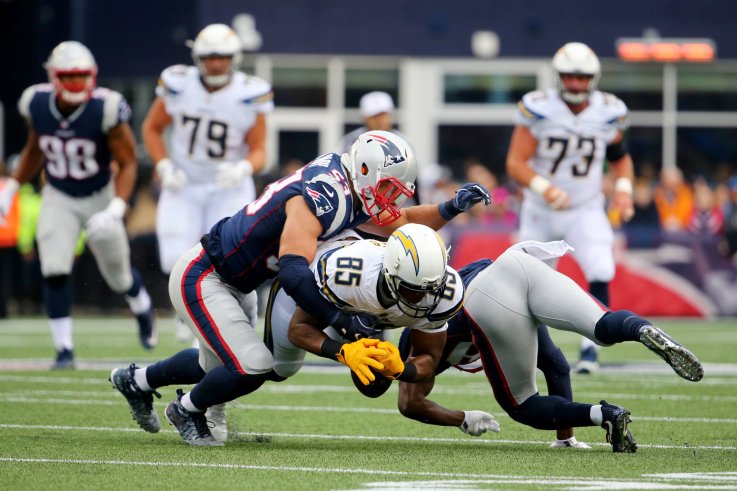 How Can I Live-Stream the Game?
Along with broadcasting the game on TV, CBS will be showing a live stream of the game through its mobile application CBS All Access. The application allows users to stream NFL games from their local markets on phones, tablets and computers. Connected devices such as Amazon Fire TV, Android TV, Apple TV, Google Chromecast, PS4, Roku and Xbox One are also able to stream the game through CBS All Access. To stream content, users must have an account, but if you don't, try CBS All Access for free with a trial offer.
FuboTV will also be streaming the game and requires a subscription to view. However, as with CBS All Access, the company offers free trials for new users.
How Many More Games Are Left Until the Super Bowl?
The winner of the Chargers vs. Patriots game will play on January 20 at 6:40 p.m. EST. The victor will face off against the winner of the game between the Indianapolis Colts and the Kansas City Chiefs.
For the NFC conference, the winner of the Dallas Cowboys vs. Los Angeles Rams game will play the winner of the Philadelphia Eagles vs. the New Orleans Saints game on January 20.
The January 20 games will be for the title of conference champion. The winner of the AFC conference will play the winner of the NFC conference on February 3 at 6:30 p.m. EST in the Super Bowl.
NFL Playoffs: How to Watch, Live-Stream the Los Angeles Chargers vs. New England Patriots Game | U.S.