NFL Preseason: Where to Watch Dallas Cowboys vs. Los Angeles Rams, TV Channel, Live Stream, Odds
Preseason football might count for little in the grand scheme of things but the Dallas Cowboys' inability to score in the summer is slightly concerning.
The Cowboys opened their preseason with a 17-9 defeat on the road against the San Francisco 49ers, meaning they have now failed to score a touchdown in their last three preseason games—dating back to last summer.
Dallas had four red zone drives but left empty-handed, which would have hardly pleased new offensive coordinator Kellen Moore.
Admittedly, the Cowboys were without Jason Witten, Amari Cooper, Alfred Morris, Zack Martin and Ezekiel Elliott, while Dak Prescott played just one series.
On Monday, NFL Network reported the quarterback turned down a deal worth $30 million per year and indicated he was seeking a deal worth an additional $10 million per annum.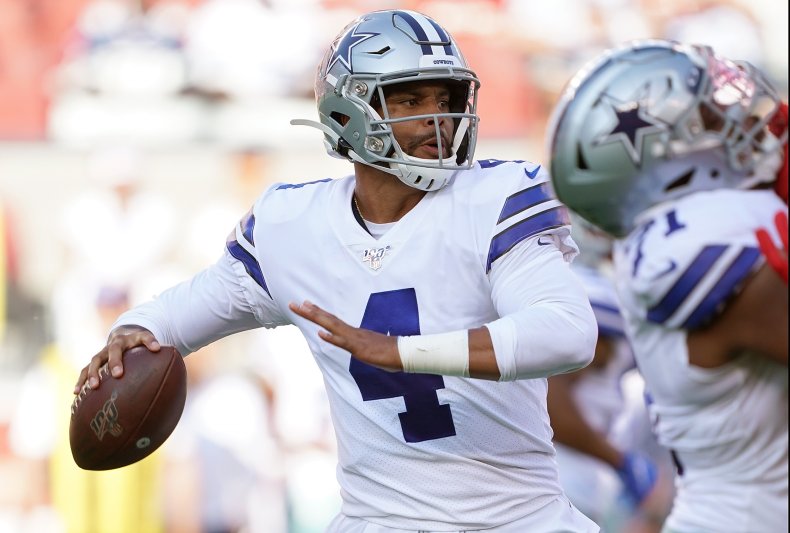 That would make him the league's highest-paid quarterback in annual average value and it presents the Cowboys with another headache this summer. Dallas is already looking to extend the contracts of Amari Cooper and Elliott contracts.
The latter has not reported to training camp and ESPN reported Elliott is ready to sit out the entire season if he doesn't get a new, lucrative, deal.
The star running back won't be in the fold when the Cowboys play the Los Angeles Rams in Honolulu, Hawaii, on Saturday night.
Like the Cowboys, the Rams began preseason with a whimper, failing to score a touchdown in a 14-3 loss to the Oakland Raiders.
As he did a year ago, Rams head coach Sean McVay kept all starters on the bench, opting to give fringe players a chance to impress.
However, the response was not what he had hoped and last year's NFC champions failed to trouble the scoreboard in three quarters.
Here's everything you need to know ahead of Saturday.
When and where is the game?
The Dallas Cowboys take on the Rams at Aloha Stadium in Honolulu, Hawaii.
Kick-off is scheduled for 4 p.m. local time (10 p.m. ET) on Saturday, August 17.
TV coverage
The game will be nationally broadcast by NFL Network. Local coverage will be provided by CBS affiliate KTVT in the Dallas area and by California CBS affiliate KCBS.
Live stream
A live stream will be available via NFL Network online and on connected devices, as well as via fuboTV.
Form
Without Ezekiel Elliott, the Cowboys are using preseason to test their other running backs. Fourth-round pick Tony Pollard had four carries in his debut against the 49ers and was praised by team owner Jerry Jones.
"I certainly thought he had a good account of himself," Jones told the team's website. "He looks confident out there, we know he's inordinately understanding of what he does and can do. We've seen him do it, we know he's capable of, if he really needs to, carry the whole load."
With Dak Prescott playing only one series, Cooper Rush strengthened his claim to be the backup quarterback, finishing 16-for-26 for 142 passing yards.
The Rams, meanwhile, had very little in terms of offense from the three quarterbacks they played against the Raiders. Blake Bortles, in his Rams debut after leaving Jacksonville, finished three-for-eight for just 50 passing yards.
Rams' head coach Sean McVay is notoriously happy to rest starters in preseason and it will be intriguing to see whether he'll do so again on Saturday after an underwhelming performance in Week 1.
Odds
According to William Hill, the Cowboys are 2.5-point favorite and are 91/100 to win and cover the spread. The Rams are a 5/4 outsider, while the over/under bar for total points is set at 43.
NFL Preseason: Where to Watch Dallas Cowboys vs. Los Angeles Rams, TV Channel, Live Stream, Odds | Sports