NFL Preseason: Where to Watch Los Angeles Chargers vs. Arizona Cardinals, TV Channel, Live Stream, Odds
All the attention will be on Kyler Murray when the Arizona Cardinals host the Los Angeles Chargers on Thursday, in the second of two nationally televised game in Week 1 of the NFL preseason.
In April, the Cardinals selected the 21-year-old with the first overall pick of the draft less than a year after he was selected as the ninth overall pick by the Oakland Athletics in the MLB draft, making him the only player to ever be drafted in the first rounds of both sports.
Last year, in his final season for Oklahoma, Murray threw for 4,361 yards and 42 touchdowns, adding an incredible 1,001 rushing yards and 12 touchdowns.
The prototype of a dual-threat quarterback, the jury remains out on the kind of impact the 21-year-old will have in professional football, particularly at just under 5ft 10 he is the shortest quarterback in the NFL.
The Cardinals certainly have big hopes for Murray, who was named AP College Football Player of the Year last season, and have tasked him with resurrecting their offense.
Arizona's decision to select Murray and appoint former Kliff Kingsbury as head coach has attracted criticism so far, but the Cardinals felt they needed a change after finishing with the league's worst record last year.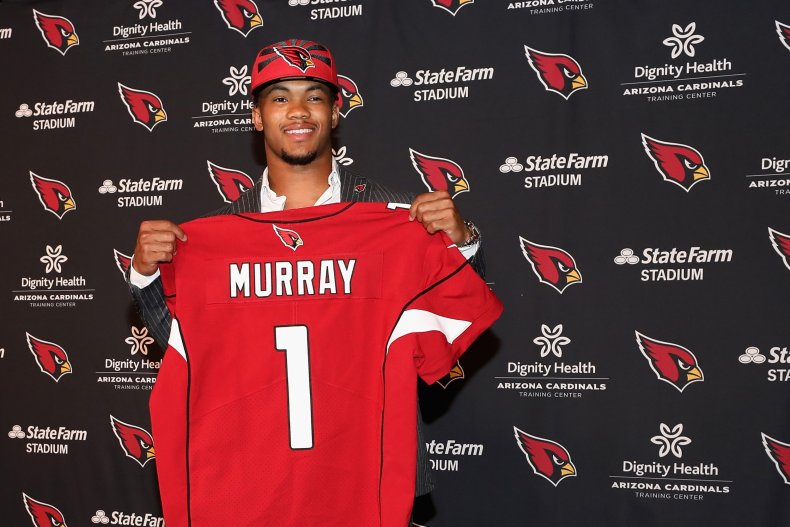 The Chargers, meanwhile, lost 41-28 to the New England Patriots in the AFC divisional playoffs and have spent the offseason trying to reach an agreement with Melvin Gordon.
Last month, ESPN reported Gordon told the Chargers he would not attend training camp until he got a new contract—and has stuck to his words so far. The first-round pick of the 2015 draft has amassed over 3,600 rushing yards since entering the league, with his yards-per-carry rising from 3.8 to 5.1 last season.
However, Gordon has only played the full 16 regular-season games just once and his injury record could play into the Chargers' hands, as they have a strong back-up at running back in the shape of Justin Jackson. Gordon is due to make $5.6 million in the final year of his rookie contract.
Here's everything you need to know about Thursday night.
When and where is the game?
The Arizona Cardinals host the Los Angeles Chargers at State Farm Stadium in Glendale, Arizona
Kick-off is scheduled for 10 p.m. ET on Thursday, August 8.
TV coverage
The game will be broadcast by NFL Network and by KPNX and KABC, NBC's Arizona affiliate and ABC's California affiliate respectively.
Live stream
A live stream will be available via NFL Network online as well as via fuboTV.
What to look out for
How does the name Kyler Murray sound? The 2018 Heisman Trophy winner and first overall pick of the 2019 NFL draft is the man tasked with turning the Cardinals offense around.
Arizona ranked dead last in offense last season, scoring just 225 points and gaining a paltry average of just 241.6 yards per game. By contrast, Murray completed 69 percent of his passes and threw for 4,361 yards and 42 touchdowns in his final season for the Sooners.
Murray's arrival has seen Arizona jettison Josh Rosen, the number 10 overall pick of the 2018 draft. Expectations are high for the new Cardinals quarterback, but he doesn't seem particularly concerned.
"Complete a couple balls, maybe score a touchdown or something," he told Arizona Sports when asked what he would classify as a success in his first preseason game.
"I don't really have too many nerves right now."
Murray is unlikely to play many snaps, with Kingsbury suggesting he will be on the field only for as long as he needs to get a first feeling of professional football.
Fellow rookie Byron Murphy, a cornerback from Washington State selected with the 33rd pick, is also expected to feature, while former University of Massachusetts receiver Andy Isabella, the number 62 pick, could miss out because of a "minor knee issue".
The Chargers, meanwhile, are expected to use the first preseason game to evaluate how far the players have come so far.
"You just want guys executing and doing what they're told to do and you can evaluate that," head coach Anthony Lynn said. "If it's scheme, then that falls back on coaches. We don't have time to scheme preseason and most people don't, to be honest with you. We want guys going out, executing and playing fast and physical and we can evaluate that."
Odds
According to William Hill, the Cardinals are a 2-point favorite, while the Chargers 91/100 to cover the spread.
The Cardinals are 71/100 favorite (-140.00 in moneyline terms), while the Chargers are 6/5 and the over/under bar for total points is set at 36.5.