When Does NFL Preseason 2019 Start? Dates, Time, TV Schedule, Live Stream for Week 1
With just over a month before the NFL season gets underway, it's time for the 32 franchises to finalize their preparations.
The NFL preseason got underway last week with the traditional Hall of Fame Game as the Denver Broncos beat the Atlanta Falcons 14-10 and will begin in earnest on Thursday, with 11 games on the schedule.
Both the Falcons and the Broncos will play five games each in this preseason, as opposed to the other 30 teams, who will all play four games.
Here's everything you need to follow preseason.
When does NFL preseason start?
While the Broncos and the Falcons have already worked up a sweat, the other 30 franchises will not be in action until Thursday, with the Buffalo Bills hosting the Indianapolis Colts at 7 p.m. ET and the New York Jets taking on the New York Giants at the same time.
Another nine games are on the slate on Thursday, with two games on Friday and three games on Saturday, respectively.
Preseason ends on Thursday, August 29, with all 32 franchises in action.
TV coverage
A select number of preseason games will be broadcast nationally across NBC, FOX, CBS and ESPN. NFL Network will show 13 preseason games subject to market restrictions, with all the other games available on local networks.
Four games will be broadcast nationally in Week 1 of preseason, beginning with the Jets game against the Giants and the Los Angeles Chargers matchup against the Arizona Cardinals on Thursday night.
Friday's nationally televised game features the Tampa Bay Buccaneers against the Pittsburgh Steelers, while on Saturday the honor of being broadcast across the U.S. falls to the Dallas Cowboys and the San Francisco 49ers.
Live stream
Live stream of the national games will be available via NFL Network, fuboTV and the digital platforms of the channel broadcasting the games.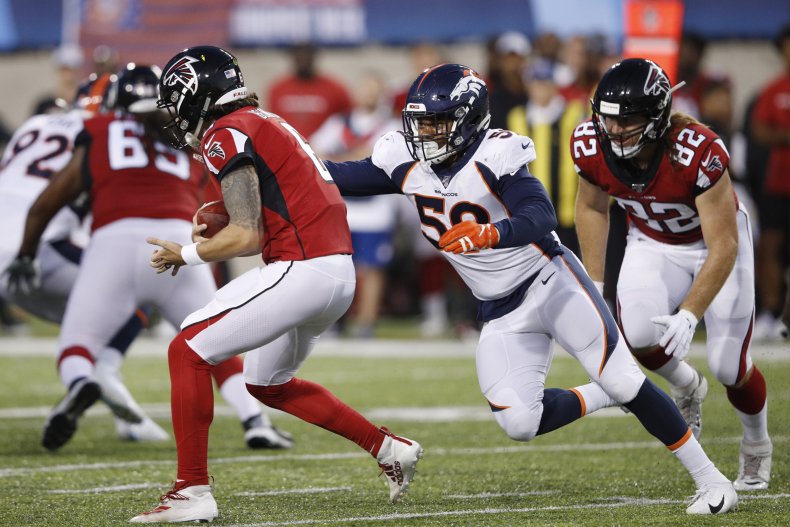 TV schedule (all times ET)
Thursday, August 8
Indianapolis Colts @ Buffalo Bills—7 p.m., WKBW, WXIN
New York Jets @ New York Giants—7 p.m., NFL Network, WNBC
Jacksonville Jaguars @ Baltimore Ravens—7:30 p.m., WBAL, WJAX
Washington Redskins @ Cleveland Browns—7:30 p.m., WRC, WEWS
New England Patriots @ Detroit Lions—7:30 p.m. WJBK, WBZ
Atlanta Falcons @ Miami Dolphins—7:30 p.m. WFOR, WUPA
Tennessee Titans @ Philadelphia Eagles—7:30 p.m. WKRN, WCAU
Carolina Panthers @ Chicago Bears—8 p.m. WSOC, WFLD
Houston Texans @ Green Bay Packers—8 p.m. WTMJ, KTRK
Los Angeles Chargers @ Arizona Cardinals—10 p.m. NFL Network, KPNX, KABC
Denver Broncos @ Seattle Seahawks—10 p.m., KING, KTVD
Friday, August 9
Tampa Bay Buccaneers @ Pittsburgh Steelers—7:30 p.m. NFL Network, KDKA, WTSP, WFTV
Minnesota Vikings @ New Orleans Saints—8 p.m. KMSP, WVUE
Saturday, August 10
Cincinnati Bengals @ Kansas City Chiefs—8 p.m. WKRC, KCTV
Los Angeles Rams @ Oakland Raiders—8 p.m., KTVU, KCBS
Dallas Cowboys @ San Francisco 49ers—9p.m., NFL Netwtork, KPIX, KTVT