NFL Network Preseason Schedule 2019: Which Games Are on TV This Week? Where to Watch, Live Stream
After a six-month hiatus the NFL made its return on Thursday as preseason got underway a week after the Hall of Fame Game.
While the preseason football is some considerable distance away from the intensity typical of the 17 regular season weeks, it still represented a significant uptick in quality from the Hall of Fame razzmatazz.
The first week of preseason games provided numerous talking points, with the Cleveland Browns and Baker Mayfield already looking in the groove, while Devin Bush and James Washington caught the eye of the Pittsburgh Steelers.
Mayfield played just one series for the Browns on Thursday night, but took Cleveland 89 yards down the field in just over two minutes. The second-year-quarterback completed five of six passes and threw a touchdown pass to Rashard Higgins.
On Friday night, meanwhile, Washington had 84 receiving yards as the Steelers won 30-28 against the Tampa Bay Buccaneers. There was more positive news for Pittsburgh as Bush, a rookie linebacker, recorded eight tackles and looked extremely promising.
Bush wasn't the only rookie to catch the eye on the opening week, with Kansas City Chiefs' first-year wide receiver Mecole Hardman seizing his chance.
Hardman, the Chiefs' top draft pick this year, showed remarkable speed in a 38-17 win against the Cincinnati Bengals which included him taking a shovel pass 17 yards for a touchdown.
Elsewhere, the Patriots made light work of the Detroit Lions in a 31-3 mauling, while the Los Angeles Rams also failed to score a touchdown in a 14-3 loss to the Oakland Raiders. As he did a year ago, Rams head coach Sean McVay kept all starters on the bench, opting to give fringe players a chance to impress.
Here's everything you need to know ahead of Week 2.
TV coverage
Eight games will be broadcast nationally in Week 2 of preseason, with NFL Network and ESPN carrying four and two games respectively while FOX and CBS have one each.
It all begins on Thursday night when the Oakland Raiders play the Cardinals in Arizona, while Friday's game features the Chicago Bears against the New York Giants.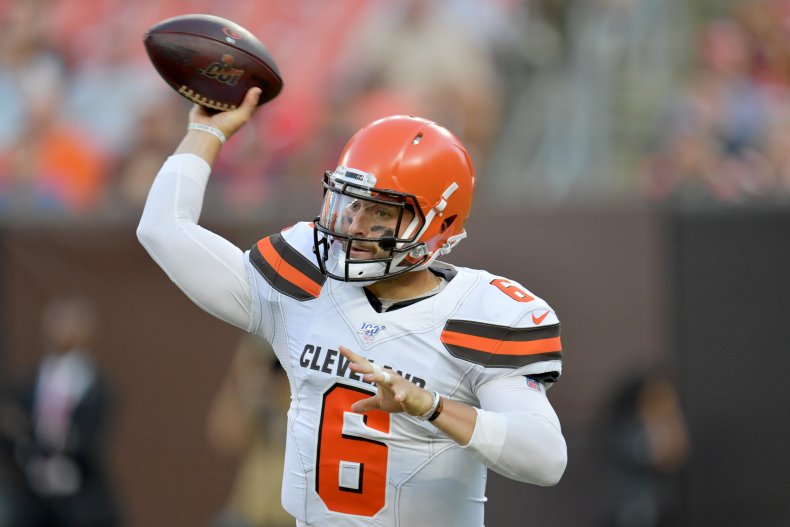 On Saturday, three of the five games on the schedule will be nationally broadcast.
The Cleveland Browns take on the Colts in Indianapolis, before the Kansas City Chiefs face the Steelers in Pittsburgh and the Dallas Cowboys and the Los Angeles Rams square off in Honolulu, Hawaii.
All three games on the slate on Sunday will be broadcast nationally, beginning with the New Orleans Saints trip to Los Angeles to face the Chargers. The Seattle Seahawks then travel to Minneapolis to play the Vikings, while the Denver Broncos host the San Francisco 49ers.
Live stream
Live stream of the national games will be available via NFL Network, fuboTV and the digital platforms of the channel broadcasting the games.
TV schedule (all times ET)
Thursday, August 15
Philadelphia Eagles @ Jacksonville Jaguars—7 p.m., WJAX, WCAU
New York Jets @ Atlanta Falcons—7:30 p.m., WCBS, WUPA
Green Bay Packers @ Baltimore Ravens—7:30 p.m., WBAL, WTMJ
Cincinnati Bengals @ Washington Redskins—7:30 p.m. WKRC, WRC
Oakland Raiders @ Arizona Cardinals—8 p.m. ESPN
Friday, August 16
Buffalo Bills @ Carolina Panthers—7 p.m. WKBW, WSOC
Chicago Bears @ New York Giants—7:30 p.m., NFL Network, WNBC, WFLD
Miami Dolphins @ Tampa Bay Buccaneers—7:30 p.m., WFOR, WTSP, WFTV
Saturday, August 17
Cleveland Browns @ Indianapolis Colts—4 p.m. NFL Network, WEWS
New England Patriots @ Tennessee Titans—7 p.m. WBZ, WKRN
Kansas City Chiefs @ Pittsburgh Steelers—7:30 p.m. NFL Network, KCTV, KDKA
Detroit Lions @ Houston Texans—8 p.m. WJBK, KTRK
Dallas Cowboys vs Los Angeles Rams (In Honolulu, Hawaii)—10 p.m. NFL Network, KTVT, KCBS
Sunday, August 18
New Orleans Saints @ Los Angeles Chargers—4 p.m. CBS
Seattle Seahawks @ Minnesota Vikings—8 p.m. FOX
San Francisco 49ers @ Denver Broncos—ESPN