NFL Preseason Schedule: How to Watch Buffalo Bills vs. Detroit Lions on TV, Stream
Jared Goff could make his Detroit Lions debut on Friday night when the franchise hosts the Buffalo Bills in Week 1 of the NFL preseason.
The first overall pick of the 2016 NFL Draft, Goff was traded to the Lions along with two first-round picks and a third-round pick in exchange for Matthew Stafford back in March, as the Los Angels Rams opted to move on from the former University of California star just two seasons after losing to the New England Patriots in Super Bowl LIII.
The Rams went 10-6 last season before falling to the Green Bay Packers in the NFC Divisional Round, but Goff endured an underwhelming campaign, throwing for 20 touchdowns and 13 interceptions at an average of 7.2 yards per pass.
Both the touchdowns and average yardage per pass were the lowest figures Goff has produced in his NFL career—with the exception of his rookie season when the Rams lost all the seven games he featured in.
Soon, the Rams' decision to hand him a four-year, $134 million extension in September 2019 appeared misguided and the franchise opted for a drastic change of direction by trading for Stafford. In Detroit, Goff has found a franchise also looking to write a new chapter, with Dan Campbell replacing Matt Patricia as head coach.
In three years under Patricia, the Lions won just 13 games, until he was fired after Week 11 last season. Campbell has wasted no time in outlining his vision for the team, suggesting it wanted the Lions to be hard enough to "bite a kneecap" off their opponents.
The former New Orleans Saints assistant head coach reiterated the concept last week.
"I want to see these guys compete. Like, I want to see them go all the way to the point to where it is almost an all-out brawl, but we're not getting that," he told ESPN.
"Like it's so heated, and it's so hot and guys are trying to win so badly that we get better. I think that's the only way you really get better."
If the Lions and Goff are beginning a new chapter, the Bills and their quarterback couldn't be more set ahead of Week 1 of preseason.
The Bills went 15-4 last season and made it to their first AFC Championship Game since 1993, ultimately losing to the Kansas City Chiefs 38-24.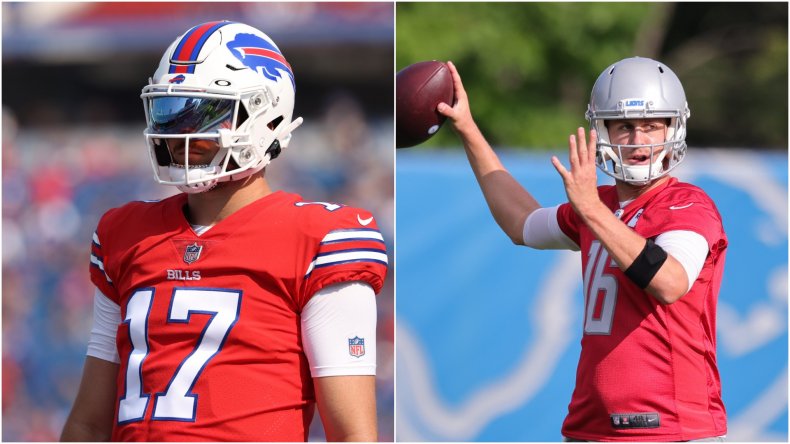 In his third season as a pro, Josh Allen finished runner-up to Aaron Rodgers in the MVP voting, passing for 4,544 yards and 37 touchdowns and setting franchise records in nearly every major statistical passing category.
Allen was handsomely rewarded for his performances last week, when he signed a six-year, $258 million contract extension with an NFL-record $150 million guaranteed.
The new deal works out an average of $43 million per year, making Allen the highest-paid player in Bills' history and the second-highest in NFL history, behind only Patrick Mahomes.
The Bills have also added depth behind Allen in their quarterback charts, by signing former Chicago Bears signal-caller Mitchell Trubisky, the second overall pick of the 2017 Draft.
"He's here to help this team win in whatever that way may be," Bills receiver Stefon Diggs told ESPN of his new teammate.
"We're lucky to have him, I'll tell you that. [...] He has a lot of experience and a lot of knowledge and a lot of ideas that he's been throwing around in the meetings. We're lucky to have him, and he's going to continue to be great for us."
Here's all you need to know ahead of Friday.
When is Buffalo Bills vs. Detroit Lions?
The Bills take on the Lions on Friday, August 13 in what is the first game of the NFL preseason for both teams. Kickoff is scheduled for 7 p.m. ET.
Where is Buffalo Bills vs. Detroit Lions?
The Lions host the Bills at Ford Field in Detroit, Michigan. The Bills won 17-14 on their last trip to Detroit.
How to watch Buffalo Bills vs. Detroit Lions on TV and online
The game will be nationally broadcast by NFL Network and will be available to livestream via NFL Network online and via the NFL Network app on connected devices
Buffalo Bills vs. Detroit Lions odds
William Hill has the Lions as a one-point favorite and 10-11 to cover the spread, while in moneyline terms Detroit is an 8-11 favorite and Buffalo is at even odds. The over/under line in terms of points scored is set at 36.5.