Quarterback battles are expected to be the main point of focus of Week 2 of the NFL preseason, which gets underway on Thursday evening when the New England Patriots take on the Philadelphia Eagles.
With the NFL shortening preseason to three games in order to accommodate a 17th regular-season game in the schedule, head coaches of the 32 franchises have just two more preseason games to weigh their options under center before the regular season gets underway on September 9.
While that may not matter for the Kansas City Chiefs, Buffalo Bills, Green Bay Packers and Tampa Bay Buccaneers, which have long committed to their starting quarterbacks, the next two weeks could be crucial for a number of teams.
Rookie quarterbacks Sam Ehlinger and Jacob Eason will again get the chance to impress when the Indianapolis Colts face the Minnesota Vikings on Sunday, after sharing duties during last week's 21-18 win over the Carolina Panthers.
With Carson Wentz in doubt for Week 1 after undergoing foot surgery at the start of the month, Colts head coach Frank Reich could have a decision to make over the next three weeks.
Similar scenarios are playing out in Denver and New Orleans.
Broncos head coach Vic Fangio confirmed this week he's yet to make his mind up over who between Teddy Bridgewater and Drew Lock should be given the starting job after his team defeated the Minnesota Vikings 33-6 last week.
Meanwhile, the Saints' 17-14 defeat against the Baltimore Ravens offered few clues as to who between Taysom Hill and Jameis Winston will lead the team in Week 1.
Elsewhere, rookie quarterbacks Trey Lance, Justin Fields and Mac Jones will be hoping to impress and give their respective coaches something to think about ahead of the regular season.
Jimmy Garoppolo, Andy Dalton and Cam Newton remain the starters for the San Francisco 49ers, Chicago Bears and Patriots respectively, but the trio of rookies could close the gap with their more experienced counterparts.
Here's everything you need to know ahead of Week 2 of the NFL preseason.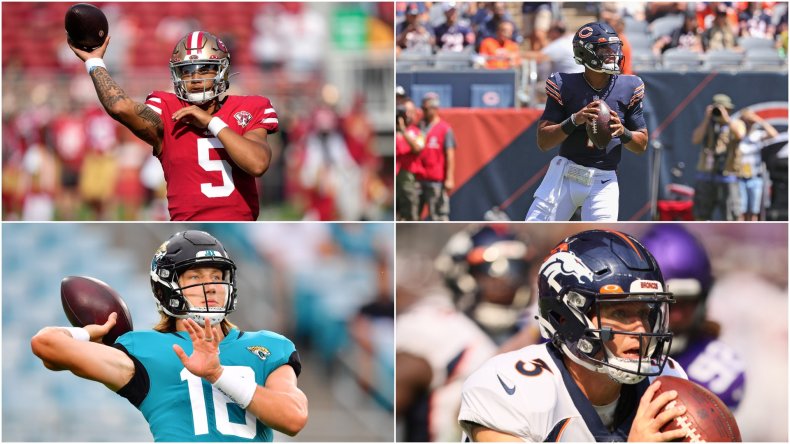 How to watch NFL preseason on TV and online
Eight games are live on NFL Network during the second week of preseason, including a quadruple-header on Saturday afternoon beginning from 1 p.m. ET.
NFL network will also re-air broadcasts of every other matchup.
ESPN, meanwhile, will broadcast the game between the Arizona Cardinals and the Kansas City Chiefs on Friday and the New Orleans Saints' road game against the Jacksonville Jaguars on Monday.
Games will be available to livestream via NFL Network online and via the NFL Network app on connected devices, while the games on ESPN will be available on streaming services such as fuboTV and Sling TV which carry the channel.
NFL preseason Week 2 TV schedule
All times ET
Thursday, August 19
New England Patriots vs. Philadelphia Eagles—7:30 p.m., NFL Network
Friday, August 20
Cincinnati Bengals vs. Washington Football Team—8 p.m., NFL Network
Arizona Cardinals vs. Kansas City Chiefs—8 p.m. ESPN
Saturday, August 21
Buffalo Bills vs. Chicago Bears—1 p.m., NFL Network
New York Jets vs. Green Bay Packers—4:30 p.m., NFL Network
Carolina Panthers vs. Baltimore Ravens—7 p.m.
Miami Dolphins vs. Atlanta Falcons—7 p.m.
Detroit Lions vs. Pittsburgh Steelers—7:30 p.m., NFL Network
Tampa Bay Buccaneers vs. Tennessee Titans—7:30 p.m.
Dallas Cowboys vs. Houston Texans—8 p.m.
Minnesota Vikings vs. Indianapolis Colts—8 p.m.
Seattle Seahawks vs. Denver Broncos—10 p.m.
Las Vegas Raiders vs. Los Angeles Rams—10:30 p.m., NFL Network
Sunday, August 22
New York Giants vs. Cleveland Browns—1 p.m., NFL Network
San Francisco 49ers vs. Los Angeles Chargers—7:30 p.m., NFL Network
Monday, August 23
New Orleans Saints vs. Jacksonville Jaguars—8 p.m., ESPN
About the writer
Dan Cancian is currently a reporter for Newsweek based in London, England. Prior to joining Newsweek in January 2018, he was a news and business reporter at International Business Times UK. Dan has also written for The Guardian and The Observer.