NFL Preseason Schedule: Which Games Are on TV This Week? Where to Watch, Live Stream
The NFL preseason ends this week with all 32 franchises in action on Thursday in the final round of games before the beginning of the regular season next week.
Week 3 was characterized by Andrew Luck's surprising retirement as the quarterback revealed on Sunday he was calling time on his NFL career, with years of injuries finally taking their toll on his mind and body.
Aside from the shock generated by Luck's news, there were a number of significant events in the third week of preseason.
The Houston Texans suffered a 34-0 shellacking at the hands of the Cowboys in Dallas and lost starting running back Lamar Miller to a torn ACL, while Kyler Murray delivered his best performance of the summer even if the Arizona Cardinals lost 20-9 against the Minnesota Vikings.
Murray wasn't the only quarterback to bounce back in Week 3, with Jimmy Garoppolo finishing 14-of-20 for 188 yards and a touchdown as the San Francisco 49ers beat the Kansas City Chiefs 27-17.
Garoppolo finished with a passer rating of 116.2, just a week after posting a 0.0 passer rating in the defeat against the Denver Broncos.
Things didn't go as well for Marcus Mariota, who endured a very difficult day at the office in the Tennessee Titans' 18-6 defeat against the Pittsburgh Steelers.
Mariota played just one series but completed zero passes and was sacked for a safety as the Titans' offense struggled to get going.
Here's everything you need to know ahead of Week 4.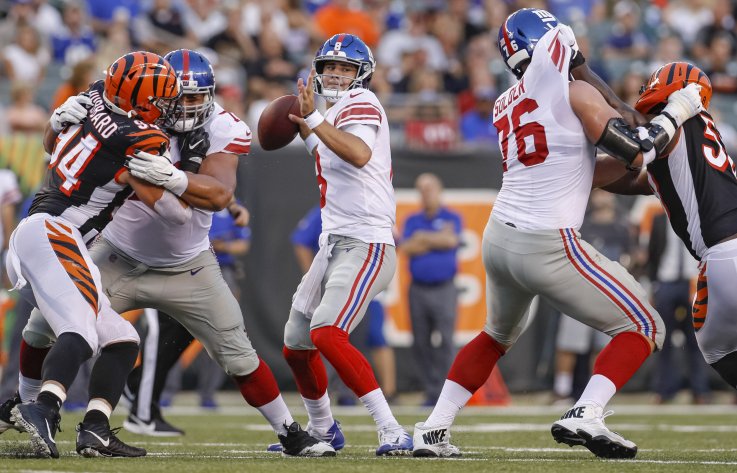 TV coverage
All 32 franchises are in action on Thursday, August 29, but only two games will be broadcast nationally in Week 4 of preseason, with NFL Network showing both of them.
The Philadelphia Eagles travel to New Jersey to take on the New York Jets at 7 p.m. ET, before the San Francisco 49ers host the Los Angeles Chargers at 10 p.m. ET.
Live stream
A live stream will be available via NFL Network online and on connected devices, as well as via fuboTV.
TV schedule (all times ET)
Minnesota Vikings @ Buffalo Bills—7 p.m., WKBW, KMSP
Pittsburgh Steelers @ Carolina Panthers—7 p.m., KDKA, WSOC
Indianapolis Colts @ Cincinnati Bengals—7 p.m., WXIN, WKRC
Atlanta Falcons @ Jacksonville Jaguars—7 p.m., WJAX, WUPA
Philadelphia Eagles @ New York Jets—7 p.m., NFL Network, WCBS, WCAU
Detroit Lions @ Cleveland Browns—7:30 p.m., WEWS, WJBK
New York Giants @ New England Patriots—7:30 p.m., WNBC, WBZ
Baltimore Ravens @ Washington Redskins—7:30 p.m., WBAL, WRC
Tennessee Titans @ Chicago Bears—8 p.m. WFLD, WKRN
Tampa Bay Buccaneers @ Dallas Cowboys—8 p.m., KTVT, WTSP, WFTV
Kansas City Chiefs @ Green Bay Packers—8 p.m., WTMJ, KCTV
Los Angeles Rams @ Houston Texans—8 p.m., KCBS, KTRK
Miami Dolphins @ New Orleans Saints—8 p.m., WVUE, WFOR
Arizona Cardinals @ Denver Broncos—9 p.m., KTVD, KPNX
Los Angeles Chargers @ San Francisco 49ers—10 p.m. NFL Network, KPIX, KABC
Oakland Raiders @ Seattle Seahawks—10 p.m. KING, KTVU
NFL Preseason Schedule: Which Games Are on TV This Week? Where to Watch, Live Stream | Sports