NFL Reduces COVID Testing Requirements for Vaccinated Players as Omicron Looms
The National Football League and its players' union agreed on Saturday to roll back COVID-19 testing protocols for vaccinated players.
The decision comes as the Omicron variant continues to spread across the country. Three games were moved back on the Week 15 schedule due to the outbreak.
The league previously required vaccinated players to get tested weekly. Players that have tested positive are required to quarantine until they test negative and are cleared to return. Vaccinated players could return to playing within 10 days under the new protocols.
The first day of the league's new protocols saw 47 players put on the reserve list, which is designated for players that have been exposed to COVID-19. Many of the players put on the list were asymptomatic and vaccinated.
"We want someone to return after they are no longer a risk for themselves or a risk to others," said the NFL's chief medical officer, Dr. Allen Sills. "We've looked at our data very carefully there. We have obviously continued to evolve that definition over time and we believe we can bring a further degree of precision to that process on how people can return by fine-tuning that in a way that fits into the protocols."
However, some experts are skeptical of the effectiveness of the new protocols due to the Omicron variant.
"The other side is that they're going to have more players that are out there that are infected that are potentially transmitting to other players and leading to a greater burden of infections," Boston University professor Dr. David Hamer said. "This change in plan makes me nervous mainly because of Omicron surging."
Almost 95 percent of players and team staff members are vaccinated.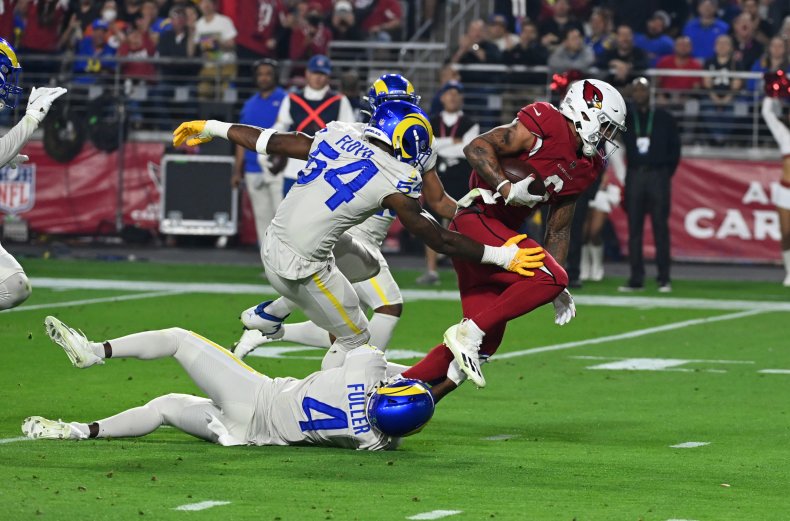 The move aligns with guidance from the Centers for Disease Control and Prevention. The CDC recommends "diagnostic testing" only for symptomatic or close-contact vaccinated people, and "screening tests" only for unvaccinated people.
"I think the NFL is actually going to be a really interesting and I think really safe real-world experiment on what our new normal is likely going to look like," Dr. Vin Gupta, a pulmonologist and professor at the University of Washington, said in an interview with the Associated Press. "And, it's safe to say that the NFL is obviously a large vaccine bubble, sans a few high-profile exceptions."
Gupta, an informal consultant for the Seattle Seahawks on COVID-19 issues and an adviser for Major League Baseball's Seattle Mariners, says the NFL is "ahead of the curve" with target and voluntary testing.
"I think they're able to do things that the rest of the country is unable to do because they have a vaccine bubble, and they can control things to a certain degree that we can't control across the public at large, and so it's an interesting experiment," Gupta said. "We have to build policies and procedures and case management protocols around positive tests that make sense, given our reality."
It's fair to wonder if the NFL is putting its desire to finish the season uninterrupted ahead of health and safety. But the league and its team of doctors point to science and data.
"We are always analyzing our data and particularly our outcomes," Sills said. "We are looking at our protocols, together with our experts, together with the Players' Association. We are looking at them to see how we achieve the safest possible environment for everyone and that causes us to need to constantly respond to adapt the protocols. And so clearly, with the emergence of this new variant, which, as I said, in many ways seems like a new disease, has been an opportunity to reevaluate every aspect of our protocols, and has led to some of the changes.
"We believe what we are doing actually now will mimic what we have been doing in health care for quite a while now....We are not routinely testing asymptomatic, vaccinated health care workers, doctors, etc. We are testing those who become symptomatic and meet certain criteria. So, we are really just joining what has been done in health care based on our own experience and the experience in health care up to this point."
The Associated Press contributed to this report.