NFL 2019 Schedule: Week 2 Games, Where to Watch, Live Stream, TV Channel
Week 1 of the 100th NFL season is in the history books and it was not short on storylines.
The New England Patriots and Patrick Mahomes have picked up where they left off last season, the Cleveland Browns aren't as good as they expected and the Miami Dolphins are as bad as everyone expected.
Fresh from signing Antonio Brown in one of the most surprising moves the NFL has seen in decades—or one of the least surprising, depending on which theories you believe—the Patriots thrashed the Pittsburgh Steelers 33-3 in Foxborough, Massachusetts, on Sunday night.
Tom Brady finished with 24-of-36 for 341 passing yards and three touchdowns. As far as season openers go, it was a rather splendid display for a man who turned 42 last month.
Newsweek subscription offers >
The Patriots take on the Dolphins in Miami on Sunday afternoon, in a game that could be hopelessly lopsided. The Dolphins were annihilated 59-10 at home by the Baltimore Ravens and looked even worse than anyone had anticipated.
Meanwhile, after spending the offseason explaining how the losses of Antonio Brown and Le'Veon Bell would help team spirit, the Steelers quickly realized their absence also left behind a dearth of playmaking options.
The Steelers welcome Seattle next week, with the Seahawks looking for second win after beating Cincinnati 21-20 on Sunday.
The Browns, on the other hand, have plenty of playmakers but that wasn't enough to spare them an unexpected and thoroughly deserved 43-13 hammering at the hands of Tennessee.
The Titans arrived in Ohio intent of puncturing the bubble of expectations that had surrounded the Browns throughout the offseason and did exactly that.
Baker Mayfield finished 25-of-38 for 285 passing yards and a touchdown, but was intercepted three times and was sacked five times.
Cleveland must turn things around quickly as it travels to New Jersey on Monday night to face another team reeling from an opening day loss.
The New York Jets squandered a 16-0 lead to lose 17-16 at home against the Buffalo Bills.
Elsewhere, Patrick Mahomes completed 25 of his 33 passes for 378 passing yards and three touchdowns as the Kansas City Chiefs won 40-26 in Jacksonville.
Nick Foles' endured a nightmare debut with the Jaguars, fracturing his clavicle in the first half and now faces a lengthy spell on the sidelines.
Meanwhile, the Dallas Cowboys welcomed back Ezekiel Elliott with a comprehensive 35-17 over NFC East rivals New York Giants and face another divisional rival next week in the shape of the Washington Redskins.
Week 2 kicks off on Thursday night, with the Carolina Panthers hosting Tampa Bay but the pick of the crop is the matchup between Los Angeles Rams and New Orleans Saints in Los Angeles on Sunday afternoon.
The Rams defeated the Saints in the NFC Championship Game last season because of that missed pass interference call and New Orleans will be desperate to take some sort of revenge.
Here's everything you need to know about Week 2.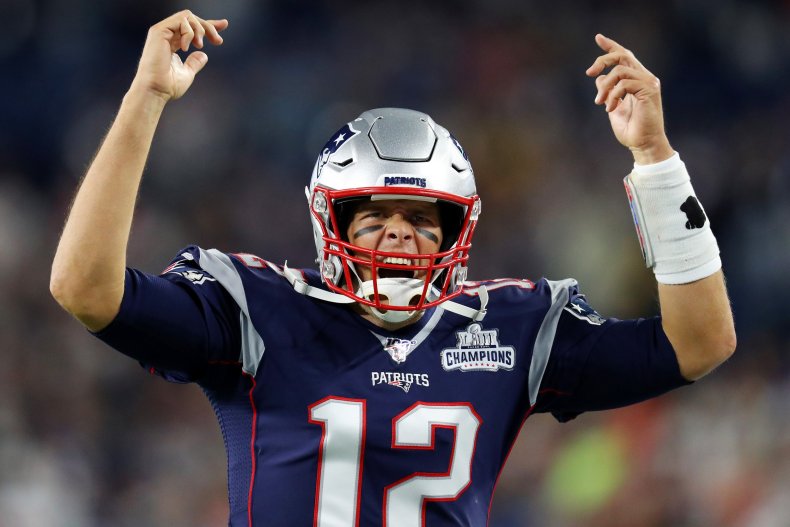 TV coverage
The upcoming season marks the sixth year under the current broadcast contract with ESPN, CBS, Fox and NBC.
ESPN will broadcast Monday Night Football, while Fox will air Super Bowl LIV and Thursday Night Football, which will also be broadcast on NFL Network.
NBC will broadcast the opening game on September 5, as well as the prime time Thanksgiving game and Sunday Night Football.
CBS and FOX, meanwhile, will carry the Sunday afternoon games.
Live stream
Live stream will be available through the four broadcasters' digital platforms, which includes apps on Apple and Android devices as well as via connected TVs. Similarly, NFL Network's game pass will be available via connected TVs and on mobile devices.
Live stream will also be available via fuboTV and DirecTV.
TV schedule (all times ET)
Thursday, September 12
Tampa Bay Buccaneers @ Carolina Panthers—8:20 p.m., NFL Network
Sunday, September 15
Arizona Cardinals @ Baltimore Ravens—1 p.m., Fox
Dallas Cowboys @ Washington Redskins—1 p.m., Fox
Indianapolis Colts @ Tennessee Titans—1 p.m., CBS
Seattle Seahawks @ Pittsburgh Steelers—1 p.m., Fox
Buffalo Bills @ New York Giants—1 p.m., CBS
San Francisco 49ers @ Cincinnati Bengals—1 p.m., Fox
Los Angeles Chargers @ Detroit Lions—1 p.m., CBS
Minnesota Vikings @ Green Bay Packers—1 p.m., Fox
Jacksonville Jaguars @ Houston Texans—1 p.m., CBS
New England Patriots @ Miami Dolphins—1 p.m., CBS
Kansas City Chiefs @ Oakland Raiders—4:05 p.m., CBS
New Orleans Saints @ Los Angeles Rams—4:25 p.m., Fox
Chicago Bears @ Denver Broncos—4:25 p.m., Fox
Philadelphia Eagles @ Atlanta Falcons—8:20 p.m., NBC
Monday, September 16
Cleveland Browns @ New York Jets—8:15 p.m., ESPN
NFL 2019 Schedule: Week 2 Games, Where to Watch, Live Stream, TV Channel | Sports