The first half of the NFL season is in the history books and the San Francisco 49ers are the only team still to taste defeat this year. The 49ers improved to 8-0 with a 28-25 road win against Arizona on Thursday Night Football, their best start since they won all the first 10 games of the season in 1990.
Jimmy Garoppolo threw for 317 yards and four touchdowns on a night when it was San Francisco offense, rather than its much heralded defense, to make the difference.
"Our team has done a good job of winning in different ways this year," Garoppolo said after the game. "Whether it's offense, special teams, defense or mixing and matching all of them. That's how you create a good football team. You're not relying on one part and everyone's playing tomorrow. Complimentary football. That's where we're at right now."
The result strengthened San Francisco's grasp on first spot in NFC, but its Super Bowl credentials will face a big test on Monday night, when the 49ers host NFC West rivals Seattle Seahawks.
The Seahawks moved to 7-2 after defeating the Tampa Bay Buccaneers 40-34 in overtime, with Russell Wilson throwing for 378 yards and five touchdown passes, while Chris Carson rushed for 105 yards over 16 carries.
While the 49ers kept their unbeaten streak going, the New England Patriots suffered their first defeat of the season, losing 37-20 in Baltimore against the Ravens.
Lamar Jackson had a relatively subdued day passing the ball, finishing with 163 yards and one touchdown, but added two scores on the ground and 63 rushing yards.
The Patriots' much vaunted defense conceded 155 rushing yards in the first half alone and the reigning Super Bowl champs had no answers for the Ravens, as they slipped to 8-1 going into their bye in Week 10.
The Ravens, meanwhile, improved to 6-2 and remain in total control of the AFC North ahead of their divisional matchup against the Cincinnati Bengals on Sunday afternoon.
The Bengals return from their bye as the only team still to win a game, after the Miami Dolphins snapped a 0-7 start with a home win against the New York Jets, who dropped to 1-7 themselves.
Meanwhile, the Green Bay Packers' run to the playoffs momentarily came to a halt as they lost 26-11 on the road to the Los Angeles Chargers. The Packers, however, remain in control of the NFC North, with their three divisional rivals all losing in Week 9.
The Minnesota Vikings fell 26-23 in Kansas City as the Chiefs snapped a three-game losing streak at home to improve to 6-3, while the Chicago Bears are in free fall after losing 22-14 in Philadelphia and Detroit lost 31-24 in Oakland.
The win improved the Raiders' record to 4-4 and Oakland faces a potentially season-defining game on Thursday Night Football, when it hosts the Los Angeles Chargers in a matchup that will go some way in determining who will be the Chiefs' main challenger in the AFC West.
Elsewhere, the Houston Texans took charge of the AFC South with a dominant 26-3 over AFC South rivals Jacksonville Jaguars in London, improving to 6-3 and overtaking the Indianapolis Colts who lost 26-24 in Pittsburgh.
The Steelers improved to 4-4 with the win and remain in the hunt for a wildcard spot, while the Cleveland Browns season is all but over after a 24-19 road loss against the Denver Broncos.
Here's all you need to know about Week 10.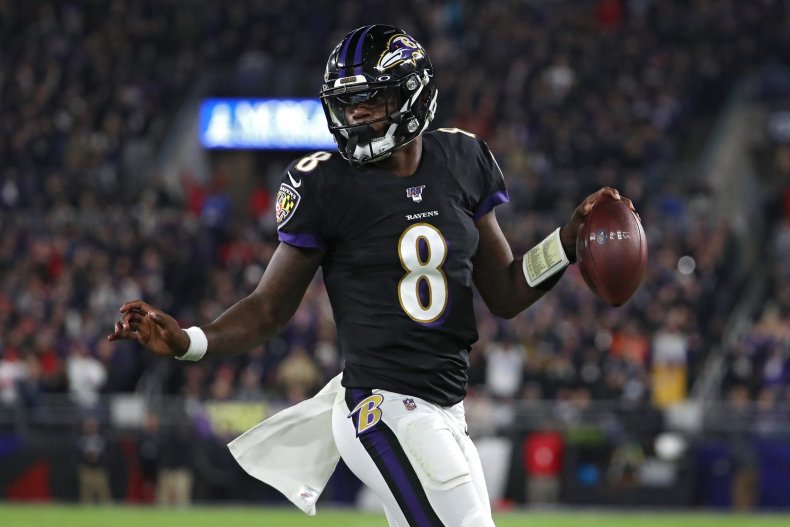 TV coverage
The current season marks the sixth year under the current broadcast contract with ESPN, CBS, FOX and NBC.
Thursday Night Football is broadcast on FOX, NFL Network and Amazon Prime Video, while NBC will broadcast Sunday Night Football and ESPN will carry Monday Night Football.
CBS and FOX, meanwhile, will carry the Sunday afternoon games.
Live stream
Live stream will be available through the four broadcasters' digital platforms, which includes apps on Apple and Android devices as well as via connected TVs. Similarly, NFL Network's game pass will be available via connected TVs and on mobile devices.
Live stream will also be available via fuboTV and DirecTV.
TV schedule (all times ET)
Thursday, November 7
Los Angeles Chargers @ Oakland Raiders—8:20 p.m., NFL Network, Fox, Amazon Prime Video
Sunday, November 10
Baltimore Ravens @ Cincinnati Bengals—1 p.m., CBS
Buffalo Bills @ Cleveland Browns—1 p.m., CBS
Detroit Lions @ Chicago Bears—1 p.m., CBS
New York Giants @ New York Jets—1 p.m., Fox
Kansas City Chiefs @ Tennessee Titans—1 p.m., CBS
Arizona Cardinals @ Tampa Bay Buccaneers—1 p.m., Fox
Atlanta Falcons @ New Orleans Saints—1 p.m., Fox
Miami Dolphins @ Indianapolis Colts—4:05 p.m., CBS
Los Angeles Rams @ Pittsburgh Steelers—4:25 p.m., Fox
Carolina Panthers @ Green Bay Packers—4:25 p.m., Fox
Minnesota Vikings @ Dallas Cowboys—8:20 p.m., NBC
Monday, November 11
Seattle Seahawks @ San Francisco 49ers—8:15 p.m., ESPN
About the writer
Dan Cancian is currently a reporter for Newsweek based in London, England. Prior to joining Newsweek in January 2018, he was a news and business reporter at International Business Times UK. Dan has also written for The Guardian and The Observer.