The status quo in both NFL conferences was shaken in Week 13.
The New England Patriots' road loss to the Houston Texans saw them drop to 10-2, the same record of the Baltimore Ravens, which secured an eighth consecutive win as they defeated the San Francisco 49ers and are now in pole position to secure home-field advantage throughout the playoffs.
In miserable weather conditions, Baltimore became only the second team this season to beat the 49ers, as Justin Tucker kicked a 49-yard field goal as time expired to give the Ravens a 20-17 win.
Aided by stiff wind and torrential rain, the 49ers defense kept Lamar Jackson largely under control, as the runaway MVP favorite finished with just 104 passing yards after completing 14 of his 23 passes.
The second-year quarterback, however, rushed for 101 yards and a touchdown and orchestrated the crucial drive that ended with Tucker kicking the winning field goal.
"That golden leg. I got all the faith in him," Jackson told reporters when asked if he trusted his teammate to deliver. "I'm on the sideline praying, but at the same time I know Tucker can do it."
Baltimore travels to Buffalo on Sunday to take on the 9-3 Bills, who moved a step closer to securing a wildcard spot after defeating the Cowboys in Dallas on Thanksgiving Day.
The 49ers' defeat, meanwhile, means they could fall to No. 2 in the NFC West and to No. 5 in the conference if the Seattle Seahawks beat the Minnesota Vikings on Monday Night Football.
The schedule for San Francisco doesn't get any easier either, with a trip to New Orleans on the slate for Week 14. The 10-3 Saints are the only team to have clinched a playoff spot so far and could leapfrog the 49ers with a win on Sunday.
Following the Patriots' loss in Houston, the Ravens are now level with their AFC rivals but hold the tiebreaker by virtue of a 37-20 win in Week 9.
New England's offense was again under scrutiny in the 28-22 loss to Houston, with Tom Brady completing just seven of his 19 passes in the first half for 82 yards, the lowest completion percentage of his career.
The Patriots host the Kansas City Chiefs on Sunday afternoon in a remake of last year's AFC Championship Game, with the latter having all but secured a fourth consecutive AFC West title with a 40-9 thrashing of the Oakland Raiders in Week 13.
Kansas City and Houston are both 8-4 but the latter, who hosts the Denver Broncos on Sunday, holds the tiebreaker over the Chiefs.
Elsewhere, Pittsburgh took a significant step towards clinching a wildcard spot in the AFC with a 20-13 win over the Cleveland Browns, improving to 7-5. The Steelers travel to Arizona in Week 14, while the Tennessee Titans—who are currently their direct rivals for the playoff berth—face the Raiders in Oakland.
Three NFC East teams are in primetime in Week 14, with the Dallas Cowboys traveling to Chicago on Thursday Night Football and the Philadelphia Eagles welcoming the New York Giants on Monday Night Football.
The Cowboys' home loss to the Bills on Thanksgiving Day left them at 6-6, but Philadelphia failed to capitalize after slipping to a dismal 37-31 defeat in Miami.
Here's all you need to know about Week 14.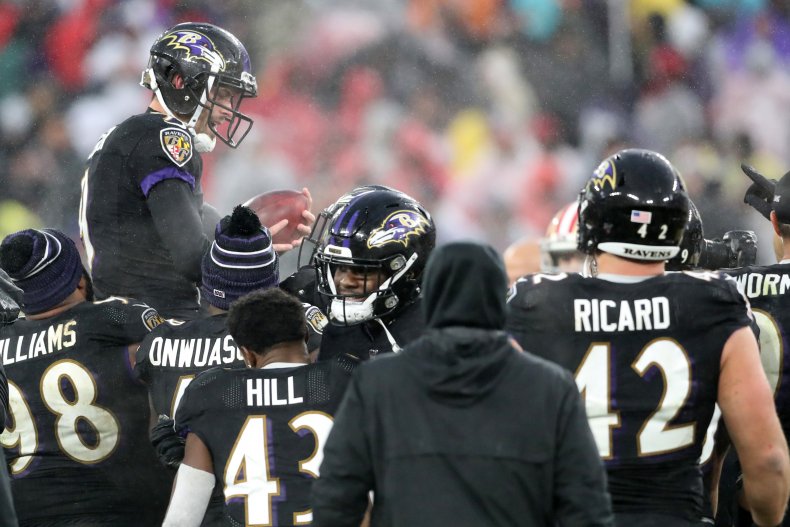 TV coverage
The current season marks the sixth year under the current broadcast contract with ESPN, CBS, FOX and NBC.
Thursday Night Football is broadcast on FOX, NFL Network and Amazon Prime Video, while NBC broadcasts Sunday Night Football and ESPN carries Monday Night Football.
CBS and FOX, meanwhile, will carry the Sunday afternoon games.
Live stream
Live stream will be available through the four broadcasters' digital platforms, which includes apps on Apple and Android devices as well as via connected TVs. Similarly, NFL Network's game pass will be available via connected TVs and on mobile devices.
Live stream will also be available via fuboTV and DirecTV.
TV schedule (all times ET)
Thursday, December 5
Dallas Cowboys @ Chicago Bears—8:20 p.m., NFL Network, Fox, Amazon Prime Video
Sunday, December 8
Carolina Panthers @ Atlanta Falcons—1 p.m., FOX
Indianapolis Colts @ Tampa Bay Buccaneers—1 p.m., CBS
Miami Dolphins @ New York Jets—1 p.m., CBS
San Francisco 49ers @ New Orleans Saints—1 p.m., FOX
Detroit Lions @ Minnesota Vikings—1 p.m., FOX
Denver Broncos @ Houston Texans—1 p.m., CBS
Baltimore Ravens @ Buffalo Bills—1 p.m., CBS
Cincinnati Bengals @ Cleveland Browns—1 p.m., CBS
Washington Redskins @ Green Bay Packers—1 p.m., FOX
Los Angeles Chargers @ Jacksonville Jaguars—4:05 p.m., FOX
Pittsburgh Steelers @ Arizona Cardinals—4:25 p.m., CBS
Tennessee Titans @ Oakland Raiders—4:25 p.m., CBS
Kansas City Chiefs @ New England Patriots—4:25 p.m., CBS
Seattle Seahawks @ Los Angeles Rams—8:20 p.m., NBC
Monday, December 9
New York Giants @ Philadelphia Eagles—8:15 p.m., ESPN
About the writer
Dan Cancian is currently a reporter for Newsweek based in London, England. Prior to joining Newsweek in January 2018, he was a news and business reporter at International Business Times UK. Dan has also written for The Guardian and The Observer.