'The NFL Is Rigged,' Steelers Fans Rage as Patriots Win After Controversial Call From Referees on Overturned TD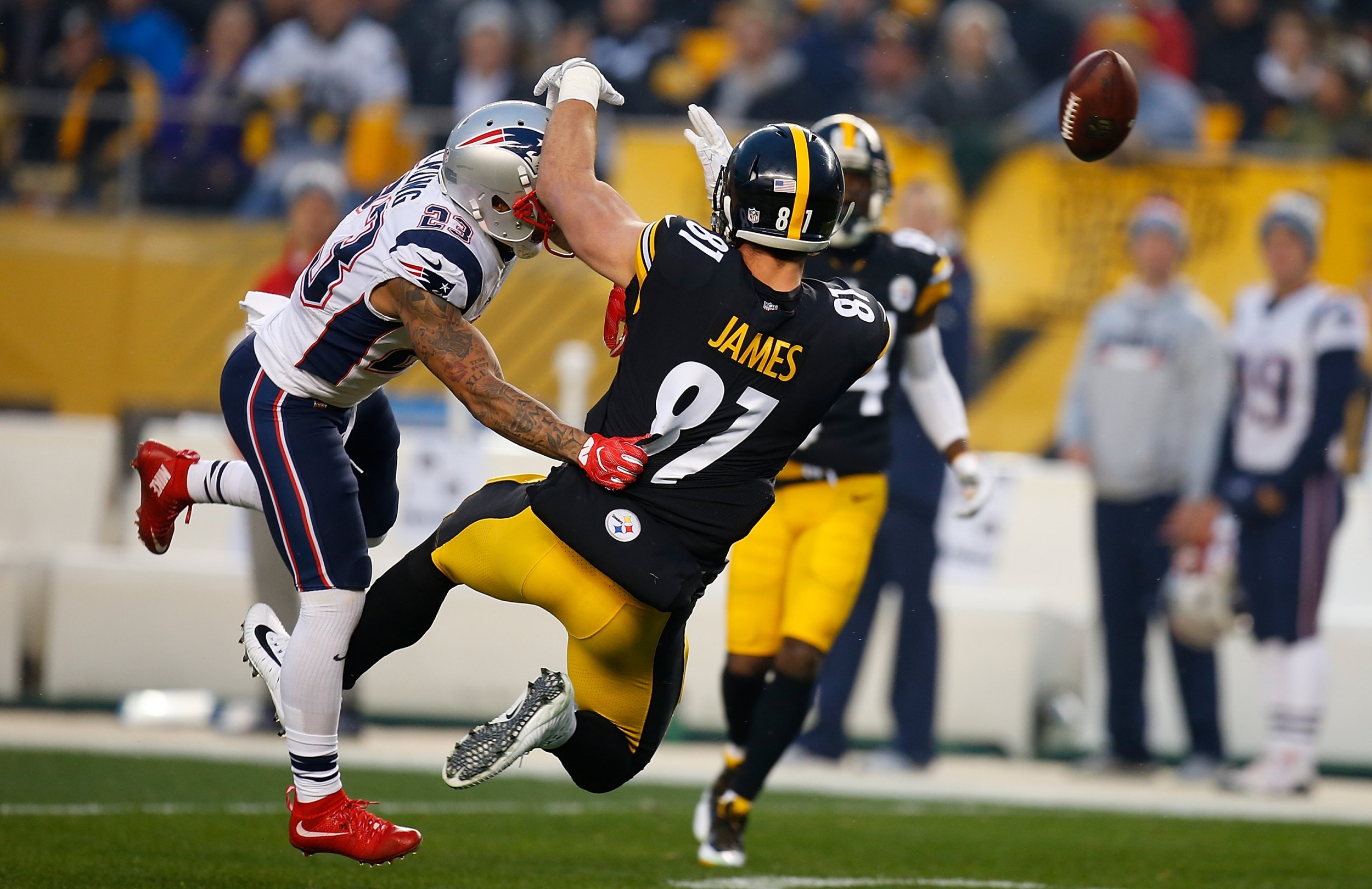 Pittsburgh Steelers fans were enraged after a controversial call led to the team's loss in a big game against the New England Patriots Sunday night. Claims that the NFL is rigged, not an uncommon complaint among fans who feel their favorite team was treated unfairly, swirled on social media.
The play in question initially seemed like a 10-yard touchdown catch from Pittsburgh's tight end Jesse James that appeared to hand the Steelers a 3-point lead with less than 30 seconds left in the game. But the NFL's catch rules are ridiculously complicated—sometimes it feels like determining a catch is a philosophical issue. The refs overturned the touchdown, saying James did not control the ball as he crossed into the end zone, so they ruled the play an incomplete pass. Steelers quarterback Ben Roethlisberger later threw an interception to effectively end the game after the overturned TD.
The Pittsburgh players weren't pleased. "It sucks, honestly. That was a b**** a** call by the refs," said wide receiver JuJu Smith-Schuster, according to ESPN. "I feel like he had ball control. He was in. In a game like that, when you go down, and you finish the game like that, and then—boom—momentum, and the next thing you know [the referee] said he didn't have control of the ball. Nobody touched him."
Fans mirrored Smith-Schuster's anger online. A common refrain was the league was rigged in favor of the Patriots.
After the game, referees explained that James was going to the ground with the ball and did not maintain control. "We were inside of two minutes, and in order to have a completed pass, a receiver must survive going to the ground," game official Tony Corrente said, according to ESPN. "In this case, he had control of the football, but he was going to the ground. As he hit the ground, the ball began to roll and rotate, and the ball hit the ground, and that's the end of it at that point."
The NFL even put out a video explaining the call, breaking it down second by second, but that did little to assuage Steelers fan who felt the team was robbed of a win against the marquee matchup against the Tom Brady–led Patriots.
The Pittsburgh play wasn't the only controversial call of the night for the NFL as well. Oakland Raiders fans were angered after the Dallas Cowboys were awarded a first down on an incredibly close call at the end of the game. The referee in the game even brought out an index card to see if there was space between the nose of the football and the pole used to measure first downs.