NFL Season Kicks Off With Sensory-Inclusive Rooms for Fans with Autism
The latest trend in the NFL? Sensory rooms in stadiums for fans on the autistic spectrum or with other sensory issues.
This season the Philadelphia Eagles, Seattle Seahawks, Minnesota Vikings and Jacksonville Jaguars have all unveiled rooms designed for people who require a calm, quiet place away from the roar of the game. The rooms are usually sound-proofed and have toys and other resources to relieve stress.
"When we think about families with children with autism coming to a game, there's barriers to re-entry, there's sensory overload when we score a touchdown and there's pyrotechnics," Ryan Hammond, executive director of the Eagles Autism Challenge, told the AP. "We felt the sensory room was what we needed to be fully accessible . The idea behind it was not to change the experience but deliver a solution if they needed to take a break."
At home games at Philadelphia's Lincoln Financial Field, fans can go to a sensory room designed with soothing lighting, sound and colors. U.S. Bank Stadium, where the Vikings play, has two licensed behavioral specialists on hand at each home game. The stadium's 6-by-12-foot "sensory-inclusive space," formerly a first aid station, features low lighting, bean bag chairs, a sensory active wall display and earplugs and noise-canceling headphones, courtesy of 3M.
"Games should be as accessible as possible, particularly for fans with special needs," said Vikings Chief Operating Officer Kevin Warren in a statement.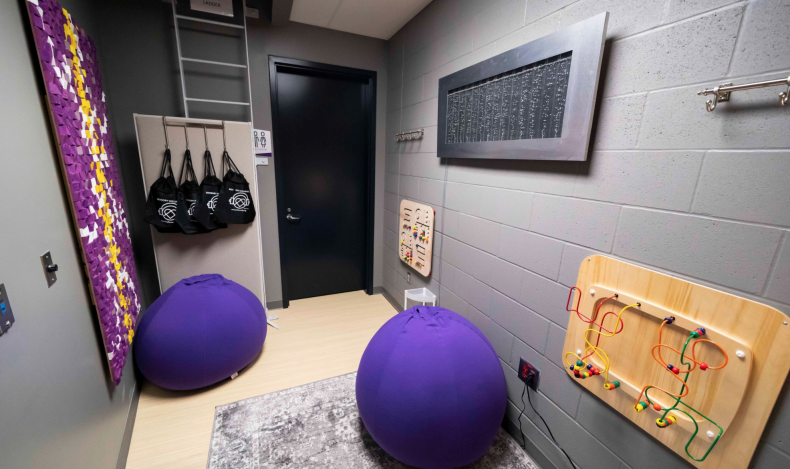 Other teams are becoming sensory-inclusive-certified by offering kits with headphones, fidget tools, verbal cue cards and weighted lap pads.
Many teams leading the charge are doing so from a personal connections: Seahawks general manager John Schneider's son was diagnosed with autism 15 years ago. "We want to be a stadium where our fans felt welcome, and give them a space and an opportunity, if they are getting overwhelmed—we all know that [the Seahawks' stadium] is very loud and very high sensory—so just give them a space to have that moment and to come back down so they can rejoin our game day and be part of it," Schneider's wife, Traci, said in a statement.
And Eagles owner Jeffrey Lurie's brother has autism—the Eagles Autism Challenge has become a signature fundraising event for the team. According to Hammond, the Eagles' sensory room was Lurie's vision.
"It's very exciting for me to see sensory rooms installed by these teams and create things like the sensory bags that the Seahawks have done. It shows a real effort to be inclusive rather than just simply following ADA guidelines," Phil Dallmann, a New York City-based cultural inclusion consultant, told Newsweek. "This allows individuals with sensory sensitivities to be a part of this experience, feel supported, and not be excluded or only offered a separate experience. Sports can be such a a bonding experience for families and these kinds of efforts help allow even more families to have that experience."
Both the Eagles' and Vikings' sensory rooms were built with the assistance of KultureCity, a nonprofit dedicated to creating more inclusive spaces for people with autism. According to the AP, KultureCity has helped create more than 200 such spaces.
"For some autistic children and adults, the sights, sounds and nonstop energy of game day can be overwhelming," Valerie Paradiz, vice president of services and supports for the advocacy group Autism Speaks, tells Newsweek. "We commend the growing number of venues—from sports arenas to movie theaters and airports— that understand and accommodate these sensory differences, creating a more welcoming and inclusive experience."