NFL Star Richard Sherman's Wife: 'He Didn't Harm Anybody'
Ashley Sherman commented to The Seattle Times on Wednesday about the early morning arrest of her husband, NFL star Richard Sherman.
"At this time we're going to make no statements, except he didn't harm anybody," Ashley Sherman said to the newspaper. "My kids were not harmed in the incident. He's a good person and this is not his character. We're doing all right, just trying to get him out. I want people to know no one was injured."
Ashley Sherman married Richard Sherman in 2018, and they have two children together. During a Wednesday press conference, Redmond Police Chief Darrell Lowe referred to Sherman getting into a verbal altercation at the home of his "in-laws." He also said there may be protective order on Sherman, though he said it's not believed to be related to Ashley's family.
Richard Sherman was booked into Seattle's King County Correctional Facility at 6:08 a.m. and was denied bail. The case is being investigated as a felony.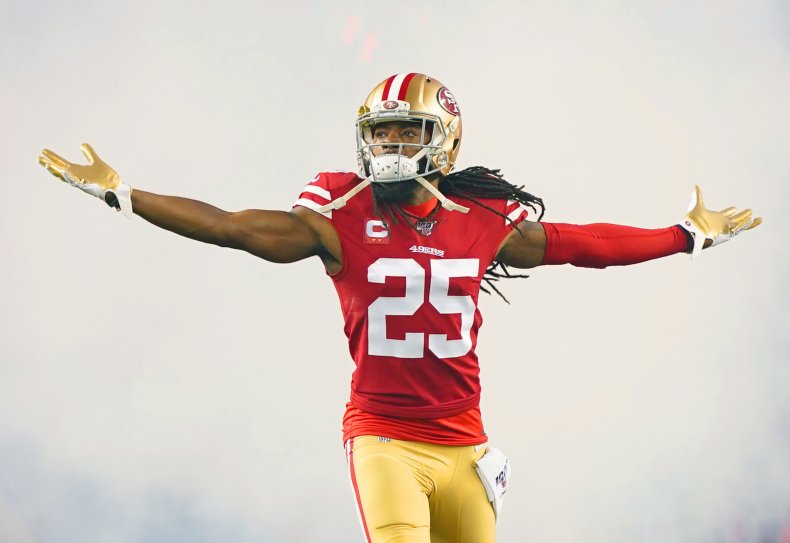 The Redmond Police Department said in a statement that officers responded to a call about a reported in-progress burglary at approximately 1:49 a.m. on Wednesday. Officers arrived at the residence to find "Sherman was attempting to force entry into a family member's home."
"The suspect fought with officers while being taken into custody, resulting in a Redmond K9 team being deployed to assist in gaining control," the statement said.
While Redmond police were responding to the burglary, troopers from the Washington State Patrol were also on-scene investigating a hit and run incident. They were seeking an individual, believed to be Sherman, who was suspected of leaving his severely damaged vehicle and fleeing on foot after striking a cement barrier.
The NFL Players Association issued a statement on Wednesday regarding the situation, though it did so without naming Sherman, who serves as a vice president on the organization's executive committee.
"We were made aware of an arrest last night of one of our player leaders for an alleged domestic violence incident and have activated our domestic violence crisis protocol for the protection and support of everyone involved. We will continue to monitor events closely as more facts are made available to us," the statement read.
Sherman, 33, is currently a free agent. He was most recently a member of the 49ers, but he first found success on the professional level with the Seattle Seahawks from 2011 to 2017. As a member of the Seahawks, Sherman reached two Super Bowls and won one. He again played in the Super Bowl with the 49ers in 2020 in their loss to the Kansas City Chiefs.
Update -7/14/21 5:08 PM - this story has been updated with additional information, including statements from Redmond Police Chief Darrell Lowe.