NFL 2019 Sunday Night Football Schedule: How to Watch, Live Stream Games, TV Channel and Dates
Primetime games in the NFL have a special aura about them—and this season's Sunday Night Football schedule is no different.
NBC has flexed its muscles and all 18 scheduled Sunday Night Football clashes will feature at least one team that made the playoffs last year, four more than last year's calendar.
Additionally, nine games will feature two teams that have reached the postseason last year, and every team that made the playoffs last season will feature at least once on Sunday Night Football.
Super Bowl champions New England Patriots kick off proceedings when they host the Pittsburgh Steelers in Week 1, the first of their three appearances on Sunday Night Football. The Patriots will also be playing in front of NBC's cameras in Week 9 on the road against the Baltimore Ravens and then again in Week 13 in Houston against the Texans.
The Steelers will make their second Sunday Night Football appearance of the season in Week 6, when they travel to Los Angeles to face the Chargers.
Week 2 sees the Philadelphia Eagles face the Atlanta Falcons on the road, in the first of their Sunday primetime games. The Eagles will travel to Dallas in Week 7 to resume their NFC East rivalry against the Cowboys and will host the Seattle Seahawks in Week 12.
The Los Angeles Rams also feature three times on Sunday Night Football. The defending NFC champions face the Cleveland Browns on the road in Week 3, before hosting the Chicago Bears in Week 11 and the Seattle Seahawks in Week 14 in an all-NFC West showdown.
In Week 4, the New Orleans Saints welcome the Dallas Cowboys to Louisiana, while Week 5 is highlighted by a rematch of last year's AFC Divisional Playoff, as Andrew Luck and the Indianapolis Colts again visit Patrick Mahomes and the Kansas City Chiefs.
Mahomes, the reigning NFL MVP, will also feature on Sunday Night Football in Week 8, when the Chiefs welcome the Green Bay Packers, and in Week 16, when they travel to Chicago to face the Bears.
Week 10 takes Sunday Night Football to Dallas, where the Cowboys welcome the Minnesota Vikings, who will also feature in the Week 15 matchup on the road against the Los Angeles Chargers.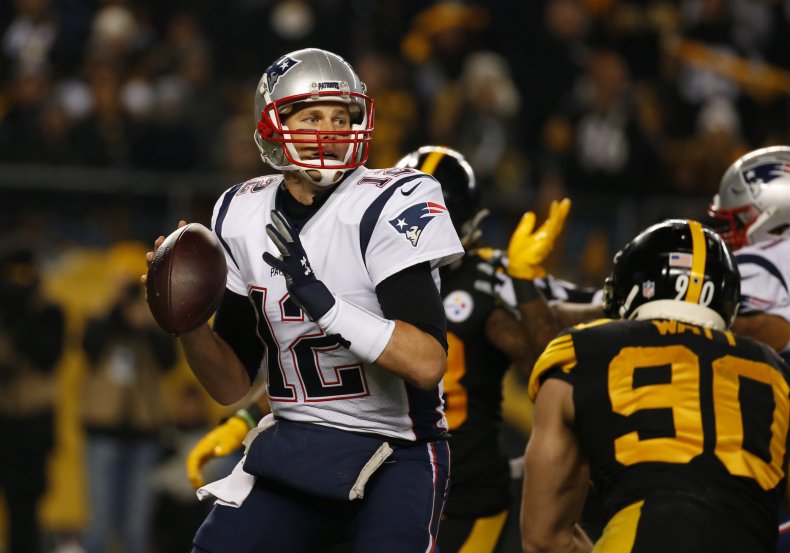 TV coverage
Sunday Night Football games will again be broadcast exclusively on NBC Sports, who has retained rights to the primetime Sunday kickoff for the 13th consecutive season.
All Sunday night games kick off at 8:20 p.m. ET, with coverage beginning at 7 p.m. ET.
Live stream
Live stream for all Sunday Night Football games will be available via NBC's digital platforms, fuboTV and DirecTV.
Here's the complete Sunday Night Football schedule for the upcoming season (all times ET).
Week 1—Pittsburgh Steelers @ New England Patriots, 8:20 p.m. ET
Week 2—Philadelphia Eagles @ Atlanta Falcons, 8:20 p.m. ET
Week 3—Los Angeles Rams @ Cleveland Browns, 8:20 p.m. ET
Week 4—Dallas Cowboys @ New Orleans Saints, 8:20 p.m. ET
Week 5—Indianapolis Colts @ Kansas City Chiefs, 8:20 p.m. ET
Week 6—Pittsburgh Steelers @ Los Angeles Chargers, 8:20 p.m. ET
Week 7—Philadelphia Eagles @ Dallas Cowboys, 8:20 p.m. ET
Week 8—Green Bay Packers @ Kansas City Chiefs, 8:20 p.m. ET
Week 9—New England Patriots @ Baltimore Ravens, 8:20 p.m. ET
Week 10—Minnesota Vikings @ Dallas Cowboys, 8:20 p.m. ET
Week 11—Chicago Bears @ Los Angeles Rams, 8:20 p.m. ET
Week 12—Seattle Seahawks @ Philadelphia Eagles, 8:20 p.m. ET
Week 13—New England Patriots @ Houston Texans, 8:20 p.m. ET
Week 14—Seattle Seahawks @ Los Angeles Rams, 8:20 p.m. ET
Week 15—Minnesota Vikings @ Los Angeles Chargers, 8:20 p.m. ET
Week 16—Kansas City Chiefs @ Chicago Bears, 8:20 p.m. ET