NFL Take the Knee Protest: Stevie Wonder, Pharrell and John Legend Support Players in Rally Against President Trump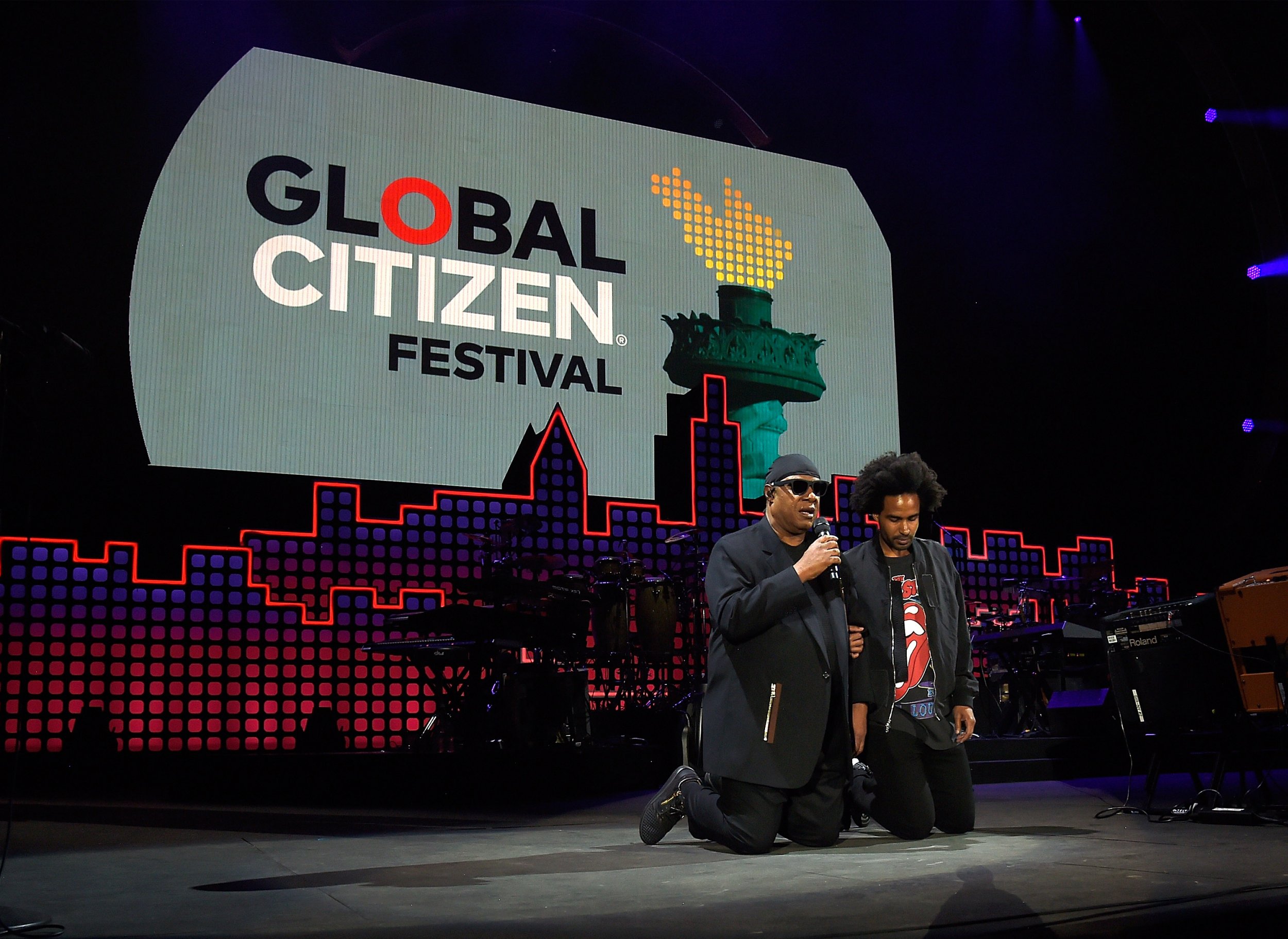 It isn't just NFL and NBA players taking a knee to protest President Donald Trump's incendiary remarks, presumably about Colin Kaepernick, last week.
Stevie Wonder, John Legend and more all got down on one knee during concerts over the weekend in solidarity with players.
Trump last week called on NFL team owners to fire athletes who choose not to stand for the national anthem before games. "'Get that son of a bitch off the field right now,'" the president suggested the response should be. Kaepernick, the former San Francisco 49ers QB, notoriously took a knee before games last season as an act of silent protest against social and racial injustice.
On Saturday, at the Global Citizen Festival in New York, music legend Wonder took both knees "in prayer for our planet, our future, our leaders of the world and our globe," he said.
Wonder also alluded to the tension between Trump and North Korean leader Kim Jong Un, calling for global unity. "All of us are valuable and important and must take care of each other and this planet," he said (via Rolling Stone). "If we don't, we could lose the ultimate video game of life. Losing sight that weapons are real and rhetoric is dangerous. Whether it be from a superpower in North America or a superpower in North Korea."
The musician again repeated the act Sunday when he headlined A Concert for Charlottesville, a concert promoting unity following the unrest in Charlottesville, Virginia, in August.
The event was organized by the Dave Matthews Band and also featured performances from Pharrell, who, like Wonder, took two knees.
"If I want to get on my knees right now for the people of my city, for the people of my state, that's what this flag is for," said the "Happy" singer.
Singer John Legend, meanwhile, supported the athletes' right to freedom of expression during his Darkness and Light Tour concert in Hamburg, Germany.
The singer posted a picture of himself kneeling onstage on his Instagram account:
Meanwhile, in Los Angeles, at the Hollywood Bowl, Solange Knowles dropped to one knee during her concert, too, according to fans in attendance.
Trump's criticism of athletes kneeling during the national anthem before games has prompted wide condemnation, including from players and coaches in the NFL and NBA.
More than a dozen NFL games were played Sunday and the majority began with players on both teams uniting in some form of protest, whether individual players taking a knee or entire teams locking arms.
Bruce Maxwell became the first Major League Baseball player to take a knee Saturday ahead of the Oakland Athletics' game against the Texas Rangers.