NFL Teams Plan Demonstrations During National Anthem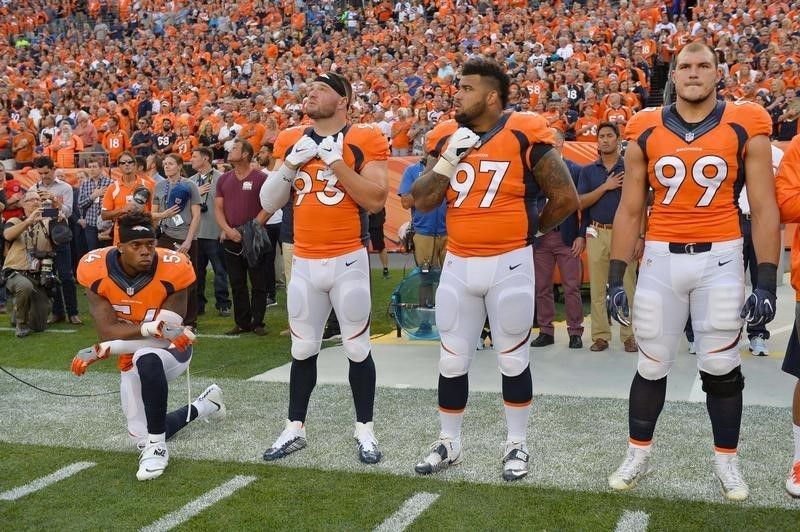 The opening games of the new National Football League season are expected to be marked by peaceful demonstrations during the U.S. national anthem on Sunday by players trying to draw attention to racial disparities in the country's justice system.
San Francisco 49ers backup quarterback Colin Kaepernick began the protests when he refused to stand for "The Star-Spangled Banner" during preseason games, at first choosing to sit on the bench and then later kneeling on one knee in a gesture that has divided fans. Other players have followed suit, most recently Denver Broncos linebacker Brandon Marshall ahead of Thursday's season opening win against the Carolina Panthers.
The players have been praised as high-profile allies of the Black Lives Matter movement, which grew as a response to a spate of police officers in cities around the country killing unarmed black men. About two-thirds of NFL players are black.
The protests have also provoked anger in some fans who see the gesture as disrespecting the U.S. flag and the country in general.
Sunday's 13 games coincide with the 15th anniversary of the attacks by al Qaeda hijackers that brought down the two largest towers of the World Trade Center in New York City. The league will play videotaped messages from President Barack Obama and his predecessor, George W. Bush, before each game, and a 9/11 decal will be placed on players' helmets, the league said.
The Seattle Seahawks have said they have decided as a team to stand and interlock their arms during the anthem on Sunday. "Progress can and will be made only if we stand together," Doug Baldwin, a Seahawks wide receiver, said in a video he posted online announcing the team's decision.
Kaepernick's 49ers play their opening game against the Los Angeles Rams on Monday evening. Obama has defended Kaepernick, saying this week the player is exercising a constitutional right and provoking conversation "around some topics that need to be talked about."
NFL Teams Plan Demonstrations During National Anthem | Sports